Russia Suffers Gun Crime Explosion as Police Say Cases Have Gone Up by 600%
Armed crime is up more than 600 percent in a Russian region bordering Ukraine, according to data from the country's Ministry of Internal Affairs.
In the Kursk region, located near to Russia's border with Ukraine, the number of crimes committed using firearms, ammunition, and explosive devices over the first ten months of this year increased by 675 percent, compared to the same time frame in 2021, statistics show.
Crimes involving the weapons also rose sharply in the Belgorod region and in Moscow, with a rise of 213 percent and 203 percent respectively.
Other areas which saw an increase in crime of at least 100 percent (using firearms, ammunition, and explosive devices) included the Pskov region, Saint Petersburg, Kalingrad region, Nenets Autonomous Okrug, Saratov region, and Tambov region.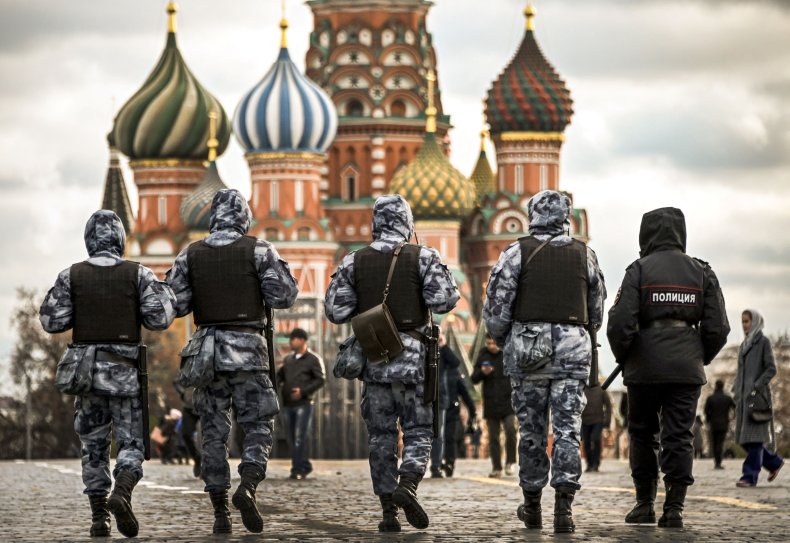 According to Russian news outlet RBC, the number of crimes committed with the use of explosives and explosive devices (283) has reached the highest level in Russia in six years.
Further, the number of "grave" crimes committed nationwide by organized groups or criminal communities in the first 10 months of this year increased by 21.5 percent in the same time period—up to 23,500—while the number of "extremist" crimes has also increased by more than 36 percent, to 1,247.
Commenting on the surge in armed crime in Russia this year, Vladimir Mikhalevich, deputy chair of the Officers of Russia organization, told a Moscow radio station that Putin's so-called "special military operation" likely has played a role.
"Probably, there is still some general anxiety. We know that since 2020, firstly, we have had a pandemic ... with the onset of [the special military operation], there is also anxiety—no one will take this very calmly," he said.
Mikhalevich also said that it is now "probably easier" to get weapons.
"Probably everyone is trying to stock up on weapons already ... when people are under the threat of bombing, they become scared, and there is some kind of devaluation of life," he added.
Last month, Russia deployed its National Guard across the country over "increased attacks" on military registration and enlistment offices since President Vladimir Putin's decision to partially mobilize reserve troops to fight in Ukraine.
State Duma Deputy Alexander Khinshtein said in a post on his Telegram channel on October 15 that security had been ramped up at military registration and enlistment offices in a number of cities, including Moscow.
"In connection with the increased attacks on military registration and enlistment offices, the Russian Guard has taken measures to protect them," Khinshtein wrote.
"In addition, the offices are included on the routes of patrol units of non-departmental guards all over the country," the official said.
Attacks and arson cases at military registration and enlistment offices and local administrations rose after Putin announced a partial mobilization in Russia on September 21, which defense officials said would affect up to 300,000 reservists.
There have been attacks in regions nationwide, including in Moscow, Novosibirsk, Kazan, Ivanovo, Krasnoyarsk, and Nizhny Novgorod, Nizhnevartovsk, Ryazan, Sverdlovsk, and Voronezh.
Khinshtein noted that authorities have been arresting those targeting enlistment offices, "for example, when trying to throw a Molotov cocktail," he said.
There have been multiple cases where Molotov cocktails have been flung at government offices in Russia.
And in September, a young Russian man opened fire at a military registration and enlistment office in in Russia's Irkutsk region.
Newsweek has reached out to Russia's Foreign Ministry for comment.