According to local media reports, government offices have been set on fire with Molotov cocktails in multiple regions of Russia following Russian President Vladimir Putin's decision to partially mobilize Russian reserve troops to fight in Ukraine.
In Tolyatti, a city on the Volga River in western Russia, a local media report said that an individual threw a Molotov cocktail at the main door of a government administration building on Belorusskaya Street.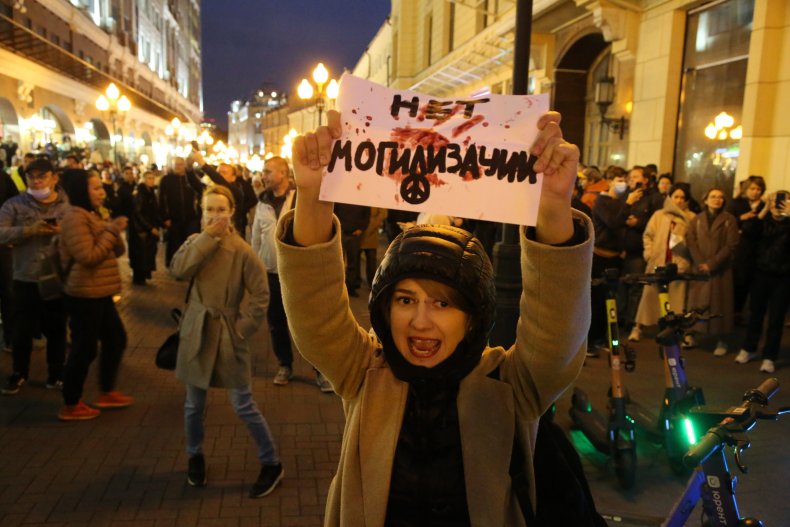 At about 3:44 a.m. local time Thursday, the building's door and part of its ceiling caught fire, independent Russian-language news outlet MediaZona reported. The area of the fire was 10 square meters, and it was reportedly extinguished within 20 minutes.
Baza, a news site with close ties to the Russian police, claimed that staff found used Molotov cocktails at the scene.
Employees of the office building told Russian local news site Neslukhi.rf that the porch was damaged. A photo shared by the publication shows broken windows. It isn't clear who was behind the attack.
Elsewhere, in the city of Lomonosov, which is part of St. Petersburg, a district military registration and enlistment office was set ablaze last night. A picture showing the damage was published on social media.
In the city of Gai, in Russia's Orenburg region, another military registration and enlistment office was also set on fire on Wednesday night, damaging a wall, according to a local media report.
Meanwhile, in Nizhny Novgorod in western Russia, a fire broke out last night at another military registration and enlistment office. The fire was put out before firefighters arrived, and no injuries were reported, according to local media.
Baza reported that a Molotov cocktail was also thrown through the office window.
Since Russia's invasion of Ukraine began on February 24, there have been more than a dozen attempts to set fire to military enlistment offices across Russia, including in the regions of Ivanovo, Moscow, Nizhnevartovsk, Ryazan, Sverdlovsk, and Voronezh.
The latest incidents come after Putin announced a partial mobilization of the armed forces. Defense officials said up to 300,000 reservists would be called up to fight.
Protests erupted nationwide against the war and Putin's partial mobilization decree, with demonstrators holding banners that say "No to war" and "No mobilization." At least 1,386 people were arrested in 38 cities across Russia during the protests, human rights project OVD-Info reported.
In Novosibirsk, a resident who attended a rally was reportedly detained on Lenin Square.
Footage posted on Telegram showed the man shouting at police officers: "I am not going to die for Putin and for you! You yourself know that everything sucks." Other protesters applauded the man.
Earlier, Ivan Zhdanov, an ally of jailed Russian opposition leader Alexei Navalny called on Russians to protest Putin's move to roll out a partial mobilization.
"If you are ready to do big things, including setting fire to the military registration and enlistment office, we support this and are also ready to provide some assistance," Zhdanov said Wednesday, according to Latvia-based independent news channel Meduza.
Newsweek has reached out to Russia's foreign ministry for comment.