Russia Halts Tank Production Due to Supply Problems, Ukraine Claims
Russia's largest tank manufacturer, Uralvagonzavod, has halted production because of supply shortages, according to Ukraine's state media and Ukrainian armed forces.
The Kyiv Independent writes that Uralvagonzavod has stopped operations in its Chelyabinsk Tractor Plant in west-central Russia because of the lack of component parts supplied from foreign countries.
The claim was initially made by a report of the Armed Forces of Ukraine and confirmed by the Ukrainian Ministry of Defense on March 21, according to The Kyiv Independent.
Uralvagonzavod had his assets frozen in the U.K. on February 24 and was hit by European Union sanctions on March 15.
The company was added to the EU's list of sanctioned Russian companies because "the T-72B3 tanks delivered by Uralvagonzavod to the Russian Armed Forces were used by Russia during the illegal invasion of Ukraine in 2022," the EU document reads.
The EU concluded that Uralvagonzavod is responsible for "supporting, materially or financially, actions which undermine or threaten the territorial integrity, sovereignty and independence of Ukraine."
Uralvagonzavod has been a subject of U.S. sanctions since the annexation of Crimea in 2014.
Newsweek is still trying to independently verify the claim of a production halt.
What Does This Mean For the War in Ukraine?
Uralvagonzavod, founded in the 1930s, became the largest producer of battle tanks during the Second World War. After the end of the war it diversified its production but it remained one of the biggest tank manufacturers in the world.
The company also specialized in the repair of tanks and armored vehicles, which means Russian troops on the ground in Ukraine will struggle to get maintenance and replacement parts for the tanks used in the country.
How Many Tanks Does Russia Have in Ukraine?
Russia invaded Ukraine on February 24 with a military force that international observers predicted could have easily overwhelmed the outnumbered Ukraine forces. And yet, against all odds, that hasn't yet happened.
Ukrainian forces have so far been able to claim unexpected successes against Russian tanks and armored vehicles thanks to anti-tank missiles like Javelins, Stingers and NLAWs provided by the U.S. and other NATO allies.
Russia's army was estimated to have over 12,000 tanks and 20,000 armored fighting vehicles before the war, while Ukraine's forces could count on a total of over 2,500 tanks and over 2,800 armored vehicles, as can be seen in comparisons made by Global Fire Power.
U.S. official estimates put the number of Russian armored fighting vehicles involved in the invasion of Ukraine at 4,800.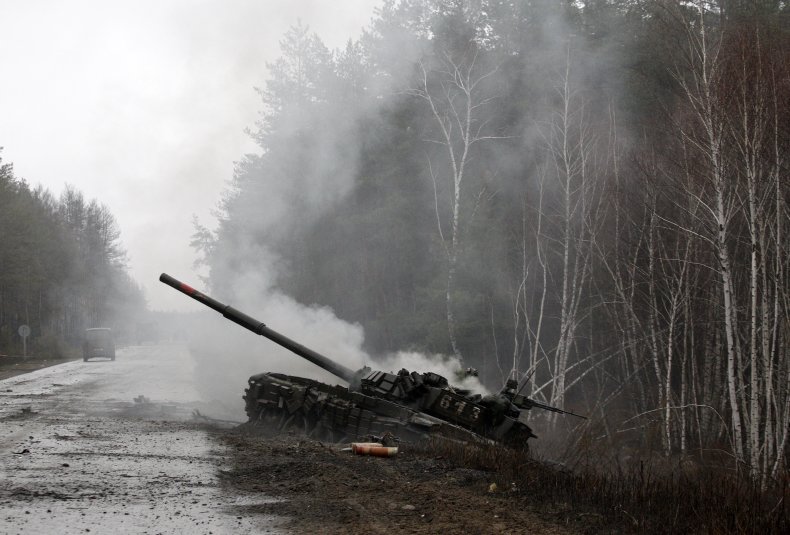 That number has certainly dropped in the past 27 days, although it's hard to know the exact number of tank losses reported by Moscow's troops.
According to estimates made by Oryx Blog, an open-source site tracking military-equipment losses around the world, Russia has lost more than 260 tanks since the beginning of the invasion of its neighbor.
Many of these vehicles were destroyed (109), some were captured (111) or damaged (4), and others were abandoned (39) by discouraged troops. Every loss is documented with a photograph of the vehicle.
The Ukrainian government claims the Russians have suffered greater losses, saying Ukraine's armed forces have destroyed some 509 tanks and even more among armored vehicles, artillery systems and helicopters as of March 22.
Oryx's estimates for the total of other armored vehicles Moscow's troops have lost in Ukraine takes the total toll even higher, with 174 armored fighting vehicles and 248 infantry fighting vehicles lost since February 24.
On Sunday, the U.S. Department of Defense estimated the number of total vehicle losses at 184 tanks and 380 other armored vehicles, which it says would equal eight percent of Russian total forces.
Russia still has an arsenal of old tanks and armored vehicles stored away at home, but it's uncertain whether Putin would want to dust off these relics for the war in Ukraine. The International Institute for Strategic Studies (IISS) estimates that Russia has over 10,000 tanks in storage.