Russia Has Already 'Strategically Lost' Ukraine War: UK Defense Chief
Russian President Vladimir Putin has already "strategically lost" the war against Ukraine, British Defense Chief Sir Tony Radakin said Friday.
The Kremlin ordered the invasion in late February with the intent to "liberate" native Russian speakers from "Nazi" leaders in the Eastern European country. However, Putin's military was met with a surprisingly strong defense from Ukraine, and as the invasion nears its four-month mark, Russian advances have stalled.
Fighting is largely concentrated in only the easternmost part of Ukraine, with experts having said that Russia has failed to achieve any substantial goals in the first months of the war. In recent weeks, however, Moscow has seen some gains in the conflict as it focuses its efforts on the eastern Donbas region, essentially aiming to create a link between Russia and Crimea, which was annexed by Moscow in 2014.
In an interview with PA Media, Radakin said that while Russia may see more "tactical successes" in the coming weeks, the military is making too slow of progress to eventually take over Ukraine, The Guardian reported.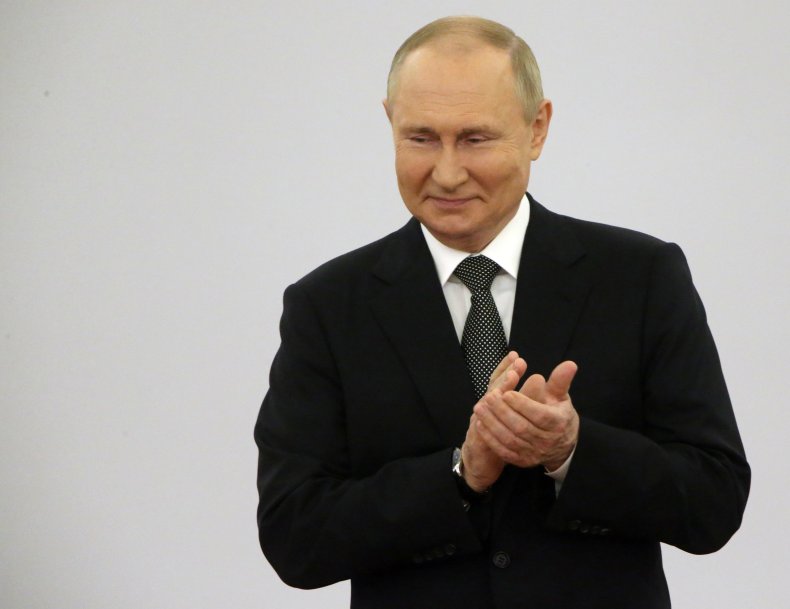 "This is a dreadful mistake by Russia. Russia will never take control of Ukraine," he said.
He warned that Russia's vulnerabilities stem from its military running out of manpower and high-tech missiles, and the fact that the invasion has strengthened the North Atlantic Treaty Organization (NATO), after Finland and Sweden submitted applications to join.
"President Putin has used about 25 percent of his army's power to gain a tiny amount of territory and 50,000 people either dead or injured. Russia is failing," said Radakin.
His remarks come as Russia appears poised to see victory in the city of Severodonetsk, which is critical to Russian victory, and is home to a large population of Russian speakers. However, the victory has come at a cost for the Russian military, experts have said.
"The Russian military is getting weaker by the day, with little prospect of overall replenishment or meaningful reinforcement," a senior Defense Intelligence Agency official told Newsweek last week.
Radakin's comments reflect other assessments from British intelligence, which has warned gains made by Russia have come at a "significant resource cost" for its military, which will have to commit a "huge investment of manpower and equipment" to see long-term victories.
Meanwhile, the Kremlin has seen recent military victories as a signal that its military is making progress in its invasion, arguing that they are "continuing to destroy the positions" of Ukrainian defenders in the Luhansk People's Republic (LPR). Ukrainian President Volodymyr Zelensky has also acknowledged his military has suffered tactical losses, calling on Western allies to ramp up the delivery of anti-missile systems.
Newsweek reached out to the Russian foreign ministry for comment.