Russia Has Fired 1,300 Missiles in Ukraine This War, More Strikes Expected
The Russian military has launched over 1,300 missiles in Ukraine since beginning its invasion over two months ago, according to Ukrainian Deputy Defense Minister Hanna Maliar.
In remarks broadcast on Ukrainian television Tuesday, Maliar said that Russian forces had used an abundance of sea, air and ground-launched missiles, according to Ukrainian state-run news agency Ukrinform. Maliar claimed that Russian reserves had been sliced in half while noting that the country still retained enough missiles to continue inflicting serious damage.
"According to our data, their reserves have already more than halved since they have been actively using them since February 24," said Maliar. "Μore than 1,000 rockets have already been used. To be more precisely, more than 1,300 missiles."
Further Russian missile launches are expected in Ukraine. Maliar also reportedly claimed that, in addition to using missile strikes and ground forces, Russia was attempting "outright blackmail and intimidation of the whole world" by considering the use of chemical or nuclear weapons.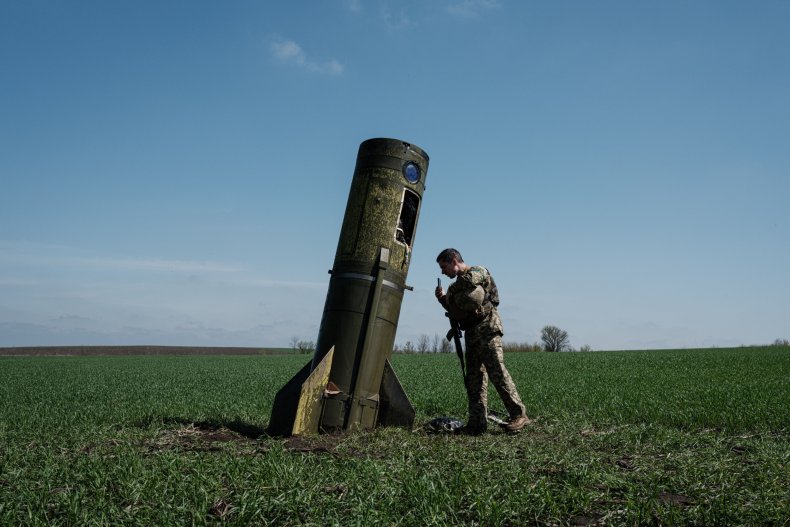 Ukrainian President Volodymyr Zelensky made similar comments regarding potential nuclear threats on the same day, saying during a press conference that Russia posed the world's biggest nuclear threat since 1986 and was attempting "to blackmail the world with nuclear weapons," according to The Kyiv Independent.
Newsweek reached out to the government of Russia for comment.
International concerns about the potential use of nuclear weapons have increased due to recent actions by Russia, including putting its nuclear arsenal on a heightened state of alert.
Last week, Russia conducted a test of a nuclear-capable intercontinental ballistic missile that is sometimes referred to as "Satan 2." Russian President Vladimir Putin boasted that the missile test would force other countries to "think twice" before attempting to "threaten" Russia.
During a Monday appearance on Russian state-run television, Foreign Minister Sergei Lavrov warned that World War III could be on the way, while alerting those who "underestimate" the threat of nuclear weapons that the "danger is serious, real."
Meanwhile, supplies of conventional weapons are quickly being used on both sides of the battlefield. Many of the weapons being used by Ukraine have been supplied by allies including the U.S., which has sent $3.4 billion in military assistance to Kyiv since the war began.
Russian Ambassador to the U.S. Anatoly Antonov demanded an end to the assistance during a Monday interview on Russian television, accusing the U.S. of "trying to raise the stakes even more and aggravate the situation."
Earlier this month, Russia warned that vehicles that are transporting weapons supplied by the U.S. and other NATO allies to Ukraine would be considered "legitimate military targets."
Democratic Senator Richard Blumenthal of Connecticut said during a Senate Armed Services Committee on Tuesday that the U.S. had given Ukraine one-third of its supply of Javelin anti-tank missiles.
Blumenthal noted that "replenishing U.S. stocks or those weapons would require 32 months" during the hearing, expressing concerns that domestic supplies of the missiles could be depleted if aid continues and production does not increase.