Russia Has Lost More Than Half of Its Tanks in Ukraine: Report
Russian President Vladimir Putin's military has lost at least half of its tanks during the war in Ukraine, according to a new report.
The International Institute for Strategic Studies (IISS), a London-based think tank, said in an assessment released Wednesday that about 50 percent of Russia's T-72B and T-72B3M tanks and many of its T-80 tanks have been destroyed by Ukraine's forces.
As a result, the IISS said Russia has resorted to taking older equipment out of storage for use on the battlefield.
IISS reported that an estimated 1,700 Russian tanks have been lost in Ukraine. However, Henry Boyd, a research fellow at the think tank, said his research indicates that number to be larger.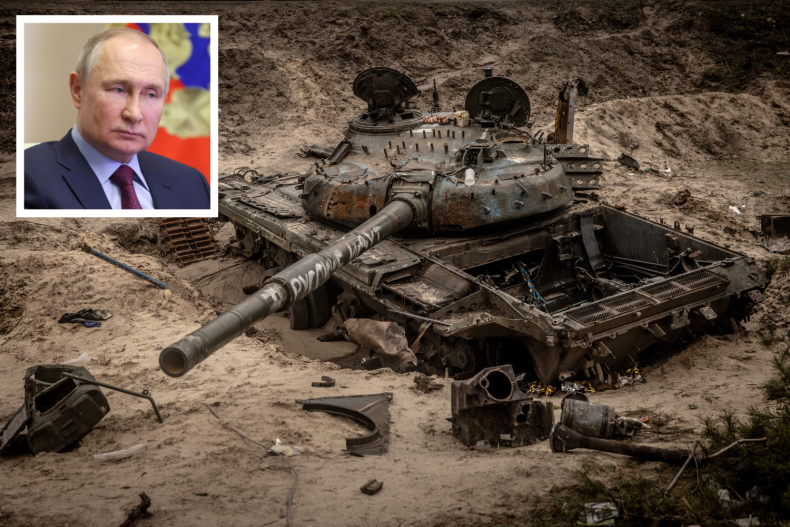 "I would suspect the actual figure is somewhere between 20 and 40 percent higher than that," Boyd said during a Wednesday news conference about the report.
According to Boyd, his research found that Russia has lost somewhere between 2,000 to 2,300 tanks.
IISS estimates that Putin's military currently has an operational tank inventory at 1,800 and about 5,000 more in storage. But IISS analysts said that many of the stored tanks are thought to be in poor condition.
Oryx, an independent military intelligence group, recently updated its running tally of Russian equipment destroyed or captured by Ukrainian forces. Last week, Oryx released an estimate that showed more than 1,700 Russian tanks have been lost in the war in Ukraine, which will reach the one-year mark on February 24.
Sean Spoonts, a U.S. Navy veteran and editor-in-chief of Special Operations Forces Report (SOFREP), told Newsweek that he feels the numbers from ISS seem "pretty accurate."
He added that evidence has show that "the Russian army's ability to sustain their own equipment in the field is dismal. Tanks break down more under combat conditions, and we're seen lots of photographs of Russian tank 'dumps' found by Ukraine after advancing where disabled tanks sat unrepaired in the dozens. So not only are their combat losses very serious, they are unable to get tanks back into action that suffer mechanical breakdowns in the field. This is likely due to a shortage of spare parts and trained technicians."
The IISS report follows a Wednesday assessment from the U.K. Ministry of Defense (MOD) that said the Russian officials likely recognize that the low industrial output of military equipment has become a "critical weakness" and that Russian production is not meeting the Kremlin's long-term defense requirements.
The MOD also noted that Putin recently told his country's defense industry to ramp up production to support the war in Ukraine.
More recently, Deputy Security Council Chairman Dmitry Medvedev on February 9 called for an increase in tank production during a visit to a Russian-state owned industrial plant, according to the MOD.
On Wednesday, the Institute for the Study of War (ISW) think tank wrote that the "timely Western provisions of tanks and armored vehicles to Ukraine would further offset Russia's ability to conduct mechanized warfare as Russia struggles to restart its defense production in the immediate term."
The ISW added that due to Russia not being able to keep up its production of weapons, "Ukraine likely continues to have a window of opportunity to initiate large-scale counter-offensives over the next few months."
However, Ukraine's ability to mount such counteroffensives "likely rests heavily on the speed and scale at which the West provides it the necessary materiel, particularly tanks and armored vehicles," the ISW wrote.
Spoonts said that even with a lack of tanks, Russia could still mount a large offensive that "will rely on infantry marching on foot and any advances they make will be slow."
"If the West is able to supply Ukraine with tanks and armored fighting vehicles in time for Spring, these forces will be able to punch through the Russian infantry and then encircle and surround them, compelling either their surrender or annihilation," Spoonts said.
Newsweek reached out to the Russian Ministry of Foreign Affairs for comment.