Multiple Russian Tanks Blown Up By Mines in Matter of Minutes
Several Russian tanks were put out of action as they tried to drive through a minefield in eastern Ukraine, according to new footage.
In a video shared by Russian opposition outlet Grani.ru on Twitter, at least four Russian vehicles, described as a mixture of tanks and armored personnel carriers, can be seen moving through a minefield. An explosion then engulfs a vehicle, followed by another blast that hits a second vehicle.
Military personnel can then be seen exiting the vehicles before the clip cuts to another explosion that appears to be at the same scene.
Further explosions affect another two vehicles in the clip, which has been viewed 250,000 times. The location is listed as Donetsk, which has seen heavy fighting in recent weeks.
Newsweek could not independently confirm the location. However, Rob Lee, a Ph.D. student in the Department of War Studies at King's College London, shared several clips via Twitter of Russian tanks damaged by mines. A number of these clips described the location as Vuhledar, a town in Ukraine's Donetsk Oblast.
The footage follows an intelligence update report on February 10 by the British defense ministry that said Russian units likely "fled and abandoned at least 30 mostly intact armored vehicles in a single incident after a failed assault."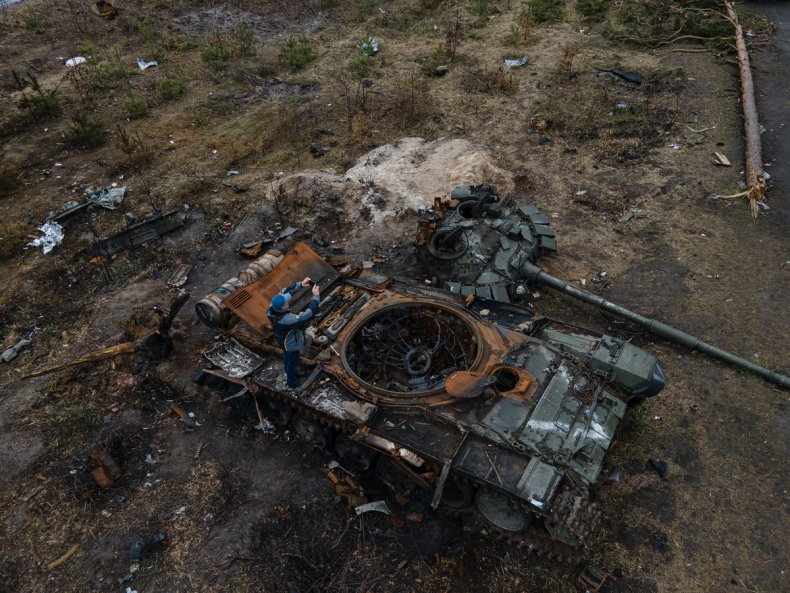 On Monday, the General Staff of Ukraine's Armed Forces shared a clip of what it described as footage of a Ukrainian drone targeting a Russian tank. The clip shows the perspective of the operator of the unmanned aerial vehicle (UAV), with the General Staff praising the "successful combat work" of the UAV operators.
Writing on Facebook on Monday, Ukraine's General Staff also said Russia had lost a total of 3,283 tanks since launching its full-scale invasion on February 24, 2022.
This was an increase of three from Sunday, when Ukraine's armed forces reported that 13 Russian tanks had been taken out in the previous 24 hours.
Ukraine's tally comes in higher than many Western estimates. On Monday, Dutch open-source intelligence outlet Oryx said that Russian forces have lost 1,727 tanks since February, using photographic and videographic evidence.
According to Oryx, 1,017 Russian tanks have been destroyed, 78 damaged and a further 85 abandoned. Ukrainian forces have captured 547 by this count, although Oryx said the true count will be "significantly higher than recorded" on its platform.
On February 9, the Institute for the Study of War think tank said Russia had lost around half of the tanks it had committed to Ukraine at the start of the invasion, citing Oryx data.