Ukraine Posts Video of UAV Hammering Russian Tank: 'Successful Combat Work'
Ukraine's armed forces have shared footage of unmanned aerial vehicles (UAVs) targeting Russian tanks.
The video clip, which shows several shots of a Russian tank being struck from the perspective of the UAV operator, was posted by Ukraine's General Staff of the Armed Forces on Monday.
Writing on Facebook, the General Staff praised the "successful combat work of UAV operators" of a marine brigade against Russian tanks.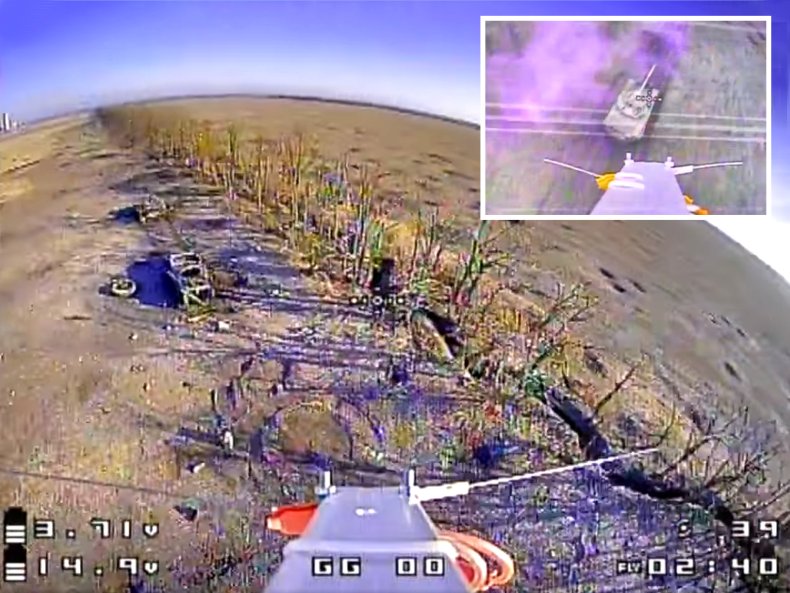 In an updated tally published by the General Staff on Monday, Ukraine's armed forces said Russia had lost three tanks in the previous 24-hour period.
Newsweek has reached out to Russian authorities for comment.
This brings the total number of Russian tanks lost since the beginning of the full-scale Russian invasion on February 24, 2022, to 3,283, by Kyiv's count. On Sunday, Ukraine reported that Russia had lost 13 tanks within 24 hours.
While this has not been independently verified, the Dutch open-source intelligence outlet Oryx has recorded 1,727 Russian tanks lost as of Monday. However, the figure only includes units for which there is photographic or videographic evidence.
Both Ukrainian and Russian forces have made use of UAVs, or drones, during the ongoing war in Ukraine. Kyiv's forces have used drones, including the Turkish-made Bayraktar TB2 and commercial drones, while Russia's most famous drones deployed during the war are the Iranian-made Shahed-131 and Shahed-136 UAVs.
Also known as Geran-2 "kamikaze" drones, the Shahed drones can carry warheads that explode or shatter when the UAVs reach their target. A slow-travelling UAV, they are known for the low buzzing sound they emit on approach.
On Saturday, Ukraine's General Staff reported that between 6 pm and 11:55 pm local time on Friday, Ukrainian forces destroyed 20 Shahed-131 and Shahed-136 drones. On Sunday, Ukraine's Air Force Command said four Shahed drones and one Orlan-10 had been shot down between 6:40 pm and 9:30 pm local time on Saturday.
Over the weekend, Ukraine's armed forces reported the highest daily casualty rate for Russian forces since the start of the full-scale invasion.
On Saturday, Ukraine's General Staff said Russia had lost 1,140 personnel over the previous 24 hours. This overtook the previous record of 1,030 troops set on February 7.
By Kyiv's count, as of Monday, Russia has lost 138,340 fighters since February 2022, an increase of 560 soldiers from Sunday. This count cannot be independently verified, and the count registered by Kyiv is usually higher than Western estimates.
Moscow has not published figures on casualties sustained by Russian forces in Ukraine since September 2022.
However, the U.K. Ministry of Defense said on Sunday that an "uptick in Russian casualties" is likely attributable to a "lack of trained personnel, coordination, and resources across the front."