Ukraine's Arsenal of Western Tanks Poised to Get Another Upgrade
Ukraine might be in line to receive powerful new tanks from Western allies, but it will take some time.
Armin Papperger, CEO of German defense contractor Rheinmetall, told German publication Handelsblatt this week that his company has been in talks with Kyiv to deliver its most modern Panther battle tank. It comes on the heels of previous announcements of German-made Leopard 2 tanks and U.S.-made M1A2 Abrams tanks headed to Ukraine.
Ukraine, which was invaded by Russia last February 24, would be the first country to receive the Panther, which debuted in Paris during a trade show last summer and has been billed as the strongest military tank in the world.
Papperger said that delivery of the Panther—at this time, there is only a demonstration model—would occur "in 15 to 18 months." He said they could be built from scratch in Germany and Hungary.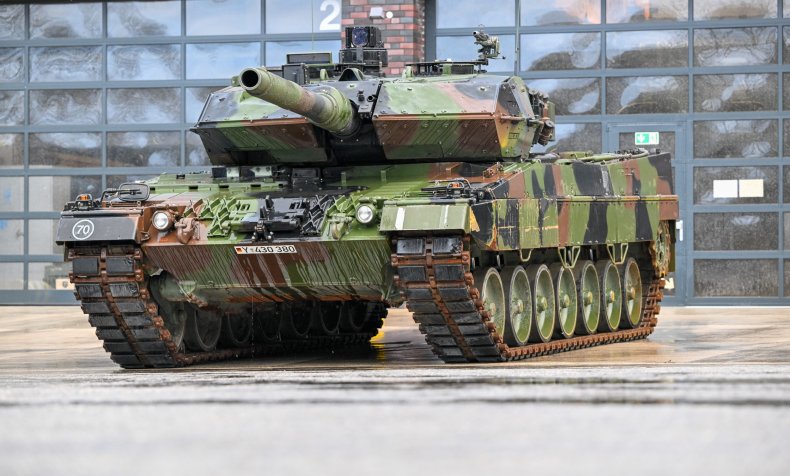 The German government must also approve delivery to Ukraine, as it would be an export. Papperger argued that such approval is necessary because the current European tank stock is "blank."
"We do not comment press reports on possible Panther deliveries or production to/in Ukraine," a spokesperson of the German Ministry of Defense told Newsweek.
'We welcome the many recent announcements by our partners and allies who have committed to sending security assistance to Ukraine," U.S. Department of Defense spokesperson Garron Garn told Newsweek. "It is up to each country to make their own sovereign decisions on what types of security assistance and what kinds of equipment they are able to provide Ukraine as Ukraine defends itself against Russian aggression."
Ian Williams, deputy director of the Center for Strategic and International Studies' (CSIS) Missile Defense Project, told Newsweek that Germany has its own reasons for wanting to do this.
He said the Germans have likely put in a lot of time into research and development for the new tank and this helps get the production line off the ground. It also might pique the interest of other European countries to become customers, notably those that already have Leopard tanks.
"A lot of countries are giving their Leopards to Ukraine," Williams said. "It serves a lot of purposes from a [German] defense industrial perspective."
He added that tank deliveries, from Germany and the U.S. among other Ukrainian allies, as well as HIMARS (High-Mobility Artillery Rocket Systems) and other weaponry, should have begun being distributed last March or April, when Russia withdrew from Kyiv and focused its operation on the eastern border.
"All of this should have been done the moment we realized Ukraine was not going down," he said.
However, he said that the recent announcements by major allies are important in terms of Ukrainian forces shedding a conservative military approach due to lack of production and weapons that existed prior to the war.
"Having certainty of the future in terms of material and ability...can really allow Ukrainian commanders to start planning much better and use things in more aggressive ways....That's very valuable from an operational and command perspective, having that certainty," Williams said. "Even though it's a long way down the road, that's kind of how you need to think about it."
Jordan Cohen, policy analyst at the Cato Institute, told Newsweek that the announcement won't affect the bigger picture due to production times and training.
"I would be surprised if they were expecting to be able to effectively use the tanks until six months after they started training on them," Cohen said. "Right now, European countries as well as the United States are trying to show commitment to Ukraine while not overloading their defense industrial bases and replenishing their own weapons stockpiles.
"So, from a battlefield perspective, I do not think that the production time changes much. Frankly, while tanks are absolutely helpful for holding territory, I still believe that their main use is that the West is trying to signal their commitment to Ukraine."
Ukraine also expressed in interest in receiving Lynx tanks, Papperger said, calling them the most modern infantry fighting vehicle.
Newsweek reached out to the Ukraine Defense Ministry for comment.
Update 02/10/23, 2:39 p.m. ET: This story was updated with comment from the German Ministry of Defense.