Russia Offers to Help As Syria Kurd Leader Names Conditions for Officially Joining Government Forces
Mazloum Abdi, the Kurdish commander of Syrian Democratic Forces, has named his conditions to integrate the Pentagon-backed militia into the Syrian armed forces commanded by U.S. foe Syrian President Bashar al-Assad, a process Russia has offered to help with.
In an interview Thursday with Syrian Kurdish news outlet Rudaw, Abdi⁠—also commonly known as Kobani⁠—responded to recent calls by Assad and his administration for the Kurdish-led Syrian Democratic Forces to officially enlist in the Syrian military in order to jointly face a Turkish-led invasion backed by insurgent groups. Abdi evaluated Assad's resolve to fight together against Turkey as "positive" but said there was "room for criticism" in his failure to specify the nature of the Syrian Democratic Forces under a future arrangement.
Abdi then laid out two prerequisites: "First, the existing administration should be part of the general administration of Syria, within the constitution. Second, the Syrian Democratic Forces, as an institution, must have independence, or we can say that it has its own exclusivity within Syria's general system of protection."
"We are not against being part of the protection system for Syria in general, but the Syrian Democratic Force must preserve its exclusivity, and the Kurdish question is certainly fundamental, since the rights of Kurds, all Kurdish rights, must be preserved within Syria's constitution," he added.
Abdi also called on Moscow, Assad's top military supporter, to clearly address these issues and, the following day, Russian Foreign Ministry spokesperson Maria Zakharova said that, while Moscow would not intervene in how the deal itself was struck, her country's "task is to facilitate this dialogue, possibly guarantee it and the future implementation of these agreements, if they happen to be reached."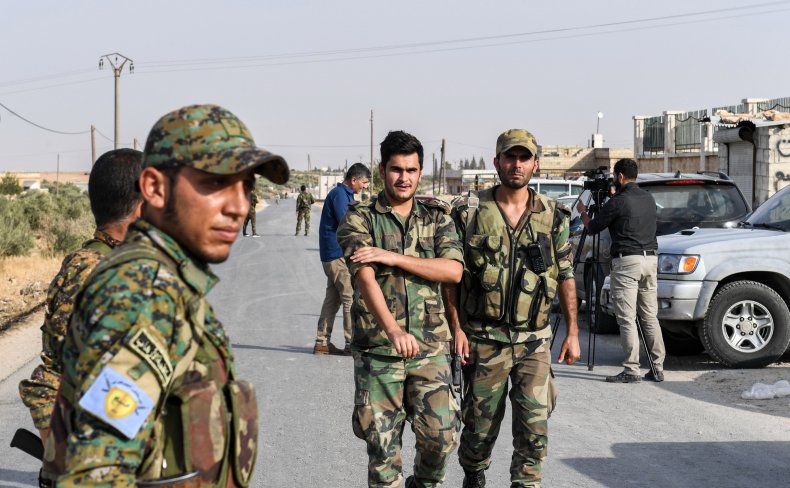 Moscow already helped to oversee a security agreement between the Syrian Democratic Forces and Syrian government following a U.S. exit from and Turkish-led incursion against northeastern Syria, where the majority of the country's Kurds live. Among the proposals for officiating the irregular group's induction into the armed forces was to have the Syrian Democratic Forces join the Russia-trained Fifth Attack Troop Corps, or Fifth Legion, though Abdi expressed opposition.
"The Fifth Legion exists," he told Rudaw. "It is a special corps within the Syrian army. If we want to organize the Syrian Democratic Forces independently, it could be an independent corps, or two separate corps, because the number of Syrian Democratic Forces with other security forces exceeds 100,000, it is a huge force, and it could form two corps if it joins the Syrian army."
Syrian Kurds have a complicated history under Assad and his father before him, who ruled the country from 1971 until his death in 2000. For decades the insurgent Kurdistan Workers' Party (PKK) took refuge in Syria to launch attacks on Turkey but Damascus cracked down at the turn of the century in a bid to improve worsening tensions with Ankara.
When a mass uprising devolved into civil war in 2011, however, Assad and his security forces faced off with a mostly Sunni Muslim Arab opposition composed of both rebels and jihadis, some of which were backed by the U.S. and regional allies, including Turkey. Kurds sought to secure their own interests, alternatively supporting and opposing either side, though increasingly ,they were forced to deal with an array of Islamist groups.
By 2014, the Islamic State militant group (ISIS) became an existential threat to Kurds and other ethnic and religious minorities living across northern and eastern Syria.
The U.S. intervened that year against ISIS and, shortly after Russia joined Iran in backing Assad, the Pentagon officially partnered with the Syrian Democratic Forces in 2015. This move, while proving effective in decimating ISIS, angered NATO ally Turkey, which viewed the Syrian Democratic Forces' main component, the Kurdish People's Protection Units (YPG), as an extension of the banned PKK.
The Syrian Democratic Forces and the Syrian government managed to largely defeat ISIS in separate campaigns, leaving control of the country largely split between both sides, save for the insurgent bastion of Idlib in the northwest. Turkish President Recep Tayyip Erdogan mobilized embattled Syrian opposition fighters in two offensives to retake Kurdish-held territory and, as he embarked on a third last month, his U.S. counterpart Donald Trump pulled his troops away from the fight between the two allies.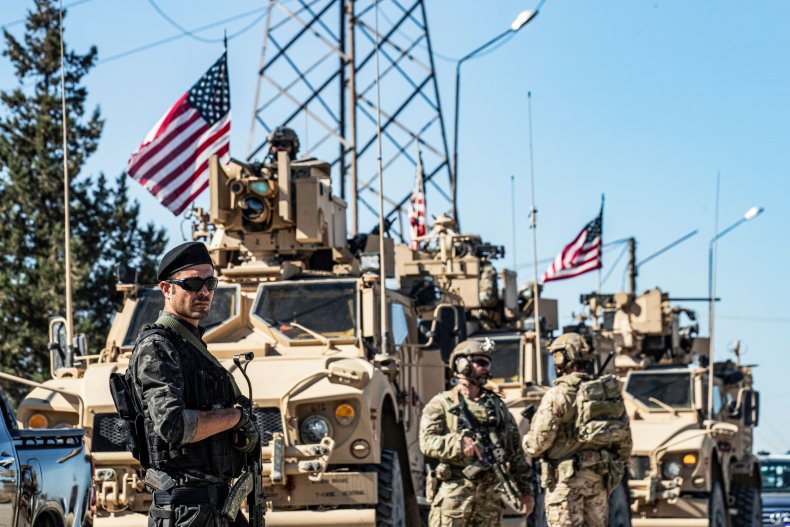 The result has been a complex series of agreements between the U.S. and Turkey and Russia and Turkey seeking to limit the offensive, as well as between the Syrian Democratic Forces and the Syrian government and the Syrian Democratic Forces and Russia in rearranging control of northern territory in Turkey's warpath.
Despite Russia and Turkey holding joint patrols in ensuring Kurdish militias withdrew, clashes have continued between the two sides amid reports that Syrian troops have not received the proper weaponry to handle their sudden frontier deployments. While the Syrian Democratic Forces have urged Moscow to step up in preventing attacks on Kurdish areas, the matter was further obscured by yet another U.S. recalibration in the interest of maintaining control of eastern oil fields in Hasakah and Deir Ezzor.
Asked about whether this arrangement could translate into a future agreement with Assad, U.S. Central Command told Newsweek that "U.S. forces are in Deir Ez-Zor to prevent ISIS from regaining control of key oil fields which at one point, provided ISIS an average of $1.5 million in revenue daily."
The Syrian Democratic Forces' lingering partnership with the Pentagon has frustrated both Moscow and Damascus, who seek to take advantage of the group's grievances with the U.S. to fully realign the group. In a joint statement Thursday both countries said they "urge the entire international community to pressure the United States, which continues to violate international law, through its presence in the occupied Syrian territory illegally and to oblige it to withdraw its forces completely from the Syrian Arab Republic."
The following day, despite his criticisms of Trump's partial pullout in the first place, Abdi announced that his group's "successful anti-terrorist programme & our joint operations to ensure the defeat of ISIS have resumed and we are now protecting the oilfields with American forces."