Turkey Takes Fight Against Kurdish Fighters to Iraq As It Struggles in Syria
Turkey has announced back-to-back airstrikes on positions of the Kurdistan Workers' Party (PKK) in Iraq, claiming to have inflicted casualties on the outlawed group as Ankara faced setbacks in its ongoing offensive against Kurdish fighters across the border in Syria.
The Turkish Defense Ministry Tuesday first announced on Twitter that "5 PKK terrorists belonging to a separatist terrorist organization identified in the Avashin region in the north of Iraq were neutralized by our UCAVs"—referring to unmanned combat aerial vehicles. The statement, which included a picture of a Bayraktar Tactical drone, added that "operations will continue." Hours later, a second attack was declared.
"2 PKK terrorists were neutralized in the air-supported operation carried out in Haftanin region within the scope of the ongoing Operation Claw-3 in northern Iraq," the ministry tweeted, also publishing a file photo of a Turkish F-16 Block-50 jet.
Turkey has faced off with a PKK insurgency at home for decades and has expanded the scope of its cross-border campaigns in recent years. While a U.S. military withdrawal from northern Syria opened the door for Turkish troops and sponsored Syrian insurgents to take on a Kurdish militia with suspected PKK ties, aspirations of the so-called Operation Peace Spring have been tempered by another major power⁠: Russia.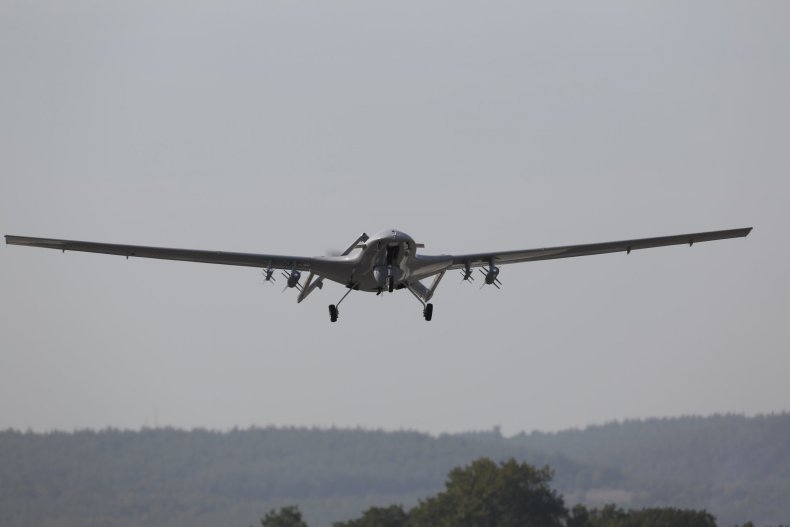 The U.S. and Turkey were supporters of the 2011 rebel and jihadi uprising against Syrian President Bashar al-Assad, while Russia later joined Iran and allied militias in backing the leader in 2015. By this time, the U.S. had begun switching its focus to assisting the Syrian Democratic Forces, a mostly Kurdish alliance of local groups dominated by the Kurdish People's Protection Units (YPG), which Turkey accuses of receiving orders from the PKK.
The Syrian Democratic Forces, with direct Pentagon support, managed to seize large swaths of northern and eastern Syria from the Islamic State militant group (ISIS), the top target of a U.S.-led coalition active in both Syria and Iraq. Turkey, meanwhile, continued to support an increasingly Islamist opposition, even as it lost out nationwide to a resurgent Syrian government and its allies.
Turkish President Recep Tayyip Erdogan joined his Russian and Iranian counterparts, Vladimir Putin and Hassan Rouhani, for trilateral peace talks and launched two pro-opposition campaigns against the YPG in northern Syria. Both times, President Donald Trump declined to intervene and, when Erdogan launched a third, larger push early last month, the U.S. leader opted to reorganize troops to the east in order to maintain control of oil fields.
The U.S. exit, however, has led the Syrian Democratic Forces to strike a security agreement with the Syrian government, whose Russian partner reached a ceasefire arrangement designed to halt the Turkish-led advance. But as Russian and Syrian troops assumed frontline positions and Russian soldiers separately patrolled with Turkish forces, deadly clashes continued.
The Syrian Observatory for Human Rights, a U.K.-based monitor with ties to Syria's opposition-in-exile reported a car blast Tuesday that shook the city of Tal Abyad, causing significant damage and injury. Tal Abyad is located in northern Raqqa and under control of the Turkish-led invasion. The yet unclaimed attack followed a similar incident that killed up to 14 people on Saturday.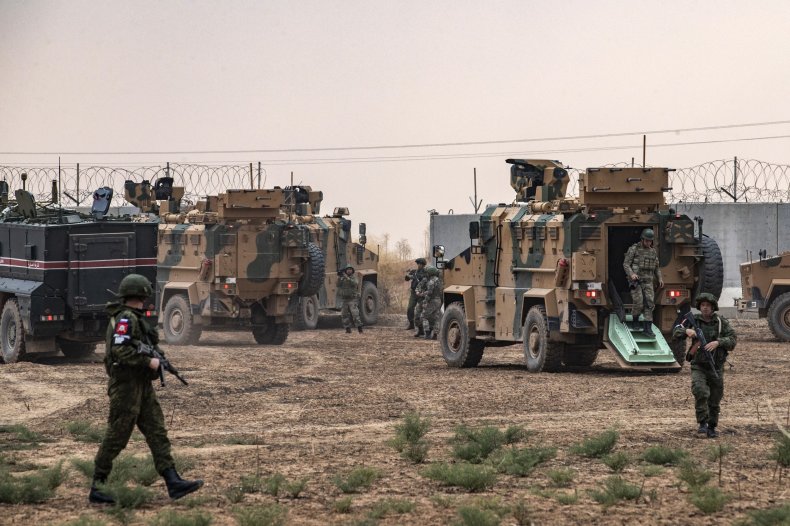 In an address to lawmakers of his ruling Justice and Development (AK) Party, Erdogan argued Tuesday that the YPG had not fully from border areas as per the terms of Ankara's consecutive deals with Washington and Moscow. The Turkish president claimed "that unfortunately, the U.S. is also carrying out a patrol duty with this terrorist organization."
The Syrian Democratic Forces have accused Turkey and allied Syrian insurgents of instigating aggression, and of pursuing a policy of ethnic cleansing against local Kurdish communities. Assad, too, has laid the blame on Erdogan, recently appealing for Kurdish forces to allow the return of at least limited government control in order to unite their efforts at defending the country's territory.
While the U.S. has refused to recognize Assad's rule, others in the region have begun to gradually normalize relations with the Syrian leader. Iraq has sought to boost relations with its neighbor after Iraqi Prime Minister Adel Abdul-Mahdi last month sent his national security adviser Faleh Fayadh to meet Assad in Damascus.
Iraq has been less overt than Syria in its criticism of Turkish airstrikes, but lawmakers and officials there, too, have called on Ankara to respect Baghdad's sovereignty. Just days after Fayadh and Assad's meeting, the Turkish Defense Ministry said it "neutralized" two PKK members in Iraq's Hakurk region.