Russia, Iran Sanctions-Proof Railroad at Risk in Armenia-Azerbaijan Crisis
As two nations pushing to resist Western sanctions, Russia and Iran have increasingly invested in a workaround rail route running from Moscow to Mumbai. But a burgeoning crisis in the Caucasus region at the heart of the project is threatening to imperil this economic lifeline.
Armenia and Azerbaijan, two rival post-Soviet republics on the crossroads of Europe and Asia, have been locked in a decades-long conflict over a 1,700-square-mile stretch of land known as Nagorno-Karabakh. Located entirely within the internationally recognized territory of Azerbaijan, the disputed region was the venue for a war waged throughout the fall of the Soviet Union, during which the ethnic Armenian-led Artsakh Republic was declared in the early 1990s.
But that declaration didn't end the conflict, and nearly three decades later, a second all-out war erupted in 2020, resulting in Turkey-backed Azerbaijan capturing a significant amount of the contested territory. Russia, a Collective Security Treaty Organization (CSTO) ally of Armenia, mediated a ceasefire enforced with the deployment of some 2,000 Russian peacekeeping troops. Yet clashes have persisted, and now a more than month-long Azerbaijani blockade of ethnic Armenian-controlled territory has once again raised tensions between the two rivals to a potentially dangerous level.
Should hostilities again reach the point of conflict, Silvia Boltuc, Rome-based managing director of the Special Eurasia geopolitical analysis platform, told Newsweek that "this can, of course, dramatically threaten" the International North-South Transport Corridor (INSTC), a 4,500-mile-long, partially operational network of land and sea routes promising a major boost to Russia-Iran trade.
"We have repeatedly experienced how Tehran underlines the need to stabilize the region to permit expanding trade," Boltuc said. "Afghanistan was, for example, part of the Iranian Chabahar Port project to connect Indian markets to Russia and Central Asia through Iran and Afghanistan. But soon after the trilateral agreement was signed, the Taliban took control of the country, which was no longer a reliable partner."
And while she argued that "Iran is more exposed to the consequences of a new crisis in the South Caucasus than Russia," given the potential for Tehran to be cut off from European land trade and the emergence of growing security ties between Azerbaijan and Iran's top foe, Israel, a fraught geopolitical environment has diminished Moscow's willingness and capability to intervene in a region in which it has traditionally played a major role.
"I think Russia is in a very difficult situation, and Moscow is now very dissatisfied with the actions of both Baku [capital of Azerbaijan] and Yerevan [capital of Armenia]," Oleg Ignatov, senior Russia analyst at the International Crisis Group in Brussels, told Newsweek.
"From the very beginning it was very difficult for Moscow to mediate a peace process," Ignatov said. "This can be explained by the fact that the conflict is ethnic, by Moscow's specific understanding of its role, as well as by the fact that, on the one hand, Armenia is an important ally of Russia, but on the other hand, from the beginning, Russia was more interested in developing economic and political ties with Azerbaijan."
Ignatov argues that Moscow viewed the presence of its peacekeepers along the disputed Lachin corridor, which is now the subject of a blockade by Azerbaijani environmental activists accusing Nagorno-Karabakh residents of illegal mining, as a long-term project extending past the 2025 deadline outlined in the 2020 ceasefire.
But he said that "Azerbaijan had a different point of view here," meaning "Moscow has to play both sides" and "has to take steps both ways, rather than managing the conflict and preventing incidents, and not to name the guilty and responsible in any case."
"Armenia increasingly believes that Moscow cannot be a guarantor of security," Ignatov said, "and Azerbaijan sees Russia as an obstacle to ending the conflict as soon as possible on its own terms."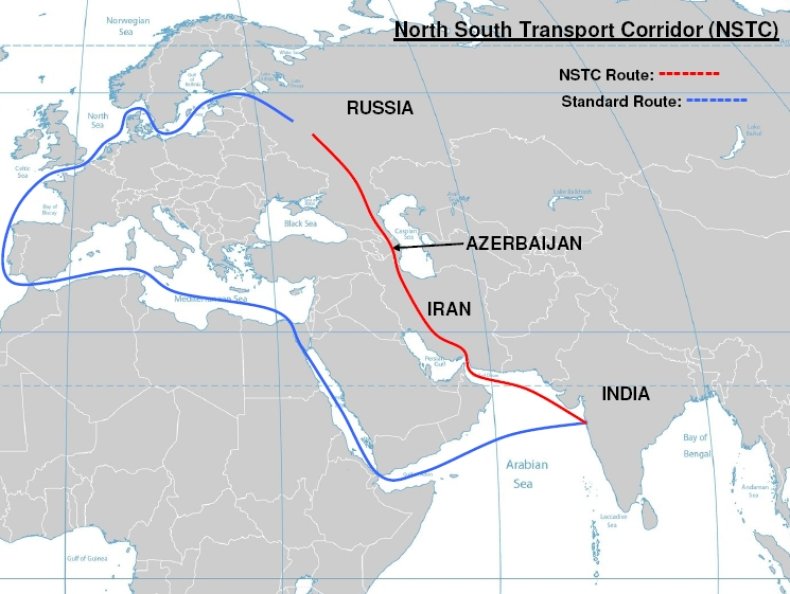 The conflict in Ukraine has put further strain on Russia's maneuverability in the event that Caucasus tensions explode again, especially given Turkey's growing involvement in the region. Despite its military support to Kyiv in the nearly year-long war ravaging Ukraine, Ankara, which has forged close ties with Baku, has proven a critical partner for Moscow in navigating diplomacy, establishing a gas hub and circumventing sanctions put in place against Russia by other members of NATO.
As a result, Yerevan-based Center for Political and Economic Strategic Studies Director Benyamin Poghosyan also argues that "Russia faces an impasse."
"Lack of action in the case of new Azerbaijani attacks against Armenia or Nagorno Karabakh will further tarnish Russia's image in Armenia," Poghosyan told Newsweek, "while any action may trigger a crisis in Russia-Turkey relations with far-reaching implications."
As for Iran, its caution was rooted not only in concerns over security, but also in geography and demographics. Specifically, Tehran worried about the potential for Azerbaijan to seize parts of Armenia's Syunik and Vayor Datz regions in a bid to establish the "Zangezur corridor" connecting Azerbaijan's mainland territory to its Nakhichvan exclave province bordering Armenia, Iran and Turkey.
"If Azerbaijan takes Syunik and/or Vayots Dzor, it will not only cut Iran from Armenia but also encircle northern parts of Iran by Turkey and Azerbaijan," Poghosyan said. "Given the existence of an up to 25 million Azeri-speaking population in Northern Iran and growing pan-Turkic tendencies after the establishment of the Organization of Turkic states in November 2021, Iran views these developments as a potential threat to its vital national security interests."
He said that such a move would also "jeopardize" the establishment of another potential International North-South Transport Corridor path that would link the Black Sea to the Persian Gulf.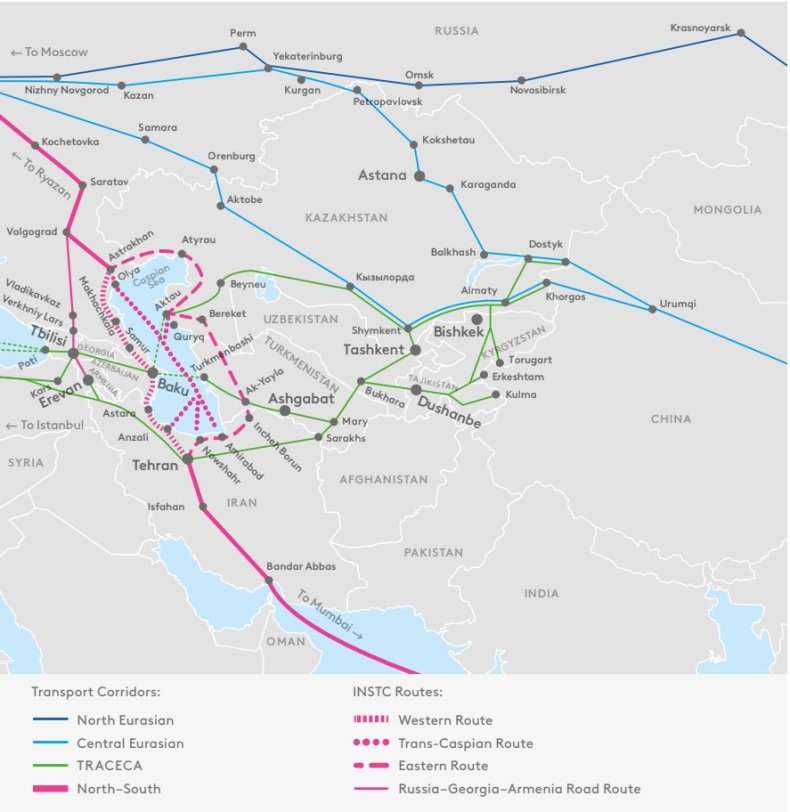 In fact, Vali Kaleji, a Tehran-based expert in Caucasian, Central Asia and regional studies, said that if the "Zangezur corridor" is realized, "Iran will also lose one of its most crucial transit routes to the Caucasus, as the land route through Iran and Armenia that reaches Georgia is a main part of the Persian Gulf–Black Sea Corridor."
That situation would be particularly damaging, as prospects for the lifting of U.S. sanctions in line with the 2015 multilateral nuclear deal known as the Joint Comprehensive Plan of Action appear increasingly remote due to heightened tensions between Tehran and Washington, driven in part by Iran's supplying of drones to Russia in its war with Ukraine.
Kaleji also pointed out how Iran responded to the 2020 conflict across its border with massive military exercises in the northwest, which he said "clearly shows Tehran's sensitivity to this issue as a 'red line.'"
"Therefore, if the war between Armenia and the Republic of Azerbaijan takes place near the borders of Iran and its result led to threat or blockage of the Iran-Armenia border," he added, "there is a possibility of Iran's military reaction that can make the conditions of the region more complicated than the current situation."
Though the key, final rail connection between the cities of Rasht and Astara in Iran has yet to be completed, Iranian officials have repeatedly vowed to ramp up efforts to finish construction. Moscow and Tehran have also pursued talks as recently as this month to invest in accelerating the development of the missing link.
"Russia has paid great attention to this corridor to expand transit under western comprehensive sanctions," Kaleji said. "And in this regard, Moscow has announced its readiness to invest and build the 164-kilometer section of the Rasht-Astara railway
—the only remaining railway section in the North-South corridor between Iran-Azerbaijan-Russia."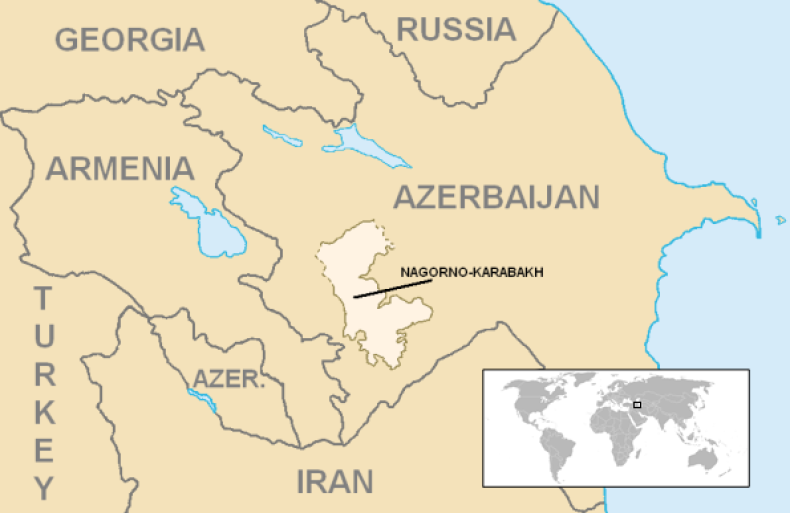 First agreed upon some 23 years ago by India, Iran and Russia, the INSTC has since expanded into a sprawling network of land and sea routes, only some of which have actually been put to use.
"The INSTC was partially devised to encourage improved freight transportation between Russia and India via Iran," Chris Devonshire Ellis, chairman of the Dezan Shira & Associates business firm dedicated to doing business across Asia, told Newsweek. "It has since expanded to include multi-modal routes to Central Asia, the Caucasus, the Middle East and East Africa."
Devonshire Ellis said the completion of the project is a high priority for the Kremlin.
"As Russia is interested in developing supply chains in all of these regions," he added, "its success is important for Moscow."
This importance has increased drastically with the onset of an unprecedented coalition of sanctions Russia was facing.
"Because of Western sanctions, Russia is losing its markets in the U.S., EU, South Korea, Japan and other states," Mher Sahakyan, founder and director of the China-Eurasia Council for Political and Strategic Research in Armenia, told Newsweek. "For this reason, Russia needs to strengthen its economic and trade relations and connectivity with Iran, India and rising southern markets."
"For reaching out to them," he added, "the main conduit is INSTC."
But because the stakes are so high, he argued that even the possibility of war was unlikely to interfere with the push to maximize the benefits of the critical corridor that would provide Moscow and Tehran connectivity to one another and other major trade hubs.
"For now, autocratic Azerbaijan has more developed relations with Russia and Iran than democratic Armenia," Sahakyan said. "It is worth mentioning that only two days before the Ukraine war, Azerbaijan signed the agreement of alignment with Russia."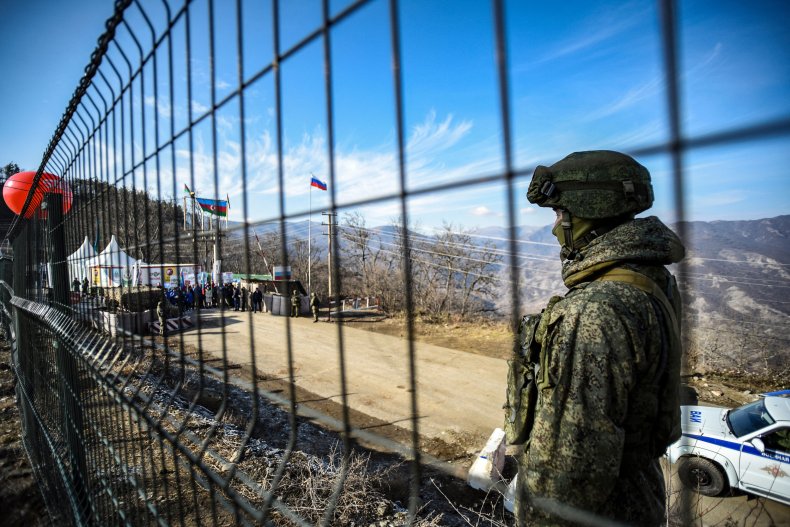 And Azerbaijan is aware of its influential position, as well as the predicaments in which its northern and southern neighbors find themselves.
Zaur Shiriyev, the International Crisis Group's Baku-based analyst for the South Caucasus region, outlined how Azerbaijan's "main interest is the revival of the Middle Corridor project, which is an alternative to transport corridors that are led by or involve Russia."
The Middle Corridor runs East-West, connecting Eastern Europe to Central Asia by way of the Black Sea and Caspian Sea, with Azerbaijan once again at the center of the route, only in this instance bypassing Russia and Iran altogether.
Shiriyev said that, since the outbreak of war in Ukraine, "regional transport stakeholders have gradually realized that strong coordination and joint implementation in different corridor segments could make the Middle Corridor sustainable and more efficient in the medium term," and that "there is an expectation that about 10% of cargo will go through the corridor because of disruption in the Northern Corridor," which runs through Russia.
"Russia needs the North-South transport corridor more than Azerbaijan does," he added. "Baku, of course, takes advantage of this situation to appear as an equal partner in front of officials in Moscow, and this, of course, affects the situation in Nagorno-Karabakh."
The situation, he argued, "gives officials in Baku leverage in negotiating the withdrawal of Russian troops from Karabakh," as well as "more leverage with Russia due to its dependence on Azerbaijan, including with regard to the transport corridor."
Farid Shafiyev, a former senior Azerbaijani diplomat who now serves as chair of the Center of Analysis of International Relations in Baku, said the Nagorno-Karabakh remained a potential catalyst for escalation between Azerbaijan and Russia, especially as Baku viewed securing control of the Lachin corridor where Russian troops remain deployed as to preventing future attacks by Armenia.
But while he said that "the overall geopolitical situation remains fragile and tense," he was skeptical Moscow would "challenge Azerbaijan's sovereignty for two reasons: 1) Azerbaijan maintain balanced policy with Russia; and 2) Azerbaijan has the full support of Turkey."
Iran too, he argued, "cannot ignore the Turkish support," nor the fact that up to three times as many Azeris reside in the Islamic Republic, which is already facing an nationwide uptick in unrest, in comparison to Azerbaijan itself.
Altogether, the situation would leave Armenia and its self-declared Artsakh Republic ally without international support at a time when they have warned of a growing humanitarian crisis resulting from the Azerbaijani blockade.
"Armenia has no military power," Shafiyev said. "In its irredentist adventure, Armenia always relied on Russian support, which is not coming this time."