Russia and Iran Get Closer on Security and Syria After U.S. Vote to Punish Them
Russia and Iran have affirmed closer ties in bilateral security and on their joint efforts in Syria despite U.S. lawmakers' passage of a bill that would slap new sanctions on the two countries over their support for Syrian President Bashar al-Assad.
Iranian Supreme National Security Council Secretary Ali Shamkhani met Wednesday with Russian National Security Secretary Nikolai Patrushev in Tehran. In their discussions, the former "pointed to the need to deepen the two countries' efforts to ensure regional stability and security," according to Tass, the state-run Russian news agency, which cited Tehran's embassy in Moscow. Patrushev called for both countries to work closely together in Syria, especially alongside pro-opposition Turkey in their trilateral peace talks, known as the Astana process.
That same day, Russian Deputy Foreign Minister Mikhail Bogdanov and Tehran's ambassador in Moscow, Mehdi Sanaei, also "confirmed their commitment to further coordination of efforts aimed to alleviate tensions in the Middle East, namely within the Astana process of aiding Syrian regulation."
Both meetings appeared to signal the two nations' willingness to press on with their backing for Assad's government even after Washington voted in favor of the Caesar Syria Civilian Protection Act, a part of the National Defense Authorization Act. The former act is intended to further punish financially the Syrian leader and his supporters at home and abroad for facilitating alleged widespread human rights abuses throughout the country's ongoing civil war.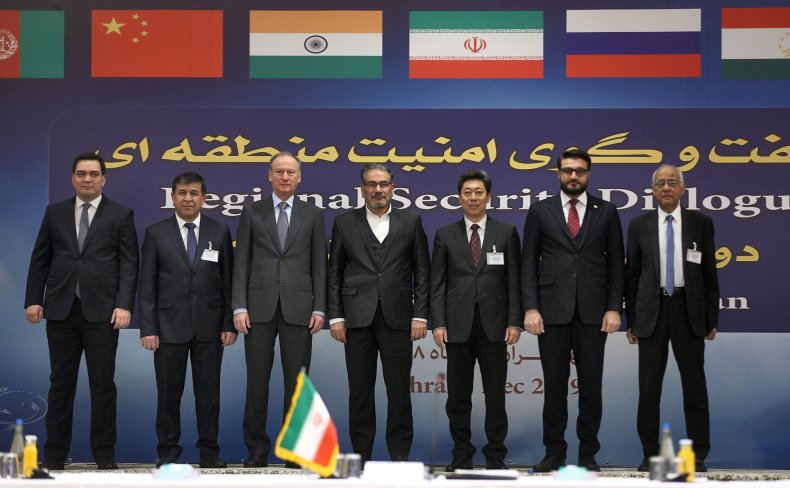 Washington cut ties with Damascus back in 2011 as the Syrian government cracked down on protests, leading to an insurgency backed by the U.S. and its allies that initially threatened Assad's rule. With help from Russia and Iran, the Syrian military made a comeback against rebels and jihadis as the Pentagon focused specifically on battling the Islamic State militant group (ISIS) with support from another non-state faction, the mostly Kurdish Syrian Democratic Forces.
In the latest shift by the U.S., President Donald Trump has pulled U.S. troops from northern Syria to focus on controlling oil fields farther east. Meanwhile, NATO ally Turkey has launched an intervention against Kurdish fighters accused by Ankara of being linked to banned separatists in Syria's north. The move allowed the already-U.S.-sanctioned Syrian government to further expand its control of the country, which it has vowed to retake entirely with Moscow's and Tehran's endorsement.
Despite U.S. pressure against supporting Assad, the Russian military staged its first-ever joint naval exercises with the Syrian armed forces in the Mediterranean. The drills involved up to 2,000 troops and 10 vessels from both nations, along with Russian aircraft, operating off the coast of the Syrian city Tartus, the Russian Defense Ministry's official Zvezda outlet reported Tuesday.
On Wednesday, Russian Foreign Ministry spokesperson Maria Zakharova signaled more coordination between Damascus and Moscow with an upcoming meeting between Syrian Foreign Minister Walid al-Muallem and his Russian counterpart, Sergey Lavrov. She noted that throughout their planned discussions, "significant attention will be paid to a range of issues of further strengthening bilateral relations between our countries, including in the trade, economic and humanitarian spheres."
Even with tensions over their differing positions on Syria, the chairman of the U.S. Joint Chiefs of Staff, General Mark Milley, sat down Wednesday with his Russian counterpart, General Valery Gerasimov, for consultations in Berne, Switzerland. The Russian Foreign Ministry said the two men "exchanged their views on strategic stability, the situation in Syria and other regions, as well as measures to prevent incidents during the military activities of the parties."
The U.S. Joint Chiefs of Staff later released a statement saying the "two military leaders discussed Syria, strategic stability and a variety of other operational and strategic issues to enhance deconfliction, improve understanding, and reduce risk."
"Both leaders recognize the importance of maintaining regular communication to avoid miscalculation and to promote transparency," the statement added. "In accordance with past practice, both generals have agreed to keep the details of their conversations private."

As for Iran, the country has endured strict, renewed U.S. sanctions since the Trump administration's unilateral exit last year from the 2015 nuclear deal backed by China, the European Union, France, Germany, Russia and the United Kingdom. The administration has accused the Islamic Republic of secretly pursuing nuclear weapons, proliferation of missile technology considered destabilizing to the region, and supporting militant groups abroad, including in Iraq and Syria.
The U.S. and Iran were both involved in battling ISIS in these two countries but have pursued opposing interests across the Middle East. Amid renewed unrest in the Persian Gulf, the Pentagon has increased its military presence in the region as Washington accused Iran of human rights abuses not only in Syria, but at home as well, as security forces used deadly force against increasingly violent demonstrations sparked by worsening economic conditions.
On Thursday, Secretary of State Mike Pompeo is scheduled to "deliver remarks on human rights in Iran." This was to be followed by "a panel discussion with survivors of the Iranian regime's human rights abuses," hosted by Assistant Secretary for Democracy, Human Rights and Labor Robert Destro, Special Representative for Iran Brian Hook and Ambassador-at-large for International Religious Freedom Sam Brownback.
With no off-ramp in sight for flaring tensions between Washington and Tehran, Iranian President Hassan Rouhani was set to depart Friday for one of the few countries trying to be a conduit for the two longtime foes—Japan. The planned trip will follow unsuccessful attempts to smooth the U.S.-Iran feud after Japanese Prime Minister Abe Shinzo's landmark visit to Tehran in June and September's bilateral talks on the sidelines of the U.N. General Assembly meeting.
This story has been updated to include a statement from the U.S. Joint Chiefs of Staff regarding the meeting between General Mark Milley, chairman of the Joint Chiefs, and his Russian counterpart, Valery Gerasimov.