Russia Says Israel 'Must End' Attacks on Syria After Latest Strikes Reportedly Kill Iranians
Russia has warned Israel from taking military action against suspected Iranian targets in Syria, arguing that such operations have fostered further instability in the war-torn country.
In a press briefing Wednesday, Russian Foreign Minister Maria Zakharova told reporters "the practice of arbitrary strikes on the territory of a sovereign state—in this case, Syria—must end." Though Russia has attempted to maintain a balance between arch-foes Iran and Israel, both considered strategic allies by Moscow, recent events have upset this equilibrium.
In the latest development, a series of Israeli airstrikes targeted alleged Iranian targets in southern Syria, after Israeli forces reportedly intercepted a surface-to-surface missile in the occupied Golan Heights region. The Russian Defense Ministry reported that only Syrian troops were killed, while pro-Syrian opposition media claimed that nearly a dozen casualties were from Iran, which—along with Russia—was a foreign ally of Syrian President Bashar al-Assad.
"In our opinion, forging an atmosphere of hostility in the region is not in the long-term national interests of any of the Middle Eastern states, including, of course, Israel," Zakharova added. "We must not allow Syria, which has suffered over the long years of armed conflict, to become an arena for settling geopolitical accounts. We urge everyone to think about the possible consequences of provoking a new round of chaos in the Middle East."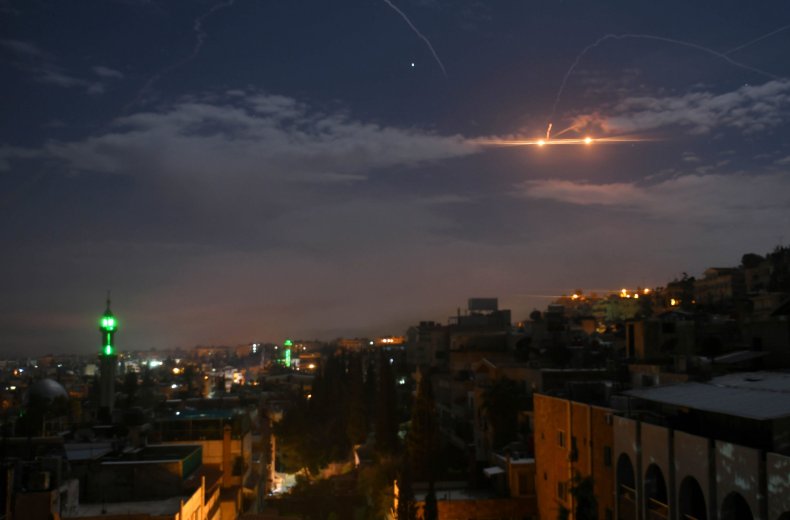 Israel typically strove to maintain a degree of plausible deniability, but has become increasingly public about its campaign in Syria, where outgoing Israeli military commander Gadi Eisenkot revealed last week his forces had conducted "thousands of attacks without taking responsibility and without asking for credit." Also last week, Israeli Prime Minister Benjamin Netanyahu confirmed "hundreds" of Israeli strikes in Syria, including airstrikes against an alleged Iranian weapons storage facility near the Damascus International Airport just days prior.
Iran has denied deploying regular forces such as the elite Revolutionary Guards and its expeditionary Quds Force branch in Syria, but has acknowledged its support for Assad. A number of Iran-backed Shiite Muslim groups, including the powerful Lebanese Hezbollah, are also fighting alongside the Syrian military and have been targeted by Israel, which considers their presence a threat to its own national security.
One such Israeli attack, purportedly targeting an Iranian weapons depot in the western province of Latakia in September, ended in a deadly case of friendly fire after dated Syrian S-200 air defenses accidentally struck a Russian Ilyushin Il-20 surveillance plane while trying to repel the strikes. Russia has held Israel responsible and sent modernized S-300 anti-aircraft systems to Syria the following month, though it was unclear if those systems were yet operational.
The Syrian Ministry of Defense said Monday that Israel had "dealt a heavy blow from both the air and ground, and through consecutive waves of guided missiles," though "our air defense systems immediately dealt with the situation and intercepted the hostile missiles, destroying most of them before reaching their goals and thwarting them in a heroic response to the aggression." In a letter to the United Nations, the Syrian Foreign Minister condemned the attack, saying this "new Israeli aggression is a part of the ongoing Israeli attempts to prolong the crisis in Syria and the terrorist war against it."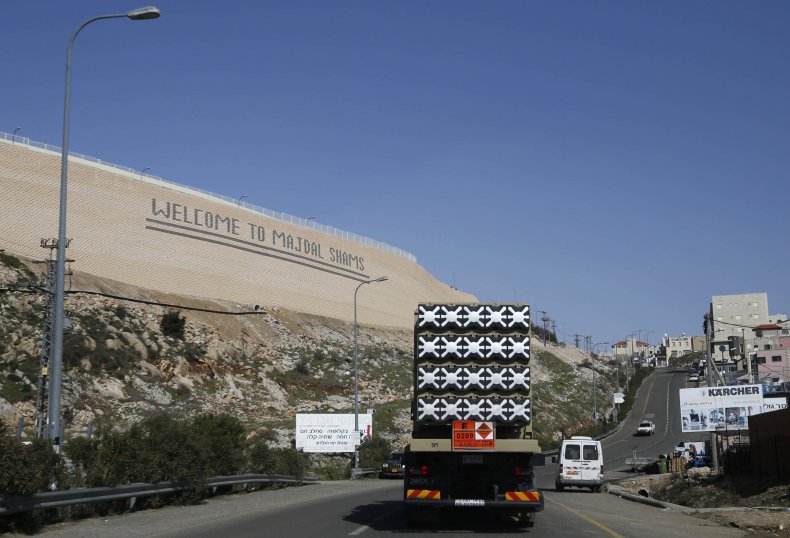 The Russian Defense Ministry claimed that four Syrian soldiers were killed and another six wounded as local air defenses intercepted up to 30 missiles and bombs, according to the official RIA Novosti news outlet. The Syrian Observatory for Human Rights, a U.K.-based monitor with ties to the Syrian opposition, reported that at least 21 people had been killed, including six Syrians and 15 non-Syrians, at least 12 of which were members of Iran's Revolutionary Guards.
The Israeli military asserted that, like the site struck last week at the Damascus airport, the Syrian army base hit Monday was actually an Iranian Quds Force position. The Israeli armed forces' official spokesperson account then tweeted what appeared to be satellite images of the two locations claiming they contained Iranian munition storage sites, intelligence positions and training camps. Israel also argued that attacks against Syria were retaliatory.
"During our strike, dozens of Syrian surface-to-air missiles were launched, despite clear warnings to avoid such fire. In response, we also targeted several of the Syrian Armed Forces' aerial defense batteries," the Israeli military spokesperson said. "By firing towards Israeli civilians, Iran once again proved that it is attempting to entrench itself in Syria, endangering the State of Israel & regional stability. We will continue operating determinedly to thwart these attempts."
"We hold the Syrian regime responsible for everything taking place within Syria and warn them against targeting Israel or permitting others to target Israel from their soil," the spokesperson added. "We are prepared for all scenarios and will continue operating as needed to defend Israeli civilians."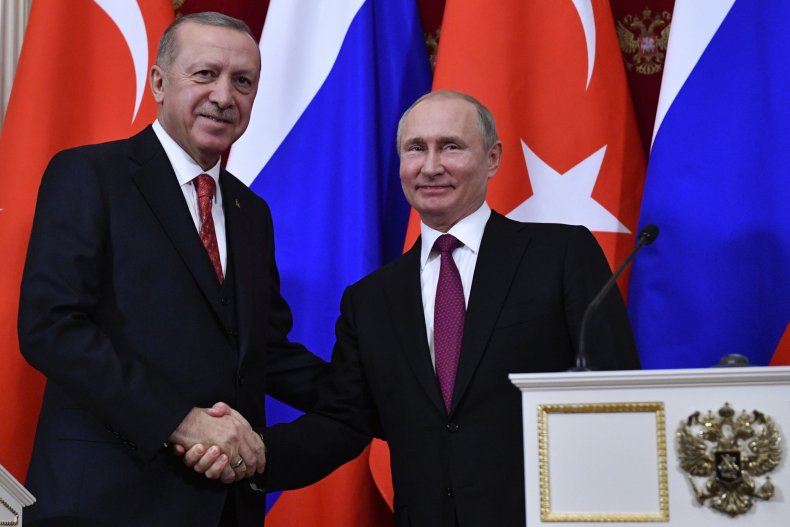 Israel has also threatened to strike Russian missile defenses should they respond to an Israeli attack, further straining relations between the two. Russia has so far allowed Israel—as well as the United States and its allies—to conduct airstrikes in Syria, despite claiming they had no international basis to do so. Syria has considered all foreign military presence from powers other than Russia, Iran and neighboring Iraq to be illegal.
Though the official Pentagon mission in Syria has been limited to defeating the Islamic State militant group (ISIS) since 2014, many Washington officials have sought to expand these goals to include expelling allegedly Iran-backed forces and ousting Assad, whom the West has accused of war crimes. President Donald Trump then announced last month that he sought a total U.S. withdrawal from Syria, claiming ISIS had largely been eradicated thanks to separate campaigns by U.S.-backed, Kurdish-led forces and the Syrian military, along with its Russian and Iranian allies.
Assad, meanwhile, has received increased diplomatic support from the Arab world as the Syrian government reasserts control over the rest of the country. Russia has sought to work with Iran and pro-opposition Turkey to find a political solution to the conflict. On Wednesday, Russian President Vladimir Putin met with Turkish President Recep Tayyip Erdogan to discuss advancing a bilateral agenda, as they attempt to maintain a fragile ceasefire between forces in the last Islamist-led insurgent bastion of control of northwestern Idlib and the Syrian government.
Putin said he supported a withdrawal of U.S. soldiers who "are on the territory of the Syrian Arab Republic illegally" and reconciliation talks between Damascus and U.S.-sponsored Kurdish fighters, currently in charge of nearly a third of the country. Erdogan said that "the fight against terrorist organizations will be fought together," but noted that these groups included both ISIS and the Kurdish People's Protection Units (YPG), a core member of the U.S.-backed campaign but considered a terrorist organization by Ankara due to its suspected ties to Kurdish separatists battling the Turkish state.