Turkey Says Attack That Killed U.S. Troops in Syria May Be Tied to Donald Trump's Plan to Leave
Turkish President Recep Tayyip Erdogan has responded to the deadly attack against U.S. personnel in northern Syria, arguing it may be linked to President Donald Trump's decision to withdraw troops from the conflict there.
An apparent suicide bombing reportedly tore through the streets Wednesday of Kurdish-controlled Manbij, killing a number of U.S. military personnel and others allied in the fight against the Islamic State militant group (ISIS). With the jihadis largely defeated, Trump announced last month that he would begin pulling soldiers out of the country. Erdogan told reporters that the attack "may be a way to influence the U.S. decision" as Turkey's Hurriyet Daily News reported.
Still, Erdogan said that he believed, "Trump will not turn back due to this act of terrorism because I have seen his determination to withdraw." Should the president reverse course, the Turkish leader said that "this will be a victory for ISIS."
He then vowed to "finish ISIS in that land" and "end other terrorist organizations." Erdogan considers that term to apply to certain elements of the very same U.S.-backed Syrian Democratic Forces in control of Manbij due to their suspected ties to Kurdish separatists waging a decades-long insurgency against the Turkish state.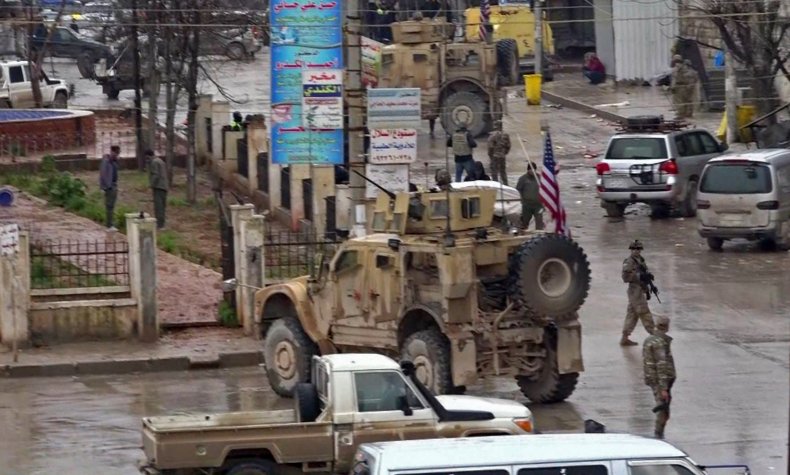 The death toll for Wednesday's attack has risen in recent hours, though no official count has been made public. Erdogan claimed that, based on his latest information, five U.S. troops had been killed, along with 15 others. The Syrian Observatory for Human Rights, a U.K.-based monitor with ties to Syria's opposition, estimated four U.S.-led coalition members had been killed, along with five local allies and nine civilians caught in the blast.
A Defense Department source told Newsweek Wednesday that four U.S. military personnel were killed, including one civilian interpreter, along with an additional three wounded, one of whom was in critical condition. The U.S.-led coalition confirmed only that "U.S. service members were killed during an explosion while conducting a routine patrol in Syria today" via a statement posted to its official Twitter account, while U.S. Central Command later confirmed the figures in a statement regarding the incident, which "is under investigation."
ISIS has claimed responsibility for the attack via one of its "soldiers," Yaseen al-Shami, but the group's involvement could not be independently verified. In a statement carried by its official Amaq News Agency, ISIS claimed that nine U.S.-led coalition personnel were among those killed or injured.
The U.S.-led coalition has been involved in Syria since 2014, three years after a rebel and jihadi uprising rocked the rule of Syrian President Bashar al-Assad, an ally of Russia and Iran. The U.S. and regional allies offered tacit support to insurgents attempting to overthrow the government, but the Pentagon later switched its focus to supporting the Syrian Democratic Forces in 2015 as the Syrian opposition grew increasingly Islamist and a Russian intervention allowed the Syrian government to begin reasserting control over the country.
Manbij was first seized by rebels in 2012 and was then taken by ISIS a year and a half later. The Syrian Democratic Forces gained control of the northern city in 2015, and Manbij remains on the front lines of Turkey-backed insurgents to the northwest and the Russia-backed Syrian military to the south. Erdogan has repeatedly called on Trump to cease supporting the Syrian Democratic Forces and has even threatened to invade Manbij whether or not U.S. troops remained.
U.S. backing for the Syrian Democratic Forces angered fellow NATO Western military alliance member Turkey, which continues to back rebels of the loosely aligned Free Syrian Army based in Syria's northwest. These formerly CIA-sponsored insurgents have at times attacked both the Syrian Democratic Forces and coalition forces assisting them.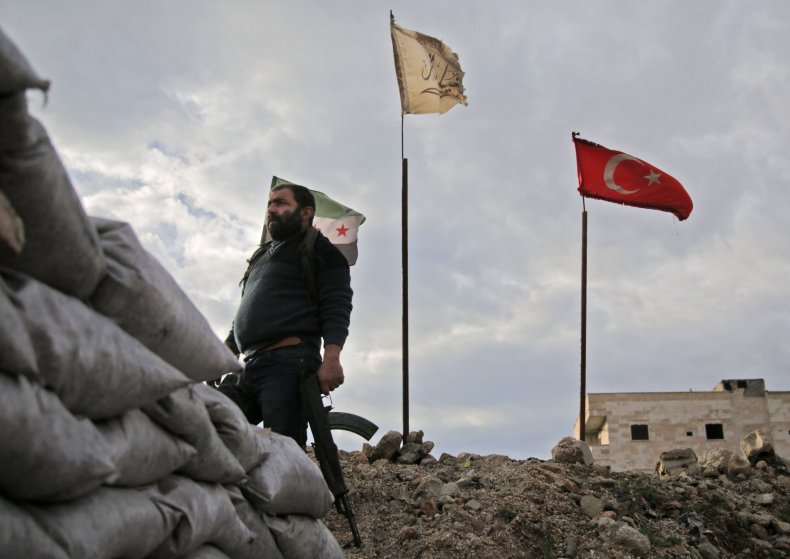 Since Trump's decision to withdraw troops, which reportedly came shortly after a phone call with Erdogan, the White House has attempted to secure protection for the Syrian Democratic Forces, who fear an imminent attack by Turkey and its Syrian allies. The Syrian Democratic Forces have disputed reports, which were confirmed to Newsweek by a Defense Department source, that the exit had begun, but have already handed over some positions in southern Manbij to the Syrian armed forces and allied Russian military police in hopes of thwarting a Turkish advance.
Responsibility for other attacks in Manbij has similarly been difficult to assign. A March roadside bombing in the area killed a U.S. Special Forces operator along with his coalition comrade from the United Kingdom. The attack came shortly after a spokesperson for the Manbij Military Council (MMC), an affiliate of the Syrian Democratic Forces reportedly struck alongside U.S.-led coalition forces in Wednesday's attack, was targeted in an assassination attempt later claimed by a suspected Turkey-backed Syrian rebel group. These attacks came in the aftermath of Trump's previous announcement that he intended to withdraw from Syria.
ISIS has largely been isolated to Syria's far east as a result of separate campaigns waged by the Syrian Democratic Forces and the Syrian military, alongside their respective international supporters. However, jihadi cells are believed to be active in other parts of the country.
In a statement, Syrian Democratic Forces spokesperson Mustafa Bali said the group was "deeply saddened by the vicious terrorist attack which targeted US soldiers and MMC fighters in #Manbij." He added: "We'd like to extend our heartfelt condolences to the families of soldiers and American people. We will keep fighting hard to ensure stability and security in this region."
This article has been updated to include U.S. Central Command's confirmation of the casualty count provided to Newsweek by a Defense Department source.