Russia-Israel Relations Unravel as Putin Risks Losing Key Middle East Ally
The chances of Israel playing a mediating role in the Ukraine war have ended, according to the Jerusalem Post, following anger at comments by Russian Foreign Minister Sergei Lavrov.
During an interview on Italian television on Sunday Lavrov said that Adolf Hitler had "Jewish blood" and that "some of the worst antisemites are Jews." It sparked a stern rebuke from his Israeli counterpart Yair Lapid who called the comments "scandalous" and demanded an apology.
Lapid said: "Jews did not murder themselves in the Holocaust," referring to the killing of 6 million European Jews and other minority groups by Nazi Germany.
Israel has been careful in its response to the war in Ukraine, expressing support for Kyiv on the one hand while not publicly criticizing Russia on the other.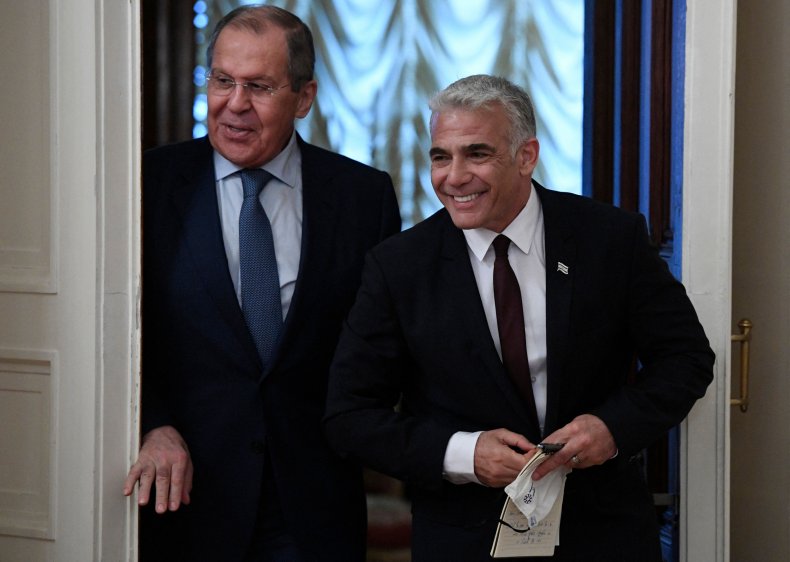 But Lavrov's remarks, which appear to be aimed at bolstering Russia's claims that it is "denazifying" its neighbor, have created a tricky diplomatic situation for Jerusalem.
Israel does not want to antagonize Russia, which controls the skies over Syria where Israel carries out air strikes, but it has concerns for the quarter of a million Jews in Ukraine who are eligible to make Israel their home under its "Law of Return."
Its approach has been criticized, especially after Israel did not initially sign up to a text condemning Russia at the UN Security Council—although it did eventually vote to condemn Moscow at the UN General Assembly.
Israeli Prime Minister Naftali Bennett had been trying to position himself as a go-between in the conflict, becoming on March 10 the first foreign leader to speak to Vladimir Putin in person at the Kremlin following his invasion of Ukraine.
However, Lavrov's comments appear to have ended that prospect, according to the Post. The Israeli Foreign Ministry's summons of Russia's ambassador to Israel, Anatoly Viktorov, "marks the end of Israel's effort to somehow stay above the Russian-Ukrainian fray," the Post reported.
"The daily horrors in Ukraine" as well as "words such as Lavrov's have made it impossible for Israel to remain 'neutral'" Herb Keinon wrote in the paper, adding that Bennett's attempt to mediate the conflict "has led nowhere."
"Israel has neither leverage to use on the Russians, nor any security guarantees to give the Ukrainians that would render it a serious mediator," Keinon added.
Lavrov's rhetoric comes amid a concerted attempt by Moscow to push its unproven narrative about alleged Nazi elements in Ukraine to justify the war.
Moscow doubled down on the sentiment with a post on the Russian Foreign Ministry's Telegram social media channel taking aim at Lapid's "anti-historical" comments and accusing the Israeli government of supporting "the neo-Nazi regime in Kyiv."
On Wednesday, Russian foreign ministry spokeswoman Maria Zakharova told Sputnik radio Israeli mercenaries are fighting "shoulder to shoulder" with Azov militants whose far-right links Moscow repeatedly refers to as proof of Nazi elements in Ukraine.
Then in an interview with TV channel Rossiya-24, she said that Israel has been "ignoring the growth of neo-Nazi ideology in Ukraine for years."
Journalist and commentator on Israeli affairs, Jonathan Sacerdoti, said that the "preposterous" claims Russia had made about World War II had complicated the balance of relations between Israel and Russia.
He said Bennett wanted to act as a broker in the Ukraine war but Israel also relied on Russia to counter Iranian threats.
"If Israel comes out too boldly against Russia then it puts that at risk and that is extremely important for Israel because it is its own security," Sacerdoti told Newsweek.
"I do think that they will probably keep that balance somehow because both Israel and Russia are pragmatic," he said.
"It is too simplistic to say Russia and Israel are allies but it is certainly true that Israel has more interaction and cooperation than others with Russia and I think they will want to keep that going—they haven't got a choice."
"On other other hand, there are few subjects more absolutely out of bounds for the Jewish state than making stuff up about the Holocaust. That's why they [Israel] have spoken out. They were right to do so and it will be a question of how much do they push it."
Israeli President Isaac Herzog did not address claims that his country was supporting "neo-Nazis" in Ukraine in an interview with Haaretz but did say he was "angry and disgusted" with Lavrov's comments and sought an apology.
However, he told the paper that he did not believe Lavrov's comments "will harm bilateral relations between Israel and Russia" but warned that they could "cast a cloud over them" if he did not correct them.
Newsweek has contacted the Israeli foreign ministry for comment.
Update 05/05/22, 12 p.m. EDT: This article has been updated with comments from Jonathan Sacerdoti.