'Glory to Russia': ISS Commander Oleg Artemyev Sends Victory Day Message
The Russian cosmonaut who is currently in command of the International Space Station (ISS) has wished "success" to Russian military service personnel in a statement to mark Victory Day in the country.
Oleg Artemyev is commander of the ISS for Expedition 67, a research mission on the orbiting science lab that includes three cosmonauts from Russia's Roscosmos space agency; three NASA astronauts; and one European Space Agency (ESA) astronaut.
Artemyev took over as ISS commander from NASA astronaut Tom Marshburn on May 4. He is due to remain in command until late summer.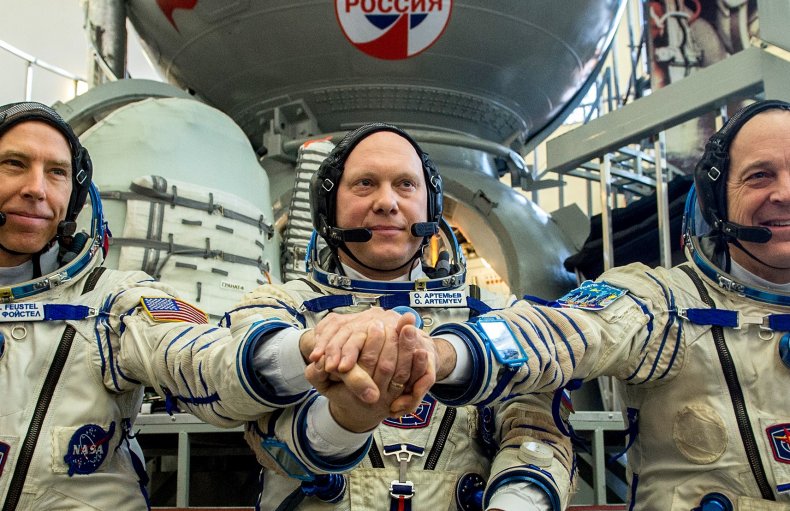 In a statement presented from the ISS and published to YouTube on Sunday by Roscosmos, Artemyev and his two cosmonaut colleagues commemorated Victory Day, a celebration of Russia's victory over Nazi Germany in 1945.
Speaking to a camera, Artemyev recalled Russian lives lost in World War II and then said, translated from Russian according to Roscosmos: "We congratulate you on the Great Victory Day! We wish you good spirits, peace and kindness, and to the military men and women—success in the hardest and most dangerous military work for the good of Russia."
International cooperation on the ISS between Russia and other countries is ongoing despite Russia's internationally condemned invasion of Ukraine that has stoked geopolitical tensions. The war has led to the deaths of 3,309 civilians in Ukraine between the start of the invasion of February 24 and May 5, including 73 girls, 88 boys, and 73 children whose sex was not yet known, according to the Office of the U.N. High Commissioner for Human Rights (OHCHR). The actual figures could be far higher.
NASA has repeatedly said that it is continuing to work with Roscosmos to ensure ongoing ISS operations and Russia, for its part, appears to be fulfilling its obligations as well. In March U.S. astronaut Mark Vande Hei was safely returned to Earth inside a Russian spacecraft alongside a crew of cosmonauts.
There have been suggestions that relations are becoming strained, however, with Dmitry Rogozin, head of Roscosmos, stating that the ISS could fall out of orbit without Russia's continued maintenance and warning that Russia would make its own space station have a military focus if international tensions continued.
Meanwhile, former astronaut Scott Kelly recently told Newsweek that he considers some of his former cosmonaut colleagues to have been "brainwashed" into supporting Russia's military action in Ukraine.
In any case, it is still uncertain whether Russia will depart from the space station in the near term despite conflicting reports. Rogozin has said Roscosmos will inform international partners of any intention to leave the station with a year's notice, according to Ars Technica. The current agreement is to continue managing the station until 2024.