Russia's ambassador to the U.S. has said that ties between Moscow and Washington, D.C. started to sour about a decade ago and that the U.S. continues to wield Ukraine as a political tool to pressure the Kremlin.
In a TV interview, Anatoly Antonov also criticized the Biden administration's approach to the Nord Stream 2 gas pipeline, the critics of which fear will give Moscow a strategic advantage.
"We see a lack of confidence, a lack of trust between the United States and Russia," Antonov said in an English-language interview with the Russian state-funded channel RT America.
"I am trying to find a day when Russia has become an enemy or a rival for the United States and it is rather difficult to say when it happened. It seems to me that maybe it was 10 years ago but not when the Ukrainian crisis starts," he said in comments also reported by Russian agencies.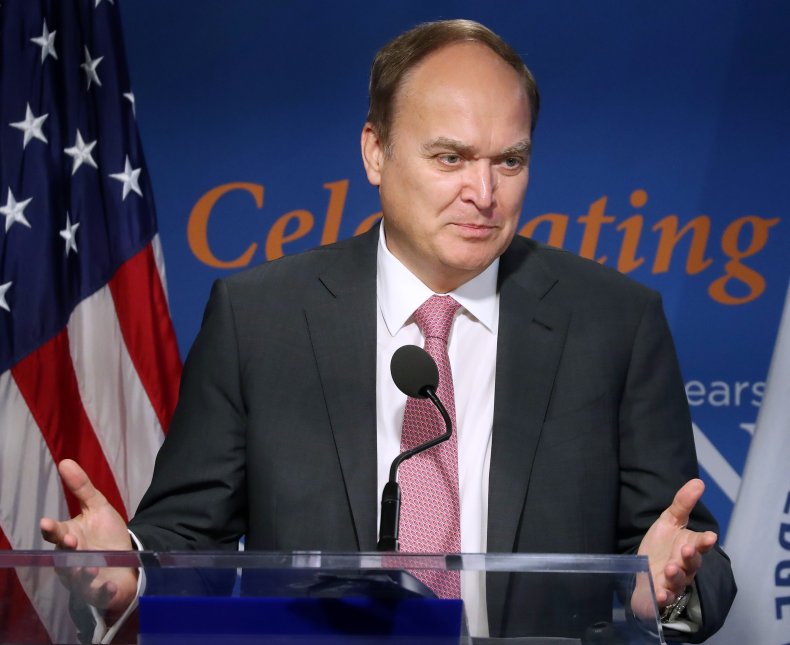 He did not specify which event in particular started the fraying of ties but he is suggesting they precede the protests of the Euromaidan movement that emerged at the end of 2013 to oppose the then president of Ukraine, Viktor Yanukovych.
Yanukovych was ousted in February 2014 in a revolution that Moscow accused Washington, D.C. of helping orchestrate. Later that year, Russia seized Crimea and unrest in eastern Ukraine in the Donbas region evolved into war involving Kremlin-backed separatists, although Moscow denies involvement.
Antonov noted how Ukraine was a common denominator in other areas of dispute between Moscow and Washington, D.C.
An ongoing spat over the Nord Stream 2 gas pipeline appears to have been resolved after the U.S. and Germany agreed to take action against Moscow if it used the conduit to harm Kyiv or other European countries, Reuters reported on Wednesday.
However, Antonov insisted that for Moscow, the pipeline linking Russia's Arctic to Germany was only an "economic project" and that the U.S. opposition to it was driven by "unfair competition on international markets."
When asked by RT America presenter Rick Sanchez if President Joe Biden's opposition to the pipeline was simply a move to "save face" to protect U.S. interests in Ukraine.
Antonov replied: "What kind of political interest [does] the United States administration have in Ukraine? Ukraine is too far.
"I have discussed this issue with many [U.S.] politicians," he said, "I am not lying but some of them don't know where Ukraine is. So, I don't understand why it's so important for the United States.
"It seems to me that some political figures, some politicians, just only would like to use Ukraine as a tool to press on Russia, to change independent Russian foreign policy, Russian economic policy."
Antonov returned to the U.S. in June after a stint in Moscow that followed a diplomatic spat between the U.S. and Russia, which followed sanctions imposed by the Biden administration for the SolarWinds hack and U.S. election interference
"We are doomed for cooperation," Antonov said, as he described the need to repair relations between the countries especially as they are the "main nuclear states."
Other pressing issues were tackling terrorism, the U.S. pullout from Afghanistan and climate change. "We have no time to quarrel," Antonov added.
Newsweek has contacted the White House for comment.
UPDATE 7/22/21 10:36 a.m. ET: The first paragraph has been changed to clarify that Antonov said Moscow's ties with the U.S. soured 10 years ago, not because of Ukraine, but that the U.S. was using Ukraine to pressure Moscow.