Merkel Leaves Biden With Nord Stream 2 Headache As Fears Remain About Russia
President Joe Biden may have said that he and German Chancellor Angela Merkel stand together against Russian aggression, but the pair remain divided on a gas pipeline that critics fear will give the geopolitical upper hand to Moscow.
Biden's comments at Thursday's press conference during Merkel's likely last visit to the White House referred, in particular, to defending NATO against the threat posed by Moscow.
But opponents of the Nord Stream 2 project led by Russian state energy company Gazprom and its partners, which would pipe gas between the Russian Arctic to Germany, say it would give the Kremlin as much leverage as any military advantage.
"Good friends can disagree," Biden said on Thursday after the pair failed to settle their differences on the $11 billion project.
Still, Biden did say that the pair are "absolutely united in our conviction" that Russia could not use its energy as a political tool against its neighbors.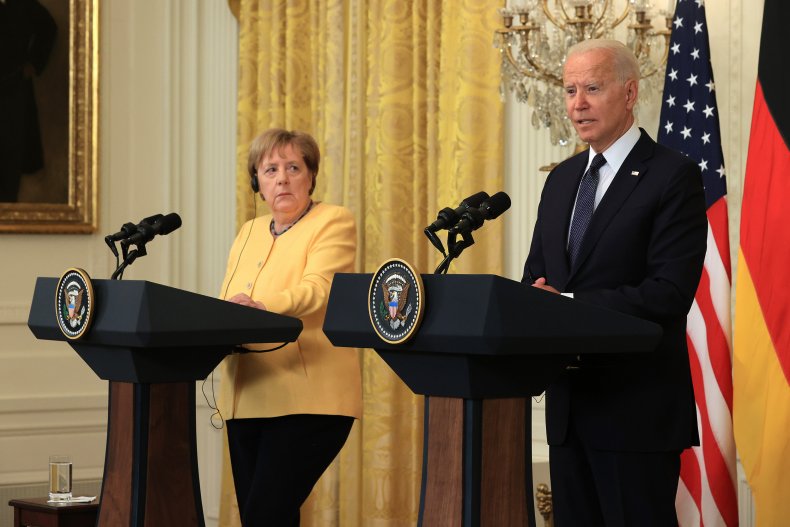 The pipeline has been a friction point between Berlin and Washington for some time. Germany sees it as a way to secure a relatively low-cost supply of gas at a time when European producers are reducing output.
However, both Biden and the Trump administration before him, as well as Germany's neighbors and some U.S. lawmakers, fear Russia may use the 764-mile pipeline to exert pressure on Europe.
Merkel, in turn, has faced pressure domestically to put a spanner in the project following the poisoning and jailing of Russian opposition politician, Alexei Navalny.
She also tried to allay concerns that Ukraine would be adversely affected by the pipeline, which bypasses it, thus depriving Kyiv of vital transit fees. After meeting with Ukrainian President Volodymyr Zelenskyy this week in Berlin, she insisted that Ukraine must stay a transit country and Germany would "actively" respond if Russia did not respect its sovereign rights.
Meanwhile, Biden said he and Merkel had asked their teams to examine whether Europe's energy security is "strengthened or weakened" based on Russian actions, CNBC reported.
However, pressure is building on the Biden administration not to be seen to be handing the Kremlin an advantage, while keeping good relations with Germany.
Biden was criticized in May by Republicans and Democrats after waiving sanctions on Nord Stream 2 AG and its German Chief Executive Officer Matthias Warnig, who is an ally of President Vladimir Putin.
The waiver was to allow time to work out a deal with Germany but no agreement was forthcoming in time for Merkel's visit, Reuters reported.
Republican Senator Ted Cruz said he is holding up Biden's nominees for ambassador posts until the sanctions are put in place.
Meanwhile, Democratic Senator Bob Menendez, who chairs the foreign relations committee, urged the administration in May to "move forward with the congressionally mandated sanctions."
Following the announcement of the waivers in May, the State Department told Newsweek that the administration was still committed to opposing Nord Stream 2.
It also emphasized it had imposed measures on the "largest number of entities to date under the Protecting Europe's Energy Security Act." This included four Russian entities and four Russian vessels.
When contacted by Newsweek, the State Department declined to comment and referred to Biden's statements at the press conference held with Merkel.
Update 7/17/2021 11:10 a.m. ET: This article has been updated to include a response from the State Department.