Russia Loses 16 Tanks, 24 Armored Vehicles and 3 Drones in a Day: Ukraine
Russia has lost a total of 16 tanks, 24 armored vehicles and three drones in the last 24 hours in Ukraine, according to the latest update from the General Staff of the Armed Forces of Ukraine.
The number of military losses suffered by Russia in a single day is higher than normal, but Moscow has had higher losses in the past 12 months of war.
However, Wednesday's numbers are still significant: compared to the day before, when the Ukrainian army reported Russia's loss of eight tanks, Moscow had double the number of tanks destroyed, damaged, or abandoned in the neighboring country.
Between February 20 and 21, Russia had lost a total of 10 tanks, according to Ukraine. The day before that, a total of six.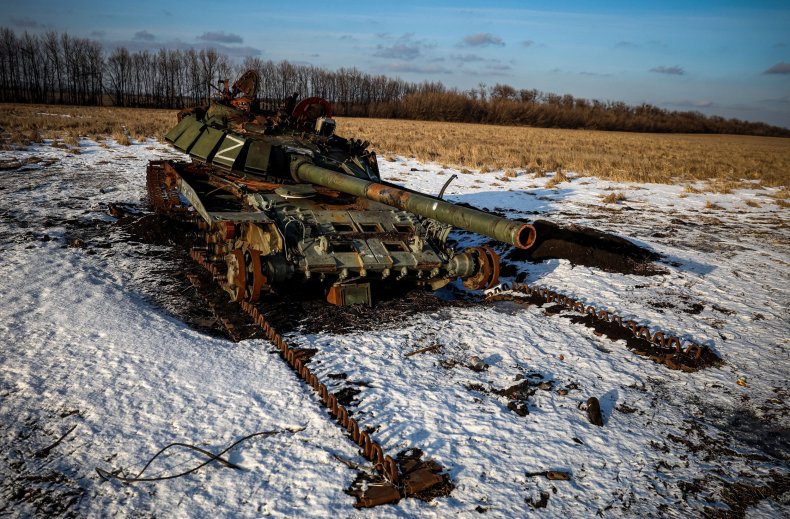 The same goes for armored vehicles: between February 21 and 22, Russia reportedly lost a total of seven such vehicles—fewer than a half of the number lost between February 22 and 23. The day before that, Moscow lost nine armored vehicles.
The losses come at a time when Russian forces continue to conduct ground attacks throughout the Donetsk Oblast frontline, as reported by the Washington-based think tank Institute for the Study of War (ISW). Russia is trying to secure marginal territorial gains around the eastern city of Bakhmut.
ISW said it expects Russian forces to "likely" attempt to increase the tempo of their offensive operations along the Kupyansk-Lyman line on the eastern front. Russian authorities say that Moscow's troops will focus only on defensive operations in the east bank of the Kherson Oblast and Crimea. They won't intensify offensive operations in the Luhansk Oblast.
At the same time, Ukrainian intelligence officials say, according to their latest estimates, that Russia's combat power would be insufficient to sustain new offensive operations in Ukraine.
Talking to Forbes, Kyrylo Budanov, chief of the Main Directorate of Intelligence of the Ministry of Defense of Ukraine, said Russian tactics around Bakhmut and Vuhledar have shifted from using artillery and mechanized attacks to infantry assaults. This is because of the lack of shells and armored vehicles. According to Budanov, Russian forces have lost 30 percent of the total number of artillery shells, and are now rationing stocks.
Military losses have been piling up for Russia in the last 12 months of war. Since the beginning of the invasion on February 24, 2022, Russia is estimated to have lost over half of all its tanks in Ukraine—a total of 1,769 vehicles—according to Oryx, a website monitoring military losses in the war-torn country.
In terms of armored fighting vehicles, Oryx has collected photographic evidence that Moscow has lost 789 vehicles—487 of which destroyed, 13 abandoned, and 260 captured.
Newsweek has reached out to Russia's Ministry of Defense for comment.