Russia Lost Over Half of Its T-72B Battle Tank Stock in One Year—ISW
Almost a year into President Vladimir Putin's invasion of Ukraine, Russian forces have lost about half of their T-72B and T-72B3M main battle tanks, according to an assessment by a U.S.-based think tank.
Russian tank losses in the Ukraine war have been "enormous," the Institute for the Study of War (ISW), based in Washington, noted in its daily assessment of the conflict on Sunday.
The losses amount to "the equivalent of around 16 tank regiments worth" and is likely "hindering Russia's ability to reconstitute its tank units rapidly," said the think tank, citing recent intelligence estimates by Dutch open-source investigative organization Oryx and the British research institute the International Institute for Strategic Studies (IISS).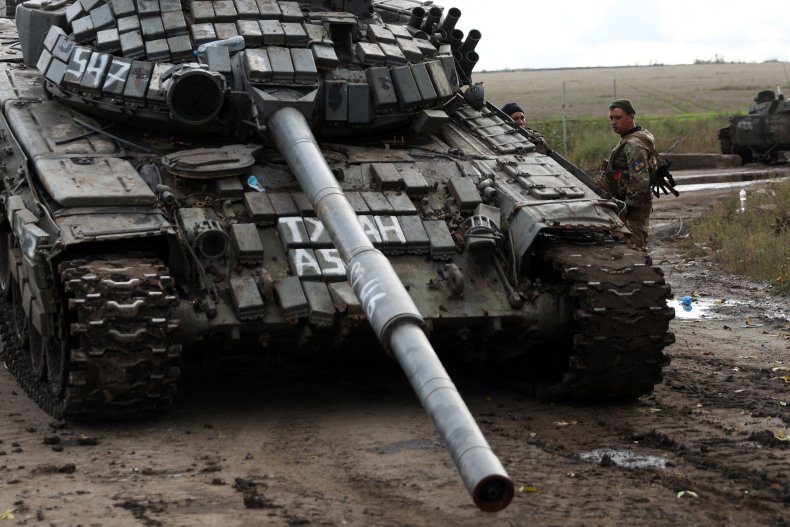 The ISW noted that Oryx verified over 1,000 distinct Russian tank losses and 500 captured tanks on February 9. This "likely means that Russia has lost half of its pre-war tank fleet in the first year of the war."
And on February 15, the IISS similarly noted that Russia had lost about 50 percent of its pre-war number of T-72B and T-72B3M main battle tanks.
The ISW observed that the Russian armed forces don't appear to have a large number of tanks in usable stocks, and Russia doesn't appear able to produce tanks quickly either.
"Widespread tank losses also impact the capacities of motorized rifle formations to function effectively, but motorized rifle units require fewer tanks in each and can make better use of the large amount of relatively untrained manpower the rushed Russian reserve mobilization has generated," the think tank said.
"The absence of reconstituted tank regiments and brigades, however, deprives the Russian ground forces of the kind of punch required to make and exploit operationally significant breakthroughs—which may explain why the WMD [Western Military District] has so far failed to make any."
Reports were circulating as far back as May 2022 that Russia was losing a significant number of tanks in the conflict and that Moscow had moved 50-year-old T-62 tanks from "deep storage" to be deployed for use by its Southern Grouping of Forces.
The ISW previously noted that on February 9, Dmitry Medvedev, deputy chairman of the Russian Security Council, visited a tank manufacturing plant in the Omsk Oblast and highlighted the need for Russia to ramp up the production of modern tanks.
"Medvedev likely framed his calls for increased production as a response to Western military assistance to obscure the fact that substantial military equipment losses are driving the need for increased production," the ISW said.
The think tank was referring to promises from Ukraine's Western allies to provide powerful new tanks over the coming months, including 31 M1 Abrams tanks from the U.S.
Newsweek has contacted Russia's defense ministry for comment.
Do you have a tip on a world news story that Newsweek should be covering? Do you have a question about the Russia-Ukraine war? Let us know via worldnews@newsweek.com.