Russia May Need Weeks to Recover in Bakhmut as Ukraine 'Bleeds Them White'
While it is unknown if Russia can capture Bakhmut in Ukraine, Russian forces might need a period of time to recover from the grinding fight if it ultimately seizes the long-embattled city, according to an expert.
Russia has conducted a monthslong effort to capture Bakhmut in Ukraine's eastern Donetsk region but so far has failed to seize control of the city. Russian and Ukrainian forces have reportedly suffered heavy losses in the fight. Additionally, the city has experienced enormous damage, according to Ukraine. Ukrainian President Volodymyr Zelensky said in December that Russian forces had "actually destroyed" Bakhmut in the fighting.
Dan Soller, a former U.S. Army intelligence colonel, told Newsweek that it's still an "open question" as to whether Russia can secure Bakhmut.
"Ukraine appears to valiantly defend Bakhmut to prevent giving up more terrain to Russia and also to inflict heavy losses on Russian troops, a.k.a. attempting to bleed them white," Soller said. "However, both sides have suffered heavy casualties over the past month."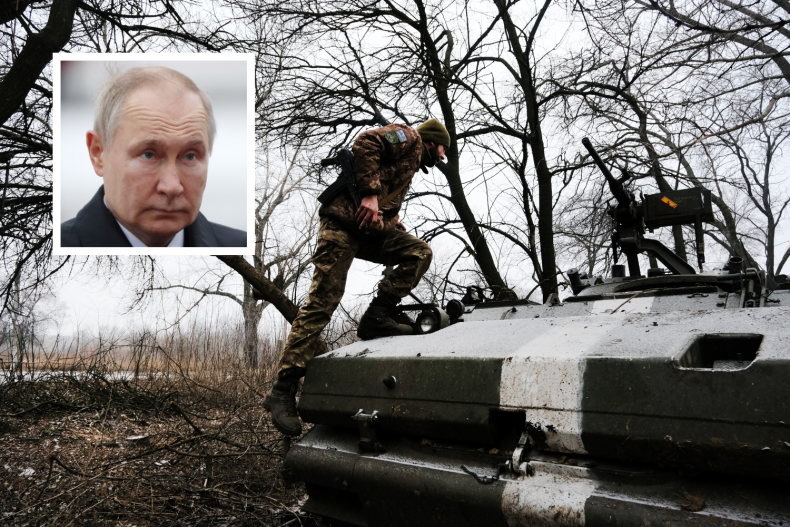 If Russia does take Bakhmut, it would make sense geographically to continue to attack toward the Donetsk cities of Slovyansk or Kramatorsk, "but it seems unlikely the Russians would have the operational strength in the near term after such a bloody fight in and around Bakhmut this winter," Soller said.
"Most likely, the Russian forces will have operationally culminated after the Bakhmut fight and it may take weeks before they can effectively continue the offensive," he added.
While Bakhmut remains beyond Russia's control, it has claimed to make marginal gains around the city in recent weeks. In January, Russia claimed control of the salt-mining town of Soledar, just a few miles from Bakhmut. Ukraine acknowledged later in the month that its forces had pulled back from Soledar.
Russia claimed to have taken control of Klishchiivka, a settlement south of Bakhmut, in January, as well. And Tuesday, Russia said that its forces had seized the village of Blahodatne about three miles from Bakhmut, according to Reuters.
Newsweek has not been able to independently verify Russia's claims about seizing Klishchiivka and Blahodatne and reached out to Ukraine's Defense Ministry for confirmation and comment.
William Reno, professor and chair of the political science department at Northwestern University, said that it was difficult to know the exact state of the battle for Bakhmut. He told Newsweek that based on the available information, "there is a sense that Ukrainian forces perform more proficiently than Russian forces, but that there are more and a greater diversity of Russian forces," such as Russian Wagner Group mercenaries and motorized infantry.
Reno compared Russia's military to a wood chipper, saying that it is "crude and basic in terms of training and organization, but it chews through its adversaries."
"Even so, the slow pace of Russian advance on this sector of the line of contact must come at a heavy price," Reno said. "But Russia won't run out of manpower like they did last fall when they retreated from the Kharkiv area," another region in the east where Ukrainian forces conducted a counteroffensive last year.
"While I'm wary of prediction, one might think of Bakhmut as the end of a phase in this war," Reno added. "Ukraine wants to move to quality over quantity, leaving the Russians to count artillery ammunition stocks, replacement rates for artillery barrels, etc. Western backers want to exhaust the wood chipper and fight it more on terms of Ukraine's choosing."
He added that in the months ahead, Ukraine needs to demonstrate that it can continue to retake territory. But it will come with risks since Russia's military is bigger and some of its forces, though not all, are "better trained," Reno said.
"Ukraine is reconstituting units and preparing to fight, even as the battle for Bakhmut draws people and resources away from that effort," he said. "That may be part of Russia's stakes in fighting for Bakhmut, too. In sum, Bakhmut itself isn't important as a place as it is for foreshadowing what is to come."
Newsweek reached out to the Russian Defense Ministry for comment.