Video Shows Russian Fighter Escort U.S. Military Plane Over the Pacific
A Russian fighter plane escorted a U.S military aircraft over Russia's far eastern border this week, amid growing tensions between Moscow and Washington, D.C. and international concern over a military build-up at the border with Ukraine.
Footage released by the Kremlin's Defense Ministry on Friday shows its MiG-31 fighter accompanying the U.S. Air Force RC-135 strategic reconnaissance aircraft along the south-eastern coast of Kamchatka, reported the news agency Tass.
The ministry said in a statement that its fighter took off from an airfield in the Kamchatka territory "to identify and accompany" the U.S. aircraft.
"The crew of the fighter identified the air target as a strategic reconnaissance aircraft RC-135 of the U.S. Air Force," it said in a statement, adding that the American plane did not cross into Russian territory.
"The flight of the Russian fighter was carried out in strict accordance with international rules for the use of airspace," the ministry added.
In a similar incident last week, a Russian MiG-31 escorted an RC-135 reconnaissance plane that Moscow said had approached its borders in the same region, news agencies reported.
Since last year, NATO aircraft have upped their reconnaissance activities near Russia, prompting a warning by Moscow that such flights pose the risk of an accidental escalation.
On April 7, Russia said a Norwegian air force Falcon 20 reconnaissance aircraft was intercepted on the other side of the country, over the Barents Sea. Russia's Defense Ministry said its MiG-31 fighter "was scrambled to identify the air target and prevent it from violating the Russian state border," Tass reported.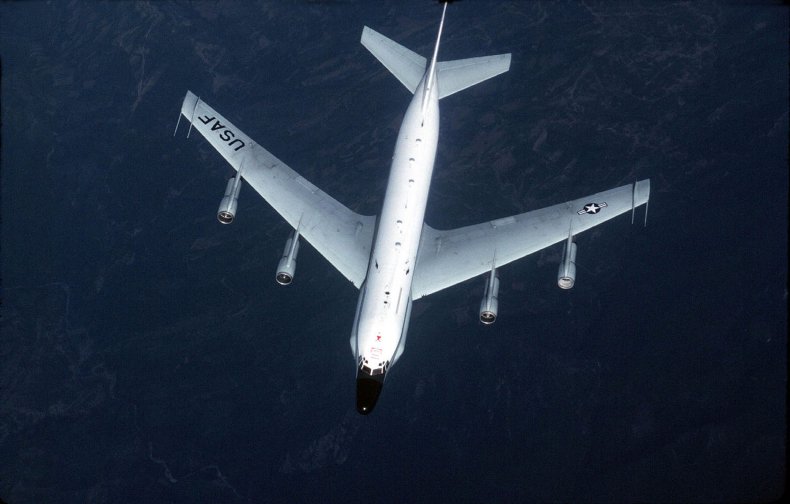 The latest incident comes as alarm grows in the international community over Russia's build-up of tens of thousands of troops, tanks and artillery by the Ukrainian border.
NATO's secretary general Jens Stoltenberg called the build-up "unjustified, unexplained and deeply concerning." Moscow's defence minister, Sergei Shoigu, said it was a "response to the alliance's military activities that threaten Russia."
In a phone call with his Russian counterpart this week, President Joe Biden called on Vladimir Putin to de-escalate tensions. The White House said Biden "emphasised the United States' unwavering commitment to Ukraine's sovereignty and territorial integrity" during the call.
Biden has vowed to stand behind Kyiv and proposed meeting with Putin in a third country. However, the mood for such a discussion is likely to be soured by the imposition of American sanctions linked to the SolarWinds cyber-attack on U.S. government agencies and the claims of interference in the 2020 election. U.S. officials have blamed both on Moscow, but the Kremlin denies this.