Russian MiG-31 Fighter Jet Intercepts U.S. Aircraft as Moscow Eyes NATO Drills
Russia scrambled a fighter jet by its far eastern border to escort a U.S. military plane as tensions continue to grow between Washington, DC and Moscow over tit-for-tat aircraft maneuvers.
The MiG-31 fighter took off to escort the U.S. Air Force RC-135 strategic reconnaissance aircraft over the Chukchi Sea, which is also known as the Sea of Chukotsk, a body of water between the Arctic Ocean and the Bering Strait that separates Alaska from Russia.
Russia's National Defense Control Center said in a statement that its jet was scrambled from its Pacific Fleet "to identify the air target and prevent violation of the border of the Russian Federation," Tass reported.
"The flight of the Russian fighter was carried out in strict accordance with international rules for the use of airspace," the center added.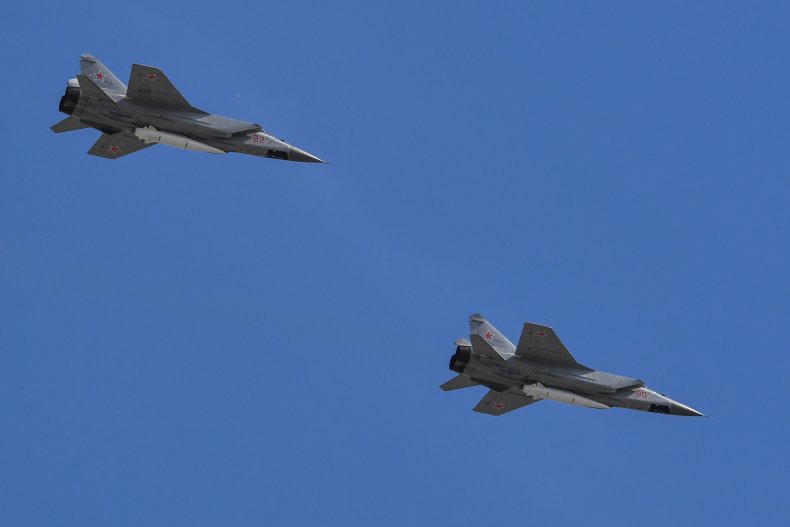 The incident is Russia's latest intercept of an American aircraft. In April, Russia's Defense ministry released footage of a MiG-31 fighter accompanying an RC-135 over the coast of Kamchatka in Russia's far east.
Only days earlier, a Russian MiG-31 fighter jet escorted the same kind of U.S. reconnaissance aircraft over the Pacific Ocean.
Moscow has warned that the increased reconnaissance activities near Russia pose the risk of an accidental escalation as tensions simmer between Russia and the West.
Moscow has announced it would withdraw troops from its border with Ukraine following deployments that caused global concern, although NATO has said that tens of thousands of Russian troops remain.
It comes as Russia keeps a close watch on DEFENDER Europe 2021, the U.S. Army-led military exercises taking place across Europe and Africa involving alliance members and its allies.
Meanwhile, Secretary of State Antony Blinken reiterated American support for Ukraine against Russian aggression following discussions on Thursday with the Ukrainian president Volodymyr Zelensky.
During a one-day trip to Kyiv, Blinken said that discussions between the pair had focused on "the threat Russia continues to pose to Ukraine" which the U.S. has been watching "very carefully."
Blinken said that despite Russia's announcement of a troop withdrawal, "significant forces remain there."
Following Blinken's comments, a State Department spokesman told Newsweek in a statement that "the United States reaffirms its support for Ukraine's sovereignty and territorial integrity, extending to its territorial waters."