Russia Troops Withdraw From Ukraine Border After NATO F-16s Intercept Jets Over Baltic
Russia's defense minister, Sergei Shoigu has said his country's troops would withdraw from positions along the Ukrainian border, easing fears about a feared invasion following a Russian military build-up that rattled the international community.
His comments on Thursday follow a ramping up of tit-for-tat maneuvers between NATO and Moscow.
During military exercises in Crimea, Shoigu ordered the general staff of the armed forces, military chiefs and the airborne troops to start returning to their home bases from the Russian-Ukrainian border and the peninsula it annexed in 2014 starting from Friday.
"I believe that the objectives of the surprise check have been fully achieved," he said on Thursday according to Tass, adding, "the troops have demonstrated the ability to ensure reliable defense of the country."
Shoigu's announcement came as NATO and Moscow have escalated missions.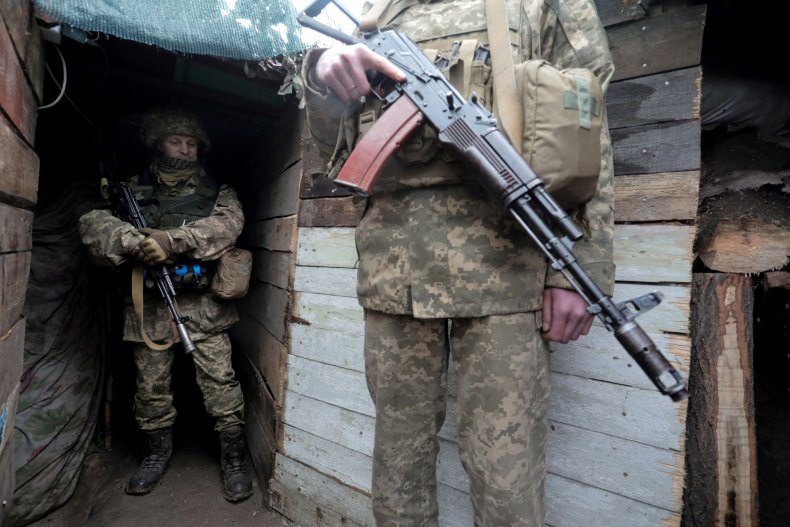 On Tuesday, the alliance said that its radars had detected unidentified aircraft flying over the Baltic Sea. The aircraft posed a civilian flight safety risk because no flight plan had been provided and some of the aircraft tracks were not identifiable by transponder signal, a NATO release said on Wednesday.
The alliance's Combined Air Operations Centre (CAOC) at Uedem, Germany, sent fighter jets from bases in Estonia, Lithuania and Poland to track the two Russian Tu-160 Blackjack bombers, which were being escorted by Su-27 and Su-35 fighter aircraft.
The Russians were also operating an A-50 Mainstay airborne warning and control plane that was escorted by fighters, NATO said.
The alliance sent up German and Italian fighter aircraft, Polish Air Force F-16s fighters and Royal Danish Air Force F-16s were also deployed. It said the Russian bombers stayed in international airspace above the Baltic Sea and returned to mainland Russia after three hours.
Brigadier General Andrew Hansen, NATO's deputy chief of staff operations said in the statement that the deployment showed the alliance's readiness "to intercept any perceived threat to Allied airspace."
"The Alliance routinely practises intercepts for this exact reason and has built the necessary muscle memory to accomplish this at a moment's notice," he added. Newsweek has contacted Russia's defense ministry for comment.
The incident comes as the alliance reported an unusually high number of flights by Russian bombers and fighters over the last few weeks.
On March 29, NATO said its jets were scrambled 10 times as the alliance tracked six different groups of Russian military aircraft within a few hours.
Last week, a Russian MiG-31 fighter jet escorted U.S. and Norwegian patrol aircraft over the Barents Sea, north of Scandinavia.
On the other side of the country, a Russian MiG-31 escorted a U.S. reconnaissance aircraft along far northeast Kamchatka Peninsula over the Pacific Ocean.
The biggest Russian military buildup near Ukraine's border since 2014 has rattled the international community over what Moscow will do next. Russia insists it is simply responding to NATO military drills near its territory.
"The Baltic manoeuvres are indeed linked to the military buildup at Ukraine's borders, but its significance should not be overestimated beyond, once again, this 'new normal' of escalation," said Mathieu Boulègue, research fellow at the Russia, Eurasia program at London's Chatham House think tank.
"It would have happened regardless of Ukraine," he added.
"Such actions go way beyond what is usually defined as 'peacetime shows of strength', which increases the risk of miscalculation and tactical errors, and inadvertent escalation beyond the manageable," he told Newsweek.