Russia Missiles Target Hydraulic Stations, Threaten to Flood City: Ukraine
A top Ukrainian official today alleged that Russians launched a missile barrage on hydraulic stations in one of Ukraine's biggest cities, in an apparent effort to cause flooding.
Kyrylo Tymoshenko, deputy head at the office of Ukrainian President Volodymyr Zelensky, wrote on Telegram that eight Russian cruise missiles were fired at hydrotechnical stations in Kryvyi Rih in central Ukraine. Calling it a "terrorist act," he posted video that shows flowing waters.
No casualties were reported. Kryvyi Rih, one of Ukraine's top 10 largest cities by population, is south of Kyiv and west of Zaporizhzhia.
"The goal is obvious - an attempt to create an emergency situation," Tymoshenko wrote. "It is not important to them whether people will remain without water or whether the city will be in water."
He said Russians are attempting to make Ukrainians "panic," instructing citizens to remain calm while work was being conducted to repair the site.
In an Instagram post, Zelensky repeated the claim of the enemy's urge to cause discord. He said that "all the occupiers can do is to sow panic, create an emergency" that would potentially leave people without light, heat, water and food.
"The terrorist country continues to fight against the civilian population. ... Can it break us? Not at all," Zelensky wrote, the message amplified by the Ministry of Foreign Affairs of Ukraine. "Will a fair answer and retribution await them? Definitely yes."
Anton Gerashchenko, an advisor to the Minister of Internal Affairs of Ukraine, tweeted that the water level of the Inhulets River increased as a result.
At the onset of the war, Russians unsuccessfully targeted a water reservoir in Kyiv that Ukrainian officials said would cause major flooding, infrastructure damage and casualties.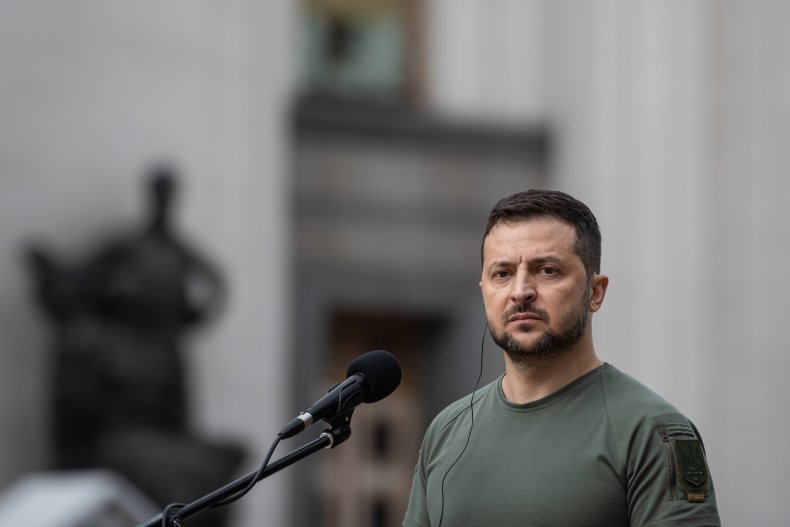 This new attack came as Zelensky visited the recently liberated city of Izium in the Kharkiv Oblast, showing appreciation to the Ukrainian military in regards to their counteroffensive efforts near the Russian border.
The Ukrainians' recapturing of Izium since the invasion's early days likely minimizes the effect of Russian artillery in the region, experts say.
United National Chief Antonio Guterres told a reporter today that the war in Ukraine is "far from the possibility of peace," adding that he would be lying if he said a ceasefire was in the near future.
"A ceasefire is not in sight," he told a reporter. "I would be lying if I said it would happen."
The war storms ahead amid new reports that Russian President Vladimir Putin declined a peace deal around the time of the February 24 invasion. Multiple Russian sources told Reuters that preconditions to avoid war included Ukraine not to join NATO, alleging that Putin himself ultimately rejected the agreement and vowed to invade Ukraine anyway.
Newsweek has reached out to the Russian Ministry of Defense for comment.