Russia: Mueller Report 'Wasted' U.S. Taxpayers' Money, We Would Investigate the Investigators
Russia dismissed the findings of special counsel Robert Mueller's investigation into Russian interference in the 2016 election and contact between President Donald Trump's campaign and Moscow, calling the report a waste of taxpayers' money.
The special counsel's nearly two-year investigation concluded that the evidence was insufficient to charge Trump or any other U.S. citizen with crimes related to conspiring with the Russian government to sway the presidential election. Dmitry Peskov, spokesperson for Russian President Vladimir Putin, told reporters that those in the Kremlin "regret the documents of this sort are causing direct influence on the development of Russian-U.S. relations, whose condition leaves much to be desired," as cited by the state-run Tass Russian News Agency. [concluding that evidence was insufficient to charge any American with crimes relating to Russian election interference, also stated emphatically in numerous instances that there was no evidence]
"Speaking less seriously, I should say that in a similar situation our Audit Chamber would've certainly probed into what the taxpayers' money has been wasted on," he added. "Anyway, it's up to the U.S. taxpayers to ask such questions."
The report did, however, support and expand on previous U.S. intelligence assessments that found Russia had intervened in the election through a coordinated, state-sponsored electronic campaign. Peskov repeated Kremlin denials of these allegations, saying the report "contains no proven evidence that Russia allegedly interfered in the election process in the United States" and that "we do not accept such charges."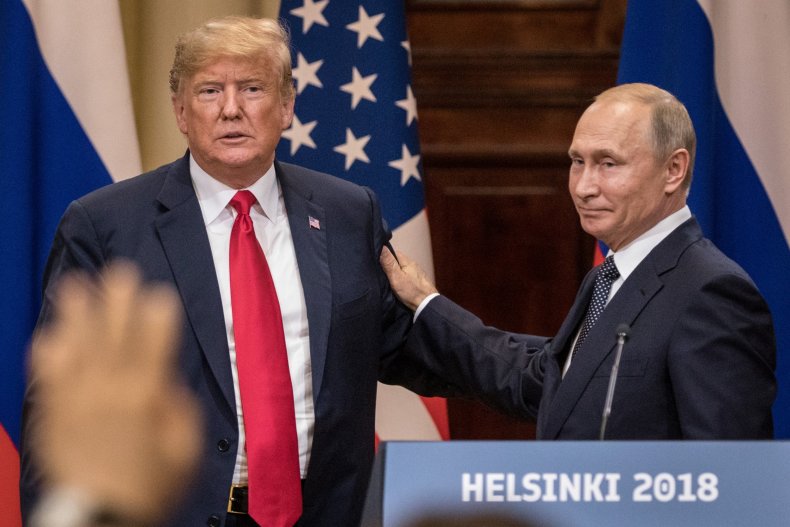 While no official figure has been released as to the total cost of Mueller's investigation, Newsweek estimated, using the latest publicly available information at the time of the probe's conclusion last month, that the sum price tag fell just short of $12.7 million as of December—though nearly $7 million was classified as complementary spending from the Justice Department and was said to not have cost taxpayers extra cash because the money had been already earmarked for public use. In total, Newsweek projected the final cost may be between $31 and $35 million, though between $20 million and $40 million in assets have been seized as a result of the investigation.
Trump has placed the cost of what he called a "witch hunt" as high as $40 million and has interpreted its results, published Thursday in a redacted form, as an exoneration of him and his administration. His opponents, however, saw a potential case for obstruction of justice and, possibly, impeachment.
The reaction was more muted in Moscow, which had previously called for the report to be published in full after Attorney General William Barr released his four-page summary of the over 400-page report last month. Before the document's publication on Thursday, Peskov told reporters that Russia had "more interesting and important things to do" than worry about the report said.
Many officials, like Peskov, seemed more concerned with the larger falling out between Washington and Moscow on various geopolitical issues and arms control measures. Russian Deputy Foreign Minister Sergei Ryabkov told Tass, "We have no illusions about the report's effect on relations between Russia and the United States.
"Unfortunately, there is no sign that U.S. political circles, particularly those who seek to score political points in the Congress from Russophobia, are ready for dialogue," Ryabkov said. "The document is most likely to have no effect from the standpoint of improving relations."
He also denied that Russia made any attempts to affect the outcome of the 2016 election, saying the report instead "reflects the U.S. political system's deeply rooted opposition to the countries that firmly pursue an independent policy aimed at protecting international law and building international relations based on mutual respect and equality" and "also reflects a deeply rooted disease affecting the U.S. political class."
Trump and Putin had both promised to reset relations between their countries, whose Cold War–era rivalry began to revitalize under former President Barack Obama. But ties have continued to fray as the two leaders diverged on major points of contention, such as conflicts in Syria and Ukraine, and nuclear nonproliferation measures. Mueller's report did appear to reveal a roadmap for improving U.S.-Russia relations, which was reportedly approved by Putin and passed to the Trump administration in its first days in early 2017.
The five-point plan included: "(1) jointly fighting terrorism; (2) jointly engaging in anti-weapons of mass destruction efforts; (3) developing 'win-win' economic and investment initiatives; (4) maintaining an honest, open, and continual dialogue regarding issues of disagreement; and (5) ensuring proper communication and trust by 'key people' from each country."