Families of the victims of the ill-fated Malaysian Airlines MH17 flight have commemorated the fourth anniversary of the tragedy. The sober memorial came amid growing international clamor for Russia to cooperate in the plane crash's investigation.
Relatives of some of the 193 Dutch people who died gathered at the MH17 Monument in Vijfhuizen, the Netherlands, on Tuesday in a service attended by the country's prime minister, Mark Rutte.
They were marking four years since the Boeing 777 was downed by a surface-to-air missile, on July 17, 2014, while it was heading to Kuala Lumpur from Amsterdam. All 298 on board, from 16 different countries, were killed.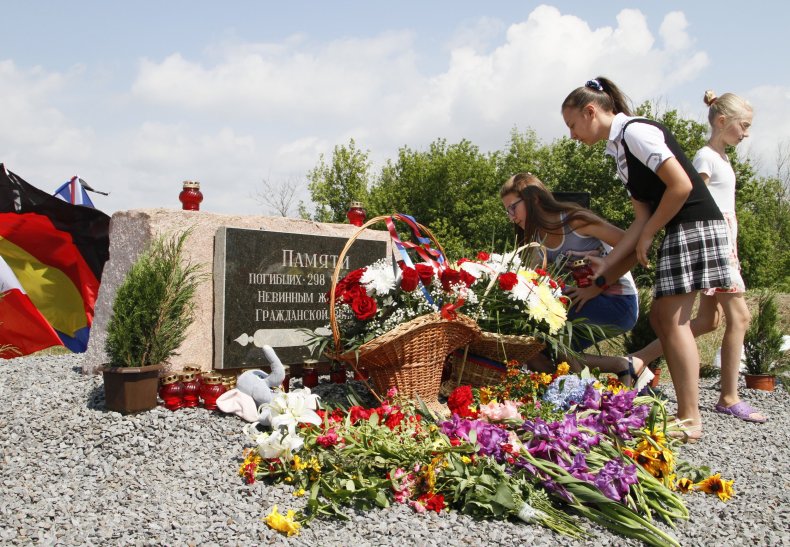 The chairman of the MH17 Aircraft Disaster Foundation, Piet Ploeg, told those attending: "The commemoration is important and must continue to exist.... Our monument is a place where we can continue to remember together," NU.nl reported.
Also on Tuesday, Julie Bishop, the foreign affairs minister of Australia—where 27 of the victims were from—said that "holding Russia responsible for its role in the downing of MH17 is vital."
"Australia values the U.K.'s strong support, including in the U.N. Security Council, in calling on Russia to answer for its actions in relation to the tragedy," she said, according to Australian Associated Press.
Meanwhile, in a statement before the summit between Russian President Vladimir Putin and President Donald Trump, the ministers of the G-7 countries called on Moscow to "account for its role" in the crash and to "cooperate fully with the process to establish the truth and achieve justice for the victims of MH17 and their next of kin."
"We stand together against the impunity of those who engage in aggressive actions that threaten the rules-based international order, anywhere, anytime and under any circumstances," it added.
In May, a Dutch-led investigation found that a Buk missile controlled by Russia's 53rd Anti-Aircraft Rocket Brigade had struck the plane.
The Joint Investigation Team (JIT) traced a convoy of 50 military vehicles going from Kursk, Russia, to the border of Ukraine between June 23 and June 25. Moscow described the report's conclusions that the missile had been brought from Russia into eastern Ukraine as "unfounded."
In May, the victims' families made an emotional plea to the Russian people for answers from their government about what happened.
"The JIT's findings on Russia's role in the downing of MH17 are compelling, significant and deeply disturbing," the G-7 statement said.
In May, online investigation group Bellingcat said evidence pointed to high-ranking officer Oleg Vladimirovich Ivannikov being responsible for transporting the missile from Russia into Ukraine's Donbass region. He had served as chairman of Russia's Security Council between 2004 and 2006.