Russia Developing 'New Tactic' to Counter U.S. HIMARS: Ukraine Official
Russia is developing a "new tactic" to counter the impact of the U.S.-supplied High Mobility Artillery Rocket Systems (HIMARS) that have left Russian troops in "a desperate state," according to a Ukrainian official.
Oleksiy Danilov, secretary of Ukraine's National Security and Defense Council, told Sky News in an interview published Thursday that this new tactic is referred to as "dispersion."
"They now do less ammo stacking, etc. But it does not help them," he said.
U.S. HIMARS in Ukraine, 16 of which have been sent to the war-torn country so far, have gained attention in recent weeks for their reported success in strikes against Russia. Dozens of Russian ammunition depots are among the targets Ukraine has reported destroying, shedding light on why Russia may be trying to disperse its ammo.
Newsweek could not independently verify the new Russian tactic for countering HIMARS strikes. The defense ministries of Russia and Ukraine were contacted for confirmation and comment.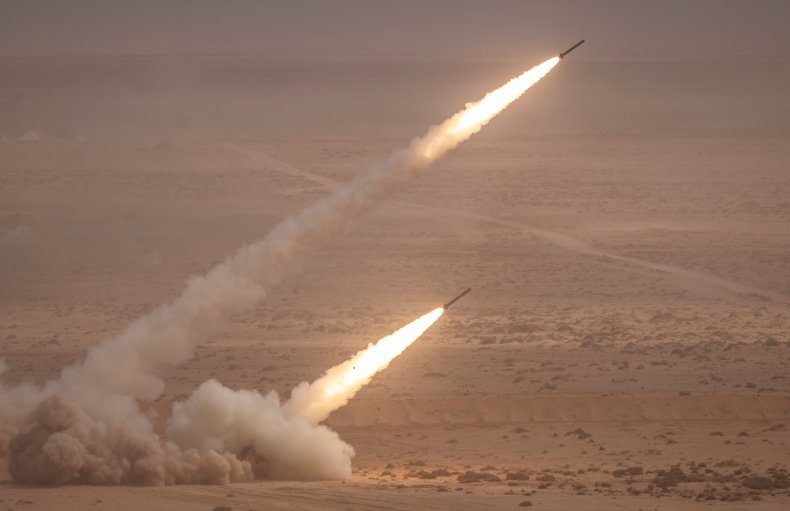 According to HIMARS manufacturer Lockheed Martin, the systems have a "recognized and proven" range of up to 300 kilometers, equivalent to about 186 miles, and can deliver "quick, long-range precision strikes." The corporation said that munitions in development will be able to offer a larger range of 499 kilometers, about 310 miles, in the future.
Danilov told Sky News that Russian soldiers are "scared" of the weapons.
"First, they do not know where the missiles will fly from, they cannot intercept them," he said. "They fall into a trance state."
Ukraine's success with the HIMARS was "unexpected" for Russia, and they have gained so much notoriety in the war that the acronym "is a synonym for the word 'death,'" according to Danilov.
U.S. and Ukrainian officials have been repeatedly touting the effectiveness of the HIMARS against Russian targets.
The latest U.S. security assistance package to Ukraine, which is worth $1 billion, included additional HIMARS ammo. In a Pentagon release on Monday detailing the contents of the package, Colin Kahl, the undersecretary of defense for policy, explained that Ukraine has been successfully leveraging a type of HIMARS munition, the Guided Multiple Launch Rocket System (GMLRS), against Russia.
"The munitions themselves, these GMLRS...are having a very profound effect," he said. "This is a 200-pound warhead, it's kind of the equivalent of an airstrike, frankly—a precision-guided airstrike. These are GPS-guided munitions. They've been very effective in hitting things that previously the Ukrainians had difficulty hitting reliably."
When the most recent shipment of four HIMARS arrived in Ukraine last week, Ukrainian Defense Minister Oleksii Reznikov celebrated the delivery and thanked the U.S. for strengthening his army.
"We have proven to be smart operators of this weapon," he tweeted. "The sound of the #HIMARS volley has become a top hit of this summer at the front lines!"