Russia Not Using Aircraft Creates 'Vast Losses' for Putin: Ukraine General
Russia's "refusal" to use military aircraft in its war against Ukraine is resulting in "vast losses" for President Vladimir Putin, according to Valeriy Zaluzhnyy, commander in chief of the Ukrainian Armed Forces.
Zaluzhnyy said Friday in a Telegram post that during a call with General Mark Milley, chairman of the U.S. Joint Chiefs of Staff, he "emphasized the enemy's continued use of strategic cruise missiles."
"On a daily basis, the enemy fires 10 to 14 cruise missiles at civilian infrastructure facilities," Zaluzhnyy wrote, according to a translation of the post. "Recently, Russia has resorted to the tactics of massive use of supersonic anti-ship cruise missiles of the Kh-22 type on these facilities. Thus, last day at the Kremenchuk oil refinery, the enemy used 12 cruise missiles, two of which we managed to shoot down with Stinger MANPADS."
Zaluzhnyy added, "One of the reasons for the enemy's transition to this tactic is the refusal to use aviation, which suffers vast losses."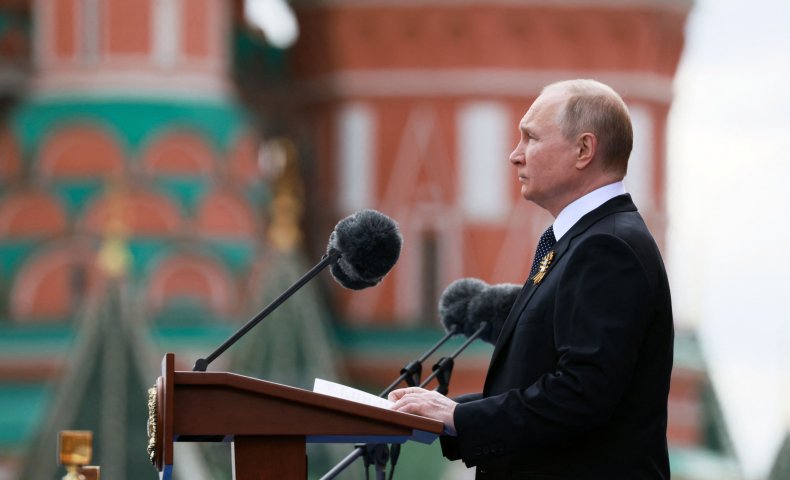 His statement that Russia is seeing losses because it won't use military aircraft comes amid continuing reports that Russian forces aren't seeing much progress in their offensive on the ground. Both Ukrainian President Volodymyr Zelensky and a U.S. think tank, the Institute for the Study of War, said in recent days that Russia has actually lost ground in the east around the city of Kharkiv. Newsweek was not able to locate any instances in which Putin addressed these reports to either confirm or deny them.
Despite initial predictions from experts at the start of the Russia-Ukraine war that Russia's large air force would help bring a speedy victory, Russia so far has reportedly failed to dominate Ukraine in the skies.
Sean Spoonts, editor-in-chief of the military news outlet SOFREP, recently told Newsweek that he believes some of the factors that have hindered Russia in the war are the "sheer size" of Ukraine, higher maintenance and supply costs for Russia's military and Ukraine's surprising successes in thwarting air attacks.
In his Telegram post, Zaluzhnyy also said that Milley asked him what "victory" means to Ukraine.
"Actually, this is an important issue. For me, victory is the destruction of the enemy who is on our soil and the liberation of all the territories seized by him," he wrote.
He also said that he told Milley that the operational environment in Ukraine "remains difficult, but our mood is combative and we are focused only on Victory."
Newsweek reached out to the defense ministries of Russia and Ukraine for confirmation and comment on Zaluzhnyy's assessment.