Russia Offered North Korea a Nuclear Power Plant to Interfere With Donald Trump's Negotiations With Kim Jong Un: Report
Russia offered to provide North Korea with a nuclear power plant in exchange for denuclearization, according to a report.
Just one day after Russian officials assured reporters that a meeting between Russian President Vladimir Putin and North Korean leader Kim Jong Un is still in the cards, U.S. intelligence officials told The Washington Post that Moscow had offered Pyongyang a nuclear power plant as a means of inserting itself into the ongoing negotiations between the U.S. and North Korea.
The deal would have allegedly seen Russia operate the plant and ship all nuclear waste back to Russia as a guarantee that the material couldn't be used to make weapons.
The ongoing negotiations between the U.S. and North Korea over denuclearization appear to be stalled, but a meeting between North Korea's Kim and President Donald Trump is scheduled to take place in late February. It is unclear when the meeting with Putin will occur and whether the offer for a nuclear power plant is still on the table.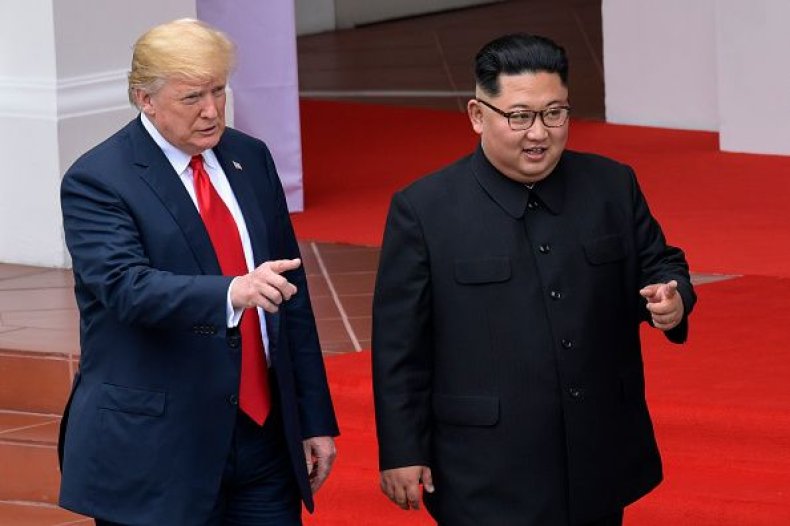 The White House did not immediately respond to requests for comment from Newsweek about whether the Trump administration would welcome Russia's efforts to convince North Korea to denuclearize. Experts, however, say it is unlikely the offer would be accepted by any of the major players in the North Korea negotiations.
"No one should be shocked that Russia is trying to step forward and offer a so-called 'solution' to the North Korean nuclear program. However, while such a plan was put forward by Moscow, it is doubtful the DPRK would ever support such a measure, nor would Washington ever agree to it or Seoul," Harry Kazianis, director of defense studies at the Center for the National Interest in Washington, D.C., told Newsweek.
"Russia's real intent is most likely to once again become a player in Northeast Asia, a part of the world where its influence has slipped since the fall of the old Soviet Union," Kazianis continued. "In fact, being involved in the North Korea nuclear issue gives Moscow another card to play against the U.S., especially as relations have fallen off a cliff in recent years."
Shortly after Trump's first meeting with Kim, Russian officials suggested that the state-owned Russian gas company Gazprom may build a pipeline that would cut through North Korea.
Ever since Trump met Kim for a high-level meeting in Singapore in June, the State Department has been meeting with North Korean officials to hammer out the details of a deal that would see Pyongyang give up its nuclear weapons and abandon its ballistic missile program. The negotiations have yielded few visible results, however, and North Korean state media recently said that Pyongyang wouldn't give up its nuclear weapons without some major concessions from the U.S.
North Korea is determined to have international sanctions lifted in exchange for getting rid of some of its nuclear weapons. Last year, U.S. officials accused Russia of helping North Korea violate international sanctions. Shortly thereafter, Russia announced it would begin deporting North Korean guest workers so they would stop sending money home to support the country's nuclear weapons development.