Russia One-Ups U.S. in Middle East as Lebanon Challenges Donald Trump's Stance on Iran, Israel and Syria
Russia has challenged the United States' relationship with Lebanon as the head of the strategic Mediterranean country appeared to align itself more closely with Moscow's view of the region in back-to-back diplomatic encounters with both powers.
Secretary of State Mike Pompeo met with Lebanese President Michel Aoun, Foreign Minister Gebran Bassil, Prime Minister Saad al-Hariri, Parliament Speaker Nabih Berri and other officials in Beirut on Friday in the final leg of his three-nation Middle East tour meant to shore up ties against Iran. The top U.S. diplomat had first traveled to Kuwait and then Israel, a nation not recognized by Lebanon due to the decades-long Arab-Israeli dispute that has brought multiple conflicts fought between the neighboring states.
Following talks with Bassil, Pompeo offered remarks laced heavily with references to "Iranian aggression" and the "criminality, terror and threats" of Lebanon's Iran-allied Hezbollah—one of the country's largest political parties and a member of the ruling March 8 coalition. Bassil gave a very different speech, defending Hezbollah as an elected part of the government and urging his U.S. counterpart to "please, show priority to the friendship with Lebanon and let us work for its stability and unity."
Also in sharp contrast was the mood following talks held days later by Russian President Vladimir Putin and Aoun, along with Bassil and other Lebanese officials visiting Moscow on Monday. The two sides issued a joint statement "reaffirming their desire to develop bilateral ties and mutually beneficial cooperation" as they both criticized the U.S. decision to recognize the occupied Golan Heights as part of Israel. The move has infuriated Washington's Middle Eastern allies and foes alike.
In remarks published Wednesday by Lebanese newspaper Al-Joumhouria, Berri—who, like Aoun, Bassil and Hezbollah, is a member of the March 8 bloc—deemed Pompeo's visit "something of the past that will be eventually forgotten."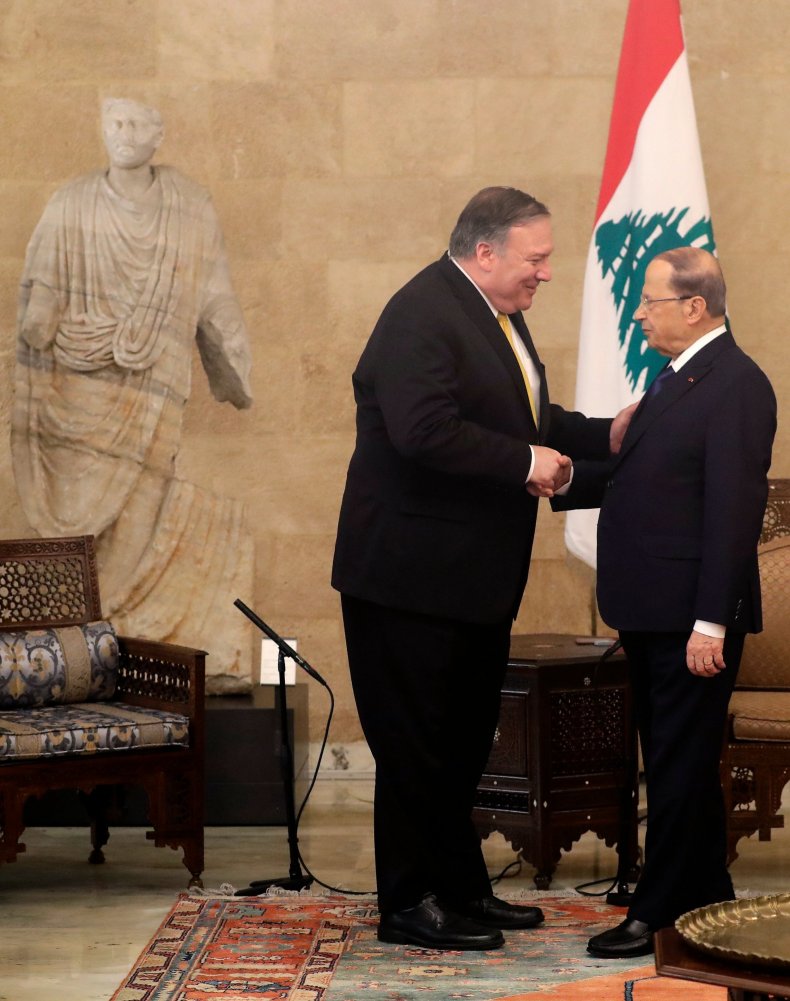 The U.S. has offered millions in terms of military and economic support to Lebanon in spite of Hezbollah's growing political influence, which was given a boost in elections last May. The Shiite group—designated a terrorist organization by the U.S. and a number of its allies, some of whom use the label only for its armed wing—has led two wars and multiple skirmishes against Israel since being founded in the middle of Lebanon's civil war in the 1980s.
After a 2011 uprising backed by the U.S. and regional allies such Israel, Qatar, Saudi Arabia and Turkey erupted in neighboring Syria, Hezbollah came to the defense of President Bashar al-Assad, bolstering his embattled ranks against rebels and jihadis who began to take refuge across the Lebanese border. By 2014, the Islamic State militant group (ISIS) had spread across Iraq and Syria, and a U.S.-led coalition began bombing it, followed by a Russian campaign in support of Assad the following year.
Russia has been careful not to classify its relationship with fellow Assad ally Iran as an "alliance," but Moscow and Tehran have deeply developed their ties since coordinating on the conflict in Syria. Their backing for the Syrian armed forces has allowed them and Iran-allied militias like Hezbollah to retake most of the country, a development that been a source of particular frustration for the U.S. and Israel.
Since 2013, around the same time Hezbollah entered the conflict, Israel has launched hundreds, possibly even thousands, of airstrikes against the group and other forces suspected of being under Iranian command. The U.S.—whose operations were officially limited to defeating ISIS—has since expanded its mission to curbing Iranian influence and ensuring that Assad was ultimately ousted, even as President Donald Trump called for a U.S. withdrawal.
As the U.S. attempted to pressure the Arab world into keeping Syria in political isolation, Russia pushed forward an opposing initiative of which Lebanon and Iraq have been a part. Bassil tweeted about his own talks with Putin on Tuesday, describing "a deep and strategic conversation from the Orient to the world, from diversity to resistance against terrorism, from Jerusalem to the Golan, from oil to gas, from tourism to agriculture."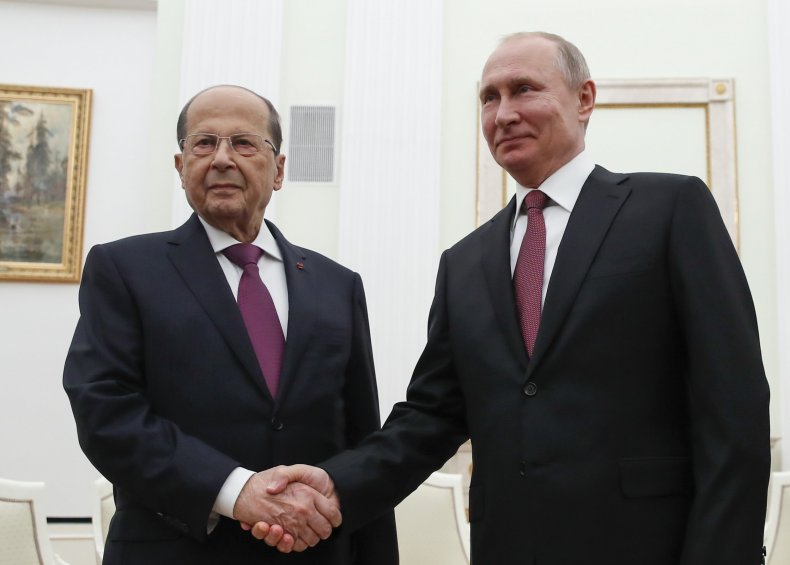 Pompeo called one reporter who pointed out the apparent inconsistencies in the U.S. and Lebanese points of view "just wrong" prior to the Lebanese-Russian meeting. He argued Saturday that Lebanese officials "understand the need for Lebanese freedom, democracy, independence, sovereignty."
When Trump then reversed U.S. policy on the Golan Heights, however, Lebanon joined much of the region and international community as a whole in rejecting the move, which Syria said made Washington "the main enemy of the Arabs" and that Hezbollah Secretary General Hassan Nasrallah warned would ultimately lead to Israeli annexation of the Palestinian West Bank.
The controversial decision has given Russia another inroad to the Middle East and the Mediterranean, where Moscow's presence has been emboldened by its largely successful campaign in Syria. Russia was joined not only by Iran in holding Syria peace talks but also Turkey, a U.S. ally set to purchase Russia's advanced S-400 defense system, further straining ties between Washington and Ankara.
Lebanon too offered support for a political settlement in Syria, one not conditioned on the removal of allegedly Iran-backed forces or the government in Damascus, with which Beirut maintained ties. Tuesday's joint Lebanese-Russia statement affirmed Aoun and Putin's support for the Russia-Iran-Turkey talks, as well as "the efforts taken by the Syrian Arab Republic authorities and its allies to combat terrorism as represented by ISIS, the Nusra Front and their affiliated groups."
Amal Abou Zeid—a former member of parliament affiliated with Aoun and Bassil's majority-Maronite Christian Free Patriotic Movement—called the first top-level Lebanese delegation to Moscow since Aoun took the presidency in 2016 a "success," in a commentary published Wednesday by Moscow's Valdai Discussion Club. He added that his "positive reception underscores that Russo-Lebanese relations are grounded in mutual understanding and that Lebanon is very appreciative of Russia's engagement in Middle Eastern affairs."
"Due to the Russian presence in Syria, Lebanon understands that Russia played a vital role in bringing peace to the region, restoring order and defeating armed terrorist groups vying to take control, whether in Syria or elsewhere," Abou Zeid wrote. "At the international level, Lebanon will coordinate more with Russia in order to improve the dialogue on resolving the political issues affecting the region."