With Russia Poised to Invade, Joe Biden's Caution Frustrates Ukraine
Kyiv source accuses U.S. of "slow-balling emergency military supplies"
Senior diplomat fears Ukraine "might become a victim" of U.S.-Russia deal
"In a way, Putin already achieved what he wanted."
American hesitance and European vacillation could spell disaster for Ukraine, according to top officials, with Russian President Vladimir Putin lurking on the edge of Europe and seemingly undeterred by Western warnings not to invade.
Current and former officials who spoke with Newsweek painted a picture of deep frustration in Kyiv, though acknowledged that Ukraine—wedged between an aggressive Russia and preoccupied European Union—has nowhere else to turn.
All expressed fears that President Joe Biden's caution, European disinterest, and Russian tenacity will leave Ukraine as a buffer nation stuck in the no-man's-land between East and West, its future sacrificed on the altar of transatlantic stability.
The recent Russian build-up—and perceived anemic Western response—is the latest source of grievance for Kyiv, which for almost eight years has been trying to recover the annexed Crimea peninsula and end its war with Russia-allied separatists in the eastern Donbas region.
"I'm not happy, generally, with the level of support," said Ukraine's ambassador to the U.K. Vadym Prystaiko, in an interview with Newsweek at the Ukrainian embassy in London. "I believe that the United States is very careful in their approach. They don't step much further beyond what they believe to be necessary."
The governments that followed the 2014 pro-Western Maidan Revolution have received significant American and European support—military, financial, and political. But Putin has repeatedly deployed tens of thousands of troops along Ukrainian borders, effectively holding Kyiv and Ukraine President Volodymyr Zelenskiy hostage as the country tries to turn westwards.
U.S.-Ukraine bilateral ties are growing stronger each year that passes, though have been hampered by American hesitance to provide more potent weaponry; conspiracy theories alleging Ukrainian involvement in disproved American electoral fraud claims; the U.S. failure to block Russia's Nord Stream 2 natural gas pipeline; and Kyiv's delayed bid to join NATO.
"We are so grateful for many, many years of supporting us," Prystaiko—who has previously served as Ukraine's foreign minister, ambassador to NATO, and ambassador to Canada—said of his American partners on both sides of the increasingly fraught U.S. political divide.
"At the same time, if you're sure that your political investment will be safe, you have to invest a bit more. If you decide that's enough, we might just collapse at this barrier you're building in front of NATO and the European Union."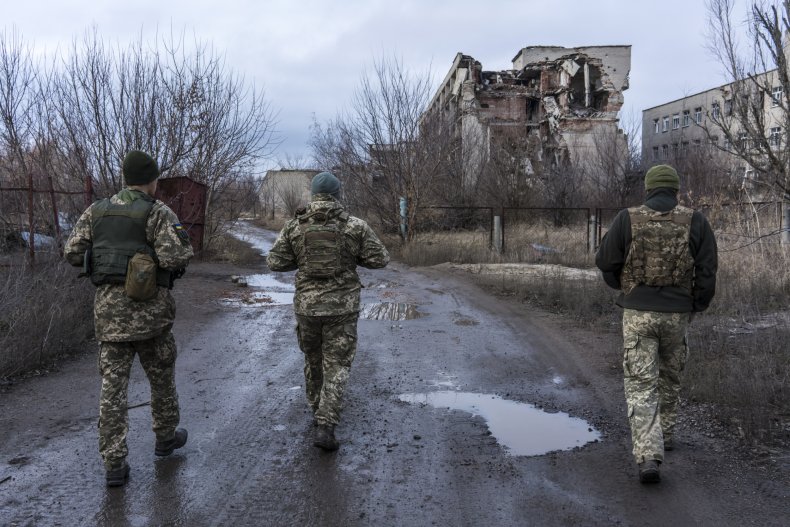 De-escalation and Deterrence
Biden's phone call with Putin last week was touted as a chance to de-escalate tensions and prevent a possible Russian invasion of Ukraine that media reports suggest could come as soon as January. Some 100,000 Russian troops are already reported to be waiting along Ukraine's northern, eastern and southern frontiers.
A White House readout of the call said the president "made clear that the U.S. and our allies would respond with strong economic and other measures in the event of military escalation."
A Kremlin readout said that Putin demanded a guarantee that NATO would not allow Ukraine to join the alliance, and other reports said the Russian president asked for an in-person meeting with his American counterpart.
"The de-escalation is achieved," Prystaiko said of the call, adding the result "is most important—nobody wants to lose people."
But the way Biden went about the video meeting rankled Kyiv. "It took him two days to talk to my president," Prystaiko said, noting that Secretary of State Antony Blinken did speak with Zelenskiy soon after the call.
"I would be much happier if people talked to us and tried to develop ideas with us included. This is one piece of a bigger game. If we are considered here, we can limit the Russian appetite for the next stage, wherever they have in mind."
A State Department spokesperson told Newsweek that Biden "reaffirmed his unwavering commitment to Ukraine's sovereignty and territorial integrity" in his call with Zelenskiy.
"Russia should be in no doubt that further military aggression against Ukraine would have massive consequences and severe cost in response," the spokesperson added.
"And as President Biden told President Putin, should Russia further invade Ukraine, we will provide additional defensive material to the Ukrainians above and beyond that which we are already in the process of providing."
The spokesperson noted the U.S. has committed $450 million in security assistance to Ukraine so far this year, with $2.5 billion in military assistance committed to Ukraine since 2014.
"We will continue to deliver equipment and supplies to Ukraine in the weeks and months ahead through the Ukraine Security Assistance Initiative, and we continuously assess additional military assistance packages," the spokesperson said.
Kyiv is worried there is a lack of assertiveness in the U.S. positions on Ukrainian NATO membership, expanded military aid, and Nord Stream 2.
A source close to the Ukrainian government—who wished to remain anonymous to speak candidly—told Newsweek that the Russian build-up is designed to test U.S. and NATO resolve in Ukraine and Eastern Europe.
"From Ukraine's perspective we have been living with a Russian military threat for eight years on a daily basis," the source said.
"Hence this build-up is concerning, but we have seen this before. It seems this build-up is more about Moscow sending a signal to Washington than to Kyiv.
"Russia is significantly less likely to attack Ukraine if it sees a strong and consistent U.S. and NATO commitment to Ukraine's security. Unfortunately, the position of the administration in relation to Nord Stream sanctions sends the wrong message.
"Even worse—the administration is slow-balling emergency military supplies Kyiv requested over a month ago.
"From the Russian perspective, this emanates weakness and emboldens further aggressive posturing to get more concessions."
The source continued: "Given that since the Nord Stream sanction waivers and Geneva summit Russia has increased, not decreased, its aggressive rhetoric towards Kyiv and has engaged in energy blackmail against Ukraine and Europe, a strong signal would be the immediate reversal of Nord Stream 2 sanction waivers and supply of an unprecedented large amount of defensive lethal weapons.
"If such a signal doesn't happen very soon Russia will continue to test the waters to see how far its brinkmanship can go. And this escalation cycle will repeat itself throughout the Biden administration."
Weakness now will encourage problems down the line, Ukrainian officials said. "What is the punishment for the Russians?" Prystaiko asked.
"The Americans and everybody said nothing about sending troops to Ukraine. They immediately said they would reinforce the eastern flank of NATO. Meaning what? You will isolate us, you will leave us to die?
"In a way, Putin already achieved what he wanted. And this actually gives me some hope that maybe he will stop at this stage."
This, the ambassador said, might give Kyiv longer to receive more Western aid and fortify Ukraine against the next Russian escalation.
An Elusive NATO Invitation
Ukrainian officials understand America's NATO obligations but argue the 1994 Budapest Memorandum—in which newly-independent Ukraine gave up its nuclear weapons in exchange for security guarantees from Russia, the U.S., and U.K.—means Washington, D.C. also has a debt to Kyiv.
"There is a price for the peace you brought," Prystaiko said.
No one in Ukraine expects to be admitted to NATO imminently, but Kyiv has still not received the Membership Action Plan—a blueprint guiding would-be members to reforms required to join the bloc—it applied for in 2008.
"We are actually losing people because we believe in something these people take for granted," Prystaiko said of Ukraine's 13,000 casualties inflicted since Russia's invasion of Crimea in 2014.
"We understand it's not for this generation of political figures. The day will come when the situation will be different, when NATO membership won't be that far-fetched and unrealistic."
Bold Western moves could bring long-term benefits, though also risk provoking Russian aggression. Ukrainian officials pointed to the Baltic states as an example of risky NATO and EU expansion that paid dividends.
"We should show Putin that we decide," Prystaiko said. "Unfortunately I don't see much of an appetite for this. People are much more careful in their approach.
"I see the same kind of ideas around President Biden at this time. They don't want to take risks."
There are more measured steps that could deter Russia without officially expanding NATO. Alliance members could expand training operations in Ukraine, for example.
"The United States, Canada and the U.K.; their soldiers are present on Ukrainian soil, training us and training with us," Prystaiko said.
"Where are the rest? Germany, France, all these NATO allies and partners. Poland and Baltic states, those who know for sure how dangerous it is to allow Russia to grow in aggressiveness, they know but their input is limited."
But the signals from NATO are not encouraging. An unnamed State Department official told the Associated Press last week that Ukrainian membership is not likely to be approved within the next decade.
Prystaiko told Newsweek he feared some NATO members are laying the groundwork to give in to Putin's demands and deny Kyiv membership: "Some people just don't understand how difficult it is to maintain Ukrainian belief that we can still fight, that there are people supporting us."
Buffer zone status would not help Ukrainians, the ambassador added: "A buffer is something that stops trains from hitting each other—I don't like the idea. I have another analogy: 'The bridge between East and West.' The problem is, no one wants to live on the bridge. They want to choose a side."
EU nations, in particular, Prystaiko said, are "preoccupied with their national interests"—more concerned about the spillover effects a war could have on their own nations rather than about the future of Ukraine.
In the meantime, it is Ukrainian soldiers that must face any eventual violence. "We have 250,000 people under arms right now, and another 500,000 veterans," Prystaiko said. "So if Putin comes, we will fight and we will kill as many of them as we can; there is no doubt about that."
Slow-rolling Ukrainian NATO membership will only mean more Putin aggression in future, suggested Ukraine's former ambassador to the U.S., Valeriy Chaly. "We need consolidation in Europe, we need to have Ukraine in and not out, and we need to do it now," Chaly said.
"Then Putin will understand that he will not be successful in the future.
"It's time for the U.S. and Europe to demonstrate the reality of the transatlantic union. Transatlantic allies should give Putin a clear message: The alliance is strong and the alliance wants to live in peace, not in war."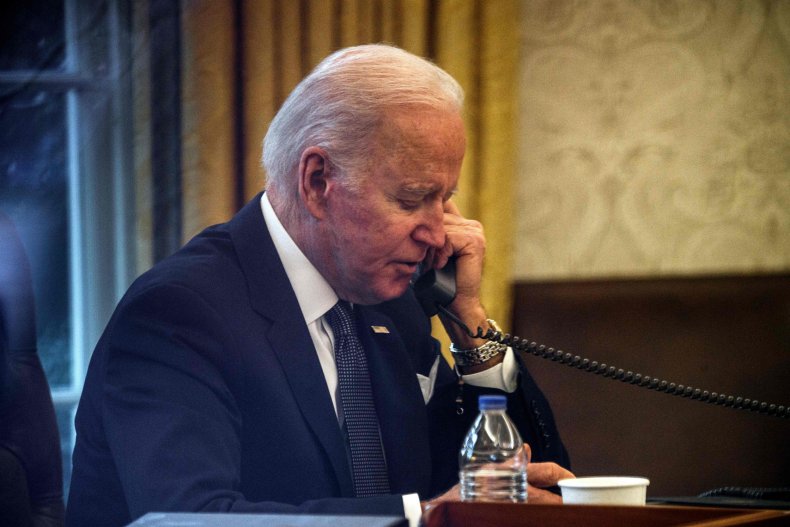 Pipeline Wars
The change of government in Germany could yet provide a window for Kyiv, which has long been disappointed by Berlin's appetite for Russian natural gas and fear of provoking Putin. Ukrainians accused Germany this week of blocking the supply of NATO weapons to Kyiv's armed forces.
Nord Stream 2, backed by Russia's state gas Gazprom company, is a massive hurdle for Ukraine-EU relations. The pipeline will bring Russian gas directly to Germany, where it is much needed to alleviate the ongoing energy crisis.
Critics of the project—including successive U.S. administrations—say the pipeline is a political project that will allow the Kremlin to hold Europe hostage and isolate Ukraine, through which Russian gas currently reaches the EU.
Biden waived sanctions on Nord Stream 2 in May despite long-standing opposition. Blinken later said it was too late for the U.S. to stop the project, which was almost complete.
The move prompted praise from Moscow and fierce criticism from leading members of Congress and Kyiv. Chaly told Newsweek: "We think it's a mistake by the U.S. administration and a mistake that could be changed now."
Chaly—who now chairs the Ukraine Crisis Media Center, a pro-Western NGO set up to promote Ukrainian sovereignty internationally, added: "We realize the United States needs transatlantic unity with Germany, but not at the cost of Ukraine."
Kyiv is working hard to sink the project. "We're still trying to embed this idea in German minds—they came for us now, they will come for you later," Prystaiko said.
"They have this beautiful idea that it will allow them to have an independent channel of supply. You can have as many channels as you like, but they come from the same source...If they decide to cut it, they won't cut it at the pipe. They will cut it immediately at the source."
A U.S.-German agreement reached this year committed both nations to ensuring that the pipeline is not used as a political weapon. Any sign of Russian abuse, the agreement says, will be met with a joint response. But few in Ukraine have much trust in the deal.
The new German government—formed of the Social Democratic Party, the Greens, and the Free Democratic Party—is more skeptical of the pipeline than former Chancellor Angela Merkel. Chancellor Olaf Scholz and Foreign Minister Annalena Baerbock have publicly criticized and threatened the project.
"We will leave it for the Germans to decide," Prystaiko said of Nord Stream 2, noting that Ukraine's experience with Russian gas should stand as a warning to Berlin.
"We were the biggest Gazprom customer...They lost us, and they are okay with that. They cut gas to the biggest buyer just for political reasons. How long do the Germans think it will take for Russia to understand they can now influence German politics?"
Several NATO allies are pushing hard for a Nord Stream freeze. Former NATO Secretary-General Anders Fogh Rasmussen told Newsweek: "I think it should be stopped.
"I would expect the new German government to be very critical about the start of Nord Stream 2. I think this is a powerful instrument to get Putin to understand that we need a political solution to the problems in Ukraine."
A State Department spokesperson dismissed the suggestion that Nord Stream 2 gives Moscow more leverage over the West.
"We have had extensive conversations with incoming and outgoing German administrations and closely coordinating with the Germans on how to maximize potential costs on Russia if they move further into Ukraine," the spokesperson told Newsweek.
"If Russia further invades Ukraine, the United States and our European allies would respond with strong economic measures. These measures would go far beyond the economic impact of cutting off Nord-Stream 2 and would inflict significant costs on the Russian economy and financial system.
"We are coordinating very closely with our allies and partners on these specific actions and expect that a further Russian invasion of Ukraine would prompt a reassessment of many existing economic linkages.
"We would also note that the pipeline is not operational, which means that it's not leverage for Putin. It is leverage for the West, because if Vladimir Putin wants to see gas flow through that pipeline, he may not want to take the risk of further invading Ukraine."
Pax Americana?
For all Kyiv's frustrations, the U.S. remains its most potent partner. Putin has no intention of dealing with the Ukrainians in good faith. Ukraine's leverage lies in foreign capitals.
"The only negotiating power here is your partners, your partners over the ocean, over the Channel, across Europe—they are the only ones who can help you," Prystaiko said. "Not because you are just weak, but because we have nothing to bargain with Russia."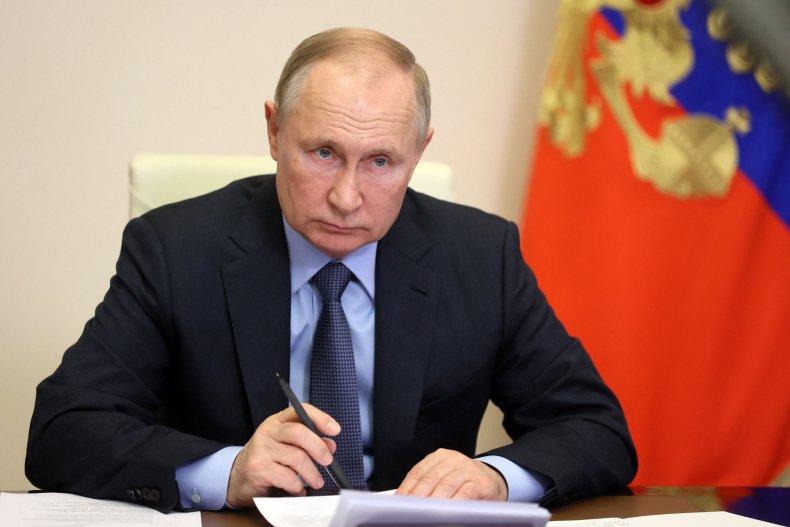 Former U.S. Ambassador to Ukraine, William Taylor, told Newsweek the Ukrainian leaders "are still very much counting on American support...They don't have leverage on this, there's nowhere else to turn."
"President Zelenskiy realizes—I think even more than he did when he was campaigning and in the first year in office—the importance of support from the United States and the futility of trying to negotiate by himself with Putin," Taylor said.
"I think President Zelenskiy realizes now that President Putin is not going to negotiate seriously with him. Putin is not even negotiating seriously with Zelenskiy with the French and the Germans at the table," Taylor added, referring to the Normandy Format aiming to resolve the war in eastern Ukraine.
Peace talks are based on the Minsk agreements, signed in September 2014 and February 2015 in a desperate and ultimately unsuccessful effort to end fighting in eastern Ukraine.
Kyiv sees the agreements as having been made under duress and designed to bring Ukraine to its knees. Continued failure to implement the peace deal has convinced some observers it is no longer fit for purpose.
Some say it is time for the U.S. to join peace talks. "They need the Americans to be there," Taylor said. "
The Ukrainians have been disappointed in the Normandy format. The Germans and French, they haven't succeeded. The real power in these negotiations is going to come from pulling in the United States.
"If and when the United States joins those negotiations, it will require the Russians to take these negotiations more seriously than they have in the past."
Kremlin spokesperson Dmitry Peskov said this month that Putin has no plans to invite Biden to the Normandy Format, though Deputy Foreign Minister Sergey Ryabkov later said Moscow was not opposed to the idea.
"The Russians clearly prefer direct communication with the U.S.," Rasmussen told Newsweek. "So I think we should expand the Normandy format to include the United States."
But American inclusion in Normandy Format talks will not suddenly solve the impasse. "If you believe it's not easy for Russia to deal with the Americans, it's not really true," Prystaiko said.
Indeed, a deeper fear in Kyiv is that Ukraine will be sacrificed for greater U.S.-Russian bilateral goals.
"The whole world is on fire," Prystaiko said, suggesting issues in China, Syria, Iran, Iraq, Afghanistan, the Korean peninsula all might trump Ukraine in America's foreign policy considerations. "I personally believe that Ukraine might become a victim of a big deal between the big two."
Biden is certainly distracted by pressing issues at home and abroad. The president's term will be defined by his domestic response to the COVID-19 economic crisis, while his foreign policy must consider an unstable Middle East and a rising China.
"Policy and politics is not wishful thinking," said Orysia Lutsevych, the manager of the Ukraine Forum at the British Chatham House think tank.
"I think it's very clear that Biden's presidency is, in a way, driven by internal politics, his spending plan, COVID, boosting the economy, and China. Ukraine will have to operate in that paradigm.
"I think there's a certain anxiety that the U.S. will try too much to get Russia on its side against China. That's the worry.
"There are big issues that the U.S. and Russia will be talking about: Non-proliferation, new strategic weapons treaties. This does not mean that the U.S. will leave Ukraine behind."
Meanwhile, Ukrainian diplomats are trying to leverage bipartisan support in Congress to push the White House into a more assertive stance. Last week lawmakers approved $300 million in fresh military aid for Kyiv.
"The Ukrainians know that they've got strong support in the United States Congress, bipartisan support among Republicans and Democrats, in opposition to the Russians, and in favor of stopping Nord Stream," Taylor said.
Ukrainian officials are trying to avoid the issue being politicized—as it was during former President Donald Trump's first impeachment, prompted by his withholding of U.S. aid to Ukraine in exchange for a desired investigation of his political opponents.
"That's their own business," Prystaiko said of America's fierce political divide. "We just hope that we can message our basic beliefs and basic expectations, and just hope for the best—that both parties, normal people, and industries will have enough data to calculate Ukraine's wider importance."
America's right-wing has been poisoned by conspiracy theories and fringe politics in recent years. This toxic milieu dragged in Ukraine, too. Trump and his allies alleged—with no evidence—that Ukraine, not Russia, was behind foreign meddling in the 2016 election.
Trump seems set to run again in 2024. The former president is known to hold grudges, and it seems unlikely his view of Ukraine is uncolored by his impeachment.
"That's a couple of years off, it has to be in the back of people's minds," said Taylor, who testified to Congress during the impeachment probe.
"The Ukrainians and others do want to take advantage of the current commitment of this administration, to alliances, to allies, to principles of support that are traditional. And so I think they're going to count on the next two years, and they hope it will go longer."
Kyiv has the tough job of framing Ukraine as more than a Russian battleground. "Many people still persist in seeing Ukraine through the lens of Russia—they understand that if Russia is our enemy, Ukraine is important too," Prystaiko said.
"We also see it, we are not stupid. And we are happy to use this leverage as long as it works to our own benefit.
"At the same time, I truly believe that we have to explain to them strategically why they should invest their time, political effort, money, everything, in us. I believe this bipartisan support should gradually move from 'Let's irritate Russia' to 'Let's help Ukraine too.'
"I'm trying to plant a seed of strategic vision of Ukraine to anybody I speak with. If we manage to move in a general direction of the civilized world, Putin is the first one to understand how dangerous it is for him to allow us to do that successfully."