Joe Biden, NATO Warned to Concede Nothing, Act Against Russia Before it Invades Ukraine
Ukraine's former US ambassador calls for tough sanctions before Putin invades
Valeriy Chaly also urged NATO to send Ukraine more weapons immediately
Biden and Putin held a two-hour call as Russia masses troops at Ukraine's border
Former American and Ukrainian diplomats have warned President Joe Biden not to cave to Russian pressure in Eastern Europe, as the White House tries to deter a possible invasion by President Vladimir Putin.
Former officials who spoke with Newsweek urged Biden to hold the line against Russian aggression and expand American support for the Kyiv government led by President Volodymyr Zelenskiy, amid reports of Russian troops massing along Ukraine's eastern and northern borders.
"It's another attempt at blackmail, not only of Ukraine but also of our alliances and our partners," Ukraine's former ambassador to the U.S. Valeriy Chaly told Newsweek. "Sanctions must be implemented—including the high impact economic sanctions—now, not in a sequence following a Russian military invasion."
"Putin will stop only if we demonstrate a strong position," added Chaly, who now chairs the Ukraine Crisis Media Center, a pro-Western NGO set up to promote Ukrainian sovereignty internationally. "The Western alliance should take the initiative."
Biden held a two-hour video meeting with Putin on Tuesday to address concerns over Russia's months-long military build-up along Ukrainian frontiers. Reports suggest some 90,000 troops are already in place, with up to 175,000 poised to invade Ukraine from Russia and Belarus as early as January.
Russian officials have repeatedly denied reports that Moscow is planning to invade Ukraine again, but satellite images and media reports indicate the build-up is continuing regardless.
The Biden-Putin call does not appear to have resolved the crisis. National security adviser Jake Sullivan said Biden had urged his counterpart to accept a diplomatic solution and warned of the economic and political consequences that would follow a Russian invasion.
Sullivan also said the U.S. and allied response to an invasion would be stronger than in 2014, when the West was unable to stop Moscow from annexing Ukraine's Crimea peninsula and encouraging civil war in the eastern Donbas region.
The Kremlin's readout characterized the call as "honest and businesslike," noting that Putin blamed the West for the crisis. Putin said the West was building up its military capacity in Ukraine and demanded legal guarantees that NATO would not expand eastward and would not send offensive weapons to Ukraine.
For now, the military brinkmanship will continue.
"My bet is that President Putin hasn't made up his mind," William Taylor, who served as the chargé d'affaires at the U.S. embassy in Kyiv in 2019 and as U.S. ambassador to Ukraine from 2006 to 2009, told Newsweek.
Taylor, now the vice president of strategic stability and security at the United States Institute of Peace, a nonpartisan federal think tank, continued: "He clearly has put in place around Ukraine the capability to invade if he should decide to do so.
"Putin could well take this opportunity. He may think that Zelenskiy is not able to withstand it, he may think that President Biden won't stand up to it, he may think that the NATO alliance won't do anything.
"On the other hand, he knows that invasion—certainly a ground-based invasion—would be very bloody. The Ukrainian military is much stronger than when he invaded before."
Both sides will want concessions. But Chaly and Taylor told Newsweek there is little the U.S. and its Western allies can concede without undermining NATO and abandoning Ukraine to a Russian neo-imperial sphere of influence.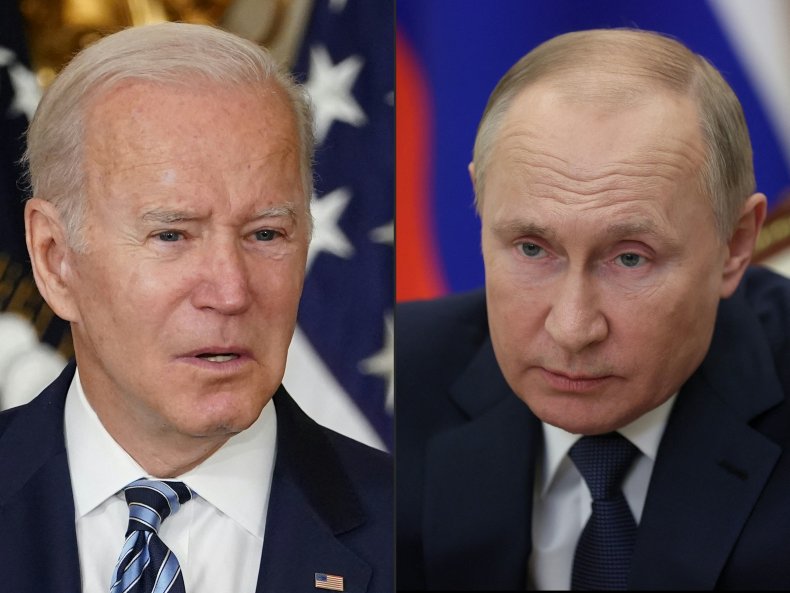 A legal commitment to exclude Ukraine from future NATO membership, for example, would be unthinkable for Kyiv, Chaly said: "That kind of decision would destroy NATO...why should Putin decide the future of another country?"
Such a guarantee "could be printed on the backside of the Budapest Memorandum, which Russia destroyed completely," Chaly added, referring to a 1994 accord signed by the U.S. and Russia which gave security assurances to Ukraine in exchange for it giving up its ex-Soviet nuclear arsenal.
"We should and we must change this approach of creating a buffer zone," Chaly said. "The best concept is to have a common border with Russia in the future, a NATO border on its eastern flank along the eastern border of Ukraine. It seems unrealistic now, but I think it is more problematic to keep Ukraine, Belarus, and Moldova in a buffer zone between NATO and Russia."
Putin routinely uses military actions and build-ups to win concessions or distract from domestic difficulties. In April, for example, Russian troops massed near Ukraine raising fears of an imminent invasion. The tensions eventually won Putin a sit-down meeting with Biden in Geneva.
Tuesday's call, Chaly suggested, was all part of the Kremlin's plan: "Putin has achieved his goal of direct contact with the president of the United States. The next step will be to push the American president for a personal meeting."
But this time, Putin might have overplayed his hand. U.S. support for Ukraine remains strong, both in the White House and in Congress—lawmakers approved $300 million in extra military support for Kyiv on Tuesday.
Elsewhere, American NATO allies have vowed a united front against Russian aggression.
Among the sanctions being discussed in the West is cutting Russia out of the international SWIFT payment system, effectively shutting Moscow off from the global financial markets.
Nord Stream 2—Russia's new multibillion natural gas pipeline—is also in the crosshairs.
"I think the U.S. is sending a strong signal to Russia that they are watching the situation, that they are not looking elsewhere and that they are not completely withdrawing after Afghanistan, because that's what Russia is counting on," said Orysia Lutsevych, the manager of the Ukraine Forum at the British Chatham House think tank.
"The messaging is that we are talking to the Ukrainians and we know what is happening on the ground. It's a kind of preventative deterrence, communication by deterrence."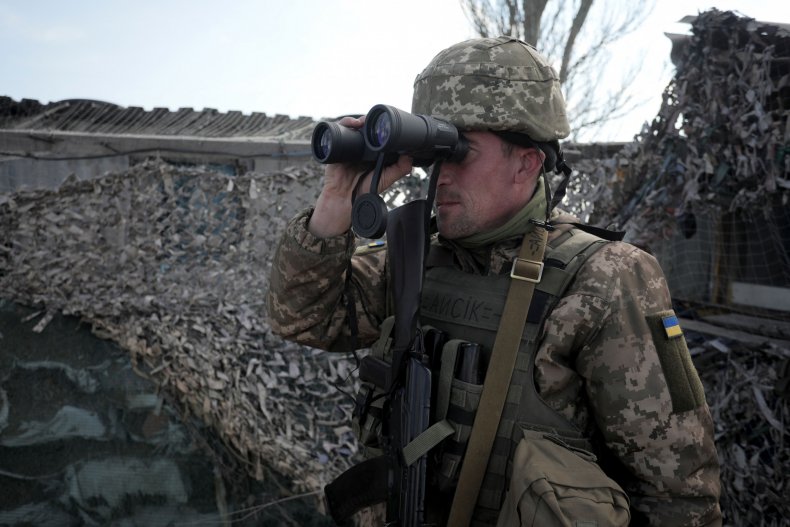 America and its allies are hoping Putin will blink first. "I think short-term concessions have to be on the Russian side," Taylor said.
"The Russians have caused this problem. The Russians have mobilized these troops. The Russians have invaded their neighbor...I think it is the Russian side that needs to concede that there is no rationale, no justification for a further invasion.
"I don't see where the United States or Ukraine or NATO should make any concessions. It's not like Ukraine is about to join NATO any time in the near future."
Russia has long considered NATO an existential threat; an aggressive alliance designed to surround, isolate and smother what remains of the former Soviet Union.
Putin has recently framed Ukraine as a NATO springboard, and warned that any alliance weapon or troop deployments to the country would represent a "red line" for Moscow.
"For Putin to be afraid of a defensive alliance that has never given any serious indication of aggressive actions toward Russia, is ludicrous," Taylor said.
The former ambassador suggested it is Russian aggression in Georgia, Ukraine and elsewhere that is driving NATO expansion, not a plot in Brussels to suffocate the Kremlin.
"One thing that wouldn't be a concession—but it would be something that I think all sides could agree to—would be a conversation, a negotiation among the United States, Russia, Ukraine, and European allies about European security," Taylor said.
This may, he explained, soothe Russian concerns without hanging Ukraine out to dry.
The Western alliance has long been accused of being reactive rather than proactive on the Russian front. Putin, so the narrative goes, has been able to out-maneuver and out-bluff his rivals, exploiting divisions within the EU and NATO and chipping away at the Kyiv-Washington, D.C. relationship.
"The real message is we need change," Chaly said. "We—I mean, Ukraine, European Union, NATO Australia, Canada, all our allies—should change our approach. Sanctions should be implemented before Putin's next stage."
It has been six months since Biden and Putin met in Geneva. "We've faced new steps by Putin with Nord Stream 2, and sending migrants through Belarus to blackmail Europe," Chaly said. "We Ukrainians understood that in 2014 and 2015 that weakness allowed Putin to go ahead...Only a strong position can stop him."
Biden was a vocal backer of Ukraine while vice president under President Barack Obama. The veteran politician is now juggling a host of domestic challenges with a foreign policy pivot to face China, all the while seeking to bolster democracies and push back on malign Russian activities.
"This almost eight-year war will not have changed President Biden's mind, but made him stronger and clearer on Putin's motivation," Chaly said.
The former ambassador urged America and its allies to do more, even if it risks escalation from Russia.
"We are realists, we do not expect American or British or Canadian troops in our territory," Chaly said.
"But what we can do as a partner are common exercises and training with our American, Canadian, British, Swedish, and NATO partner countries.
"Another thing that's very easy to do for our allies and our partners is to supply Ukraine with defensive weapons. We need immediate support, not in two, three, four, five years from now. It will be too late. We need it now."
Chaly added: "We are Ukrainians, we will resist, we will fight. We just need support to prove our capabilities."