Russia Baffled by Poverty Report Suggesting One-Third of Citizens Can't Afford Shoes: 'Why Shoes?'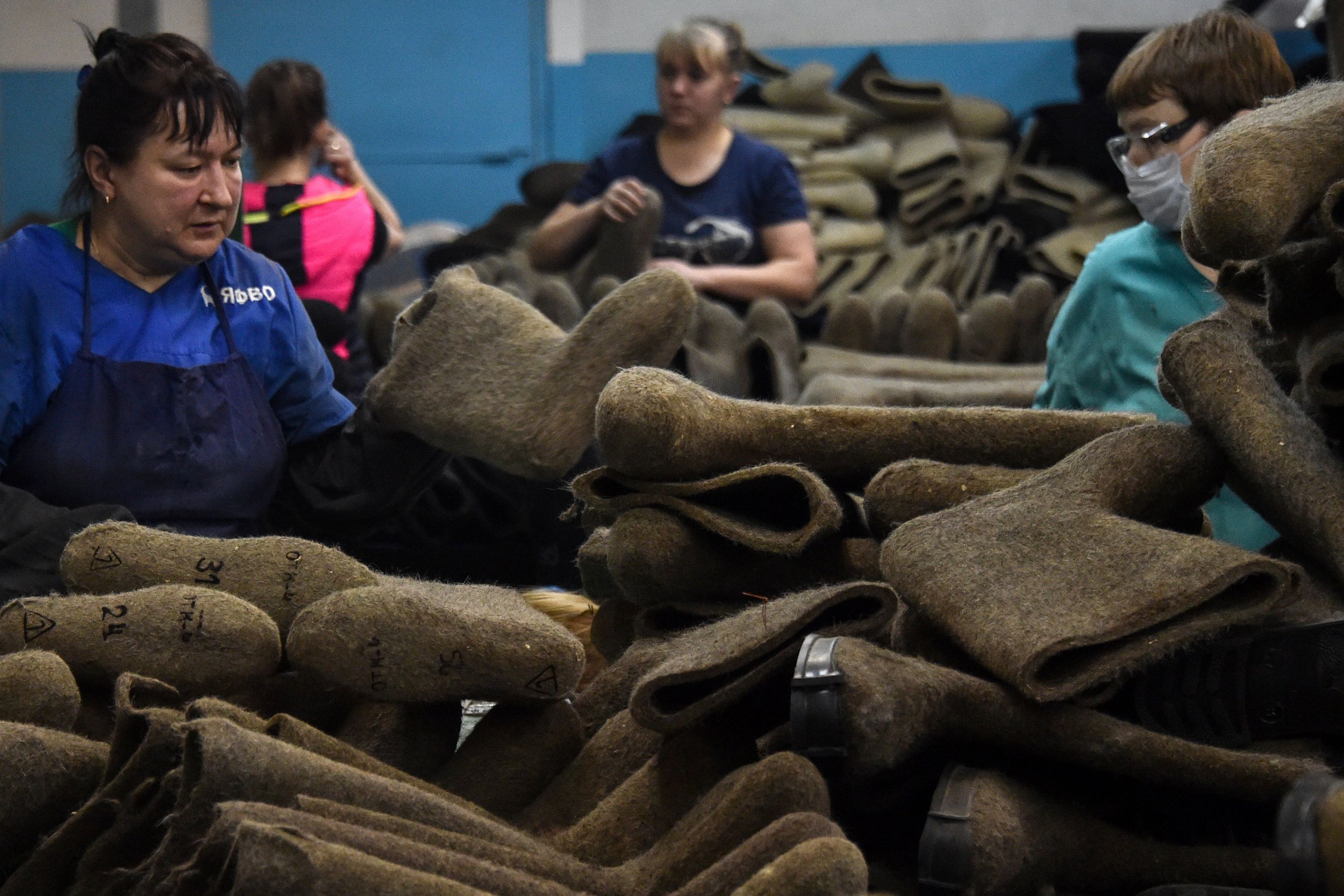 President Vladimir Putin's spokesperson has reacted with confusion to new official data showing that Russians are increasingly struggling to make ends meet.
Dmitry Peskov, Putin's press secretary, said the Kremlin did not understand the data published by Rosstat—the state statistics agency—on March 31.
When asked about the data, Peskov reportedly sighed and said the government "struggled" to understand the figures, the BBC reported. "Why shoes? Why one third? Where are these figures from?" he asked. The press secretary added he would appreciate an explanation from Rosstat as to the findings.
Though the Kremlin may be confused by or simply sidestepping the new findings, they make for worrying reading for Russians. It indicated that around 80 percent of citizens are struggling to make ends meet, and that more than one-third cannot afford to buy two pairs of shoes for each family member each year, state news agency Tass reported.
The BBC said the findings were uploaded to Rosstat's website next to the agency's biennial observation of living standards survey. The newest data were taken from a September 2018 poll involving around 60,000 households across the country.
Other headline findings include that 49 percent cannot afford to take one week of holiday each year, 10 percent cannot afford to eat meat or fish three times a week and more than 12 percent use a communal or outside toilet. Eleven percent even say they cannot afford vital medicines or replace worn clothes.
Some metrics were improved, but in 2017, 15 percent of families had no indoor toilet and 54 percent were unable to afford a holiday. The lagging Russian economy presents a significant challenge to Putin, who has pledged to halve poverty by 2024. Popular discontent is starting to show, and last year the government faced mass demonstrations over plans to increase the national pension age.
Russia suffered major recessions from 2008 to 2009 and 2014 to 2017, and struggled to recover from both. Foreign policy-related sanctions combined with the plummeting price of crude oil—a major element of Russia's raw materials-focused economy—and a devaluation of the ruble have further stoked economic chaos. Russian families are now facing the fifth consecutive year of falling incomes, the BBC reported.
While the economy is struggling, the black market is booming. According to the Rosfinmonitoring state financial watchdog, the shadow economy now accounts for around 20 percent of Russia's gross domestic product.
The size of the 2018 illicit economy—20.7 trillion rubles (around $315.9 billion)—is larger than the total federal spending for 2019, which is 18 trillion rubles ($274.4 billion). Some 15 million people are thought to have worked without declaring income in 2018, totaling around 11 trillion rubles ($167.6 billion) in earnings.