Russia Prosecutes Teacher Who Told Kids to Not 'Wish Death' on Ukrainians
After a teacher in Russia told her students that they shouldn't "wish death" on Ukrainians during the war in Ukraine, she was charged with "discrediting the Russian Armed Forces" and hit with a fine of 40,000 rubles, equivalent to about $648.
Yelena Bagaeva, who teaches English in the Russian republic of Buryatia in eastern Siberia, told the independent online magazine People of Baikal that one student made an audio recording of a nearly 50-minute discussion she held with her class on the war. The following day, the student's mother complained to the school about "anti-Russian propaganda" and then presented police with a version of the audio that had been edited down to eight minutes.
"Everything is glued together, re-glued in such a way as to discredit me as much as possible," Bagaeva said.
The reported prosecution of the teacher reflects a larger crackdown in Russia on any comments that can be construed as criticism of the state or its self-described "special military operation" in Ukraine. The charge of "discrediting the Russian Armed Forces" was introduced shortly after Russia invaded the neighboring country in late February, The Moscow Times reported.
Radio Free Europe, which cited the watchdog group OVD-Info, reported that Russian authorities had launched at least 1,938 cases on the same charge by the middle of May. Newsweek was not immediately able to directly locate the OVD-Info data cited by Radio Free Europe.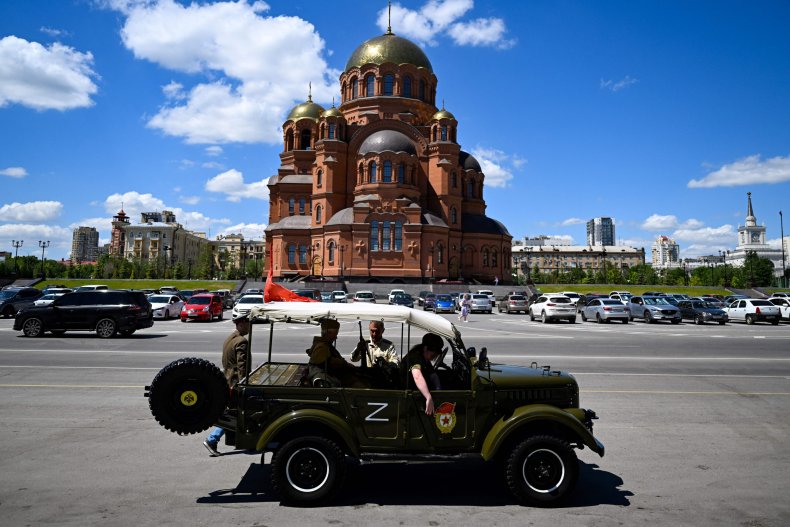 According to Bagaeva's recounting of her discussion with the students to People of Baikal, her message was more centered on the need for peace than it was anti-Russian.
"I tried to convey that any war is bad, that you can't wish death on Ukrainians and hate them, they are people like us," she told the magazine.
But after Bagaeva's discussion on the war with her students came to light, she was tried in early May. Despite her efforts to prove that it was her right to educate her students in the classroom, the court decided she was guilty of "political agitation" and fined her the 40,000 rubles.
Additionally, when the audio recording of the classroom discussion was posted online before the trial, Bagaeva said, she faced "bullying" that even focused on her appearance.
In reference to the discussion, some even suggested online that they understood why Soviet dictator Joseph Stalin carried out executions while he was in power, Bagaeva said.
"I reacted to bullying very painfully - no one has ever insulted me like that in my life," she told People of Baikal.
She said that she has "accepted" her punishment and now just wants "to be left alone."
She has appealed the court decision against her, but no date has been set for the case, the magazine reported.
After thousands of Russians were reportedly arrested for demonstrating against Russia's decision to attack Ukraine early in the war, some have resorted to more creative ways to voice their opposition. Social media users, for example, have spotted a trend of anonymous, anti-war messages written on Russian money.
One Russian journalist even held up an anti-war sign during a live broadcast on Russian state television.
Newsweek reached out to the Kremlin for comment.