NASA Dismisses Russia Departing ISS: 'We've Seen Their Public Comments'
Russia is due to pull out of the International Space Station (ISS) after it fulfills its commitments up to 2024, the country's new top space official has said. However, NASA said it is yet to receive an official notice.
The news that Russia will no longer participate in the ISS program was reported by Russian media on Tuesday following a meeting between Yuri Borisov, director of Russia's Roscosmos space agency, and Russian President Vladimir Putin.
In that meeting, Borisov reportedly told Putin that while Russia will continue to work on the ISS until 2024, "the decision and the withdrawal from this station after 2024 have been made," according to Russian news outlet Gazeta.Ru.
The news outlet also reported that Putin's press secretary, Dmitry Peskov, had said the decision to leave the ISS had been made even earlier, suggesting it has only just now been publicly stated.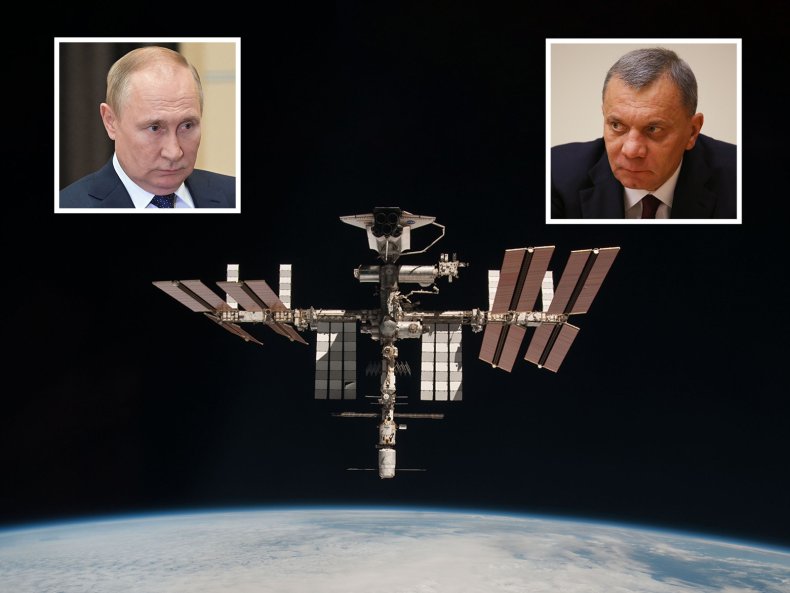 There has been much speculation about Russia's future role in the ISS as international tensions with the country flare over its ongoing invasion of Ukraine.
Borisov's outspoken predecessor, Dmitry Rogozin, had made headlines earlier this year after making incendiary remarks about the ISS, including that it would plummet without Russia's continued maintenance. Rogozin also said work towards a Russian independent space station was ongoing.
Despite this, Russia had said it would continue to carry out its obligations aboard the ISS until 2024 and had not—until now—definitively said it would leave afterwards.
Amid the media reports about Borisov's statement, NASA has said it still has not received any official confirmation of Russia's ISS intentions post-2024.
A statement from NASA administrator Bill Nelson shared to Newsweek via email read that the space agency "has not been made aware of decisions from any of the [ISS] partners, though we are continuing to build future capabilities to assure our major presence in low-Earth orbit."
According to Russian news agency TASS, National Security Council communications official John Kirby said on Wednesday that the White House has "seen their [Borisov's] public comments." However, he added: "But I can tell you, the Russian government has not formally notified the United States of any intention to withdraw from the International Space Station."
In addition, State Department spokesperson Ned Price said in a news briefing on Tuesday that "we were taken by surprise" by Borisov's statement, adding: "We've seen Russia's statement that it plans to leave the ISS after 2024. It's an unfortunate development given the critical scientific work performed at the ISS, the valuable professional collaboration our space agencies have had over the years, and especially in light of our renewed agreement on spaceflight cooperation."
Newsweek has contacted the European Space Agency (ESA)—another key ISS partner—for comment.
The ISS has operated in Earth orbit for over 20 years and has been continuously manned since November 2000. It has always been a heavily cooperative venture with funding and maintenance coming from five different space agencies from 15 countries.
Russia has been a key partner, responsible for maintaining ISS orbit and—from the end of the space shuttle program in 2011 until SpaceX's first ISS launch in 2020—had been the sole operator of space capsules to transport astronauts and cosmonauts to and from the station.