Russia Pummels Ukraine's Sumy Region With 50 Blasts in Half an Hour: Report
Ukrainian officials report that Russia launched over 50 missile attacks in the Sumy region Wednesday morning, further battering the already heavily damaged city.
Sumy has suffered from multiple attacks since the conflict with Russia began in February, with Wednesday's attack the heaviest to date. The region is in northeastern Ukraine and borders Russia.
The head of the Sumy Regional Military Administration, Dmytro Zhyvytskyi, said that Russians shelled the Sumy region more than 50 times in half an hour, according to Ukrainian news outlet Pravda.
"Russia is again provocatively shelling our territories with mortars," Zhyvytskyi said in a post to his Telegram account. "More than fifty arrivals in the last half hour. Losses are being clarified."
Due to the recent shellings, Ukrainian officials made it forbidden for citizens to approach the border within 1 kilometer, or a little over half a mile. Officials also forbid citizens from getting close to the border at night.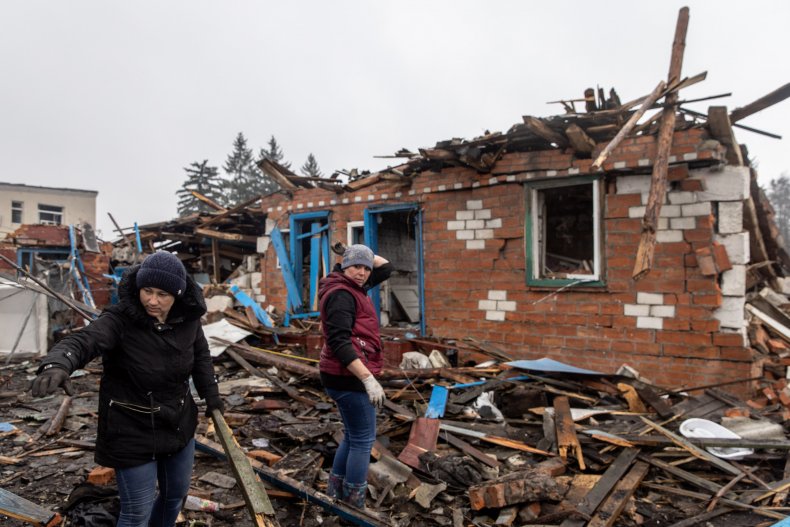 State Border Guard Service of Ukraine spokesman Andriy Demchenko made the announcement of the restrictions Tuesday as Russian forces pushed toward the region.
"Additional temporary regime restrictions were introduced by the head of the state border guard body in Sumy region, taking into account the situation in the region and in order to strengthen control over compliance with the border regime," Demchenko said.
"In particular, any movement of civilians in the area along the state border 1 kilometer wide, as well as the movement of persons and vehicles and all kinds of work outside the settlements at night is prohibited," he continued.
The day before Demchenko announced the restrictions, the Sumy region was shelled four times by Russian forces. The Sumy Regional Military Administration recorded a total of 15 missiles that day.
As attacks continue, Ukrainian officials said they will continue to put safety measures in place for citizens.
The mayor of Okhtyrka in the Sumy region, Pavlo Kuzmenko, said about half of the citizens in his city have fled the region due to Russian attacks.
"We deported tens of thousands of people, approximately 50 percent of the city's population left," Kuzmenko said in a speech, according to Pravda. "In total, our population is 48,000, then there are 20,000."
As of April 26, the Office of the United Nations High Commissioner for Human Rights (OHCHR) has recorded 5,939 civilian casualties since the war began.
"Most of the civilian casualties recorded were caused by the use of explosive weapons with a wide impact area, including shelling from heavy artillery and multiple launch rocket systems, and missile and airstrikes," OHCHR said in a release.
OHCHR believes the actual number of casualties may be substantially higher. This number does not include the possible casualties from Wednesday's missile attack.
Newsweek reached out to the Ukrainian Embassy and Russian Federation for comment.