Russia Purposely Strikes 'Peaceful' Cities in 'Proven Genocide': Ukraine
Ukraine's Ministry of Defense is renewing its accusation that Russia is committing genocide, releasing numbers that they say show the vast majority of Russian military attacks against the country have been aimed at peaceful targets.
A ministry spokesman said during a televised broadcast on Friday that 70 percent of Russian strikes in Ukraine have been directed at civilians, according to Ukrainian state news agency Ukrinform. The grim statistic follows repeated reports of war crimes against the Kremlin and comes a day after a Russian missile strike killed and wounded civilians in Vinnytsia, a west-central Ukrainian city far from the frontlines of the conflict.
"Yesterday's insidious criminal missile attack on the center of a peaceful city in Ukraine is yet another fact of Russia's absolutely proven genocide against Ukraine," Ministry of Defense spokesman Oleksandr Motuzianyk said on Ukraine 24, according to Ukrinform. "This is the extermination of Ukrainians as a nation, this is an attempt to break the spirit of Ukrainians and lower the level of their resistance."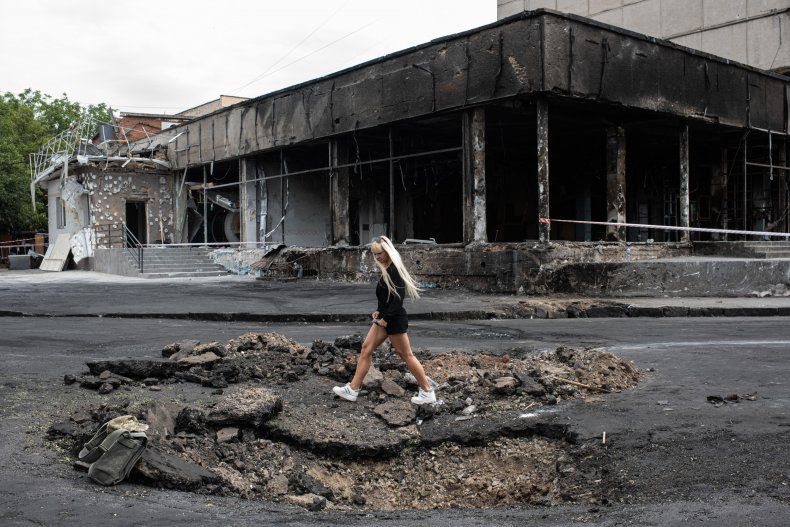 Only 30 percent of attacks by Russian forces have been launched at military targets, Motuzianyk said. The remainder were intentionally aimed at peaceful cities, he said, referencing the Ukrainian cities of Mariupol, Zaporizhia, Mykolaiv and others.
Motuzianyk repeated calls from other Ukrainian officials for Western countries to provide it with advanced weapons, specifically modern air defense systems, to defend against Russia.
"Russia must be recognized as a terrorist state," Motuzianyk said.
At least 21 civilians, including three children, were killed and more than 90 wounded on Thursday during the missile strike on Vinnytsia.
The United Nations Office of the High Commissioner for Human Rights (OHCHR) reports that as of May 24, there have been 11,152 civilian casualties, including 4,889 deaths. The agency notes the actual number is likely higher.
Since Russia launched its invasion of Ukraine in February, the country has been repeatedly accused by Ukraine and its Western allies of targeting civilians, which is considered a war crime under international standards. Russia most notably has been accused of committing atrocities during the occupation of Bucha in the northern Kyiv region of Ukraine earlier in the conflict.
Russian officials have denied deliberately attacking peaceful cities and have faulted Ukraine for placing military infrastructure near civilian areas.
Russian Foreign Ministry Spokeswoman Maria Zakharova said on Friday that the attack on Vinnytsia "targeted a garrison officers' club where consultations between the command of the Ukrainian air forces and representatives of foreign weapons suppliers were underway," according to the Russian state-run TASS news agency.
Zakharova again accused Ukraine of "establishing military facilities in close proximity to civilian ones."
A human rights agency with the Organization for Security and Co-operation in Europe (OSCE) released a report earlier this week that seemed to back Ukraine's claims. The report found that the "magnitude and frequency of the indiscriminate attacks
carried out against civilians and civilian objects, including in sites where no military facility was identified" by Russian forces, is evidence the Kremlin is disregarding its international obligations.
"A considerable number of civilians have been killed or injured, and civilian objects - like civilian houses, hospitals, cultural property, schools, multi-story residential buildings, administrative buildings, penitentiary institutions, water stations and electricity systems - have been damaged or destroyed in numerous towns and villages," the report says.
Newsweek reached out to the Russian government for comment.