Russia Recruiting Women Prisoners for War After Large Troop Losses: Reports
Russia is facing high troop losses in Ukraine, leading to the recruitment of female prisoners to serve in its military, according to Ukraine officials.
The Ukraine Defense Ministry reported on a train of female convicts heading toward the Donetsk region of Ukraine.
An independent Russian prisons watchdog group also said Russia's military has recruited female inmates.
Western reports estimate that up to 200,000 Russian soldiers have been killed or wounded in the war.
Russia has turned to recruiting female prisoners to serve in its military as it continues to suffer high troop losses in Ukraine, according to a Monday message from Ukrainian officials.
On its official Telegram channel, the Ukraine Defense Ministry reported on a train bringing "female convicts" to Russian forces in the country's Donetsk region. Russia Behind Bars, an independent Russian prisons watchdog group, has backed Ukraine's allegations.
The report comes as Russian President Vladimir Putin's forces continue to suffer high rates of soldier casualties in the war. On Sunday, Ukrainian President Volodymyr Zelensky said that more than 1,100 Russian soldiers had been killed in the city of Bakhmut in less than a week. A day earlier, Ukrainian military spokesperson Oleksandr Shtupun said that 1,090 Russian fighters died on Saturday in what some have said may have been the deadliest day for Russia since the war began more than a year ago.
Meanwhile, various Western officials and analysts have estimated that around 200,000 Russian soldiers have been killed or wounded during the war.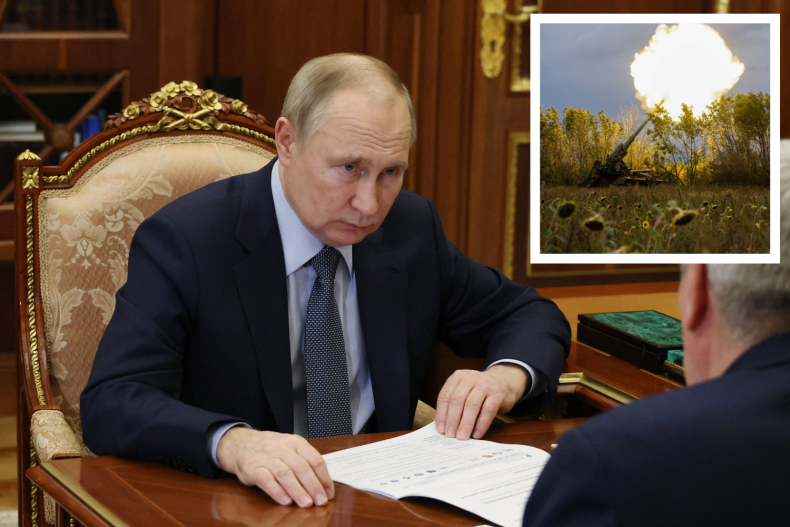 "Against the background of large losses of personnel in the war, the enemy uses alternative sources of replenishment of manpower," Ukraine's Defense Ministry posted on Telegram. "Last week, the movement of a train with first-class carriages for the transportation of prisoners was noted towards the Donetsk region. One of the cars contained female prisoners."
The use of prison inmates by Russia has been documented for several months before the latest report on the use of female convicts. The Wagner Group, which consists of Russian mercenaries, has reportedly used large numbers of convicts to fill its ranks. A leaked video from last September was said to show Wagner boss Yevgeny Prigozhin recruiting soldiers from Russia's penitentiary system.
Many of the convicts recruited by Wagner were killed, according to reports. Olga Romanova, the head of Russia Behind Bars, said in late January that out of 50,000 convicts recruited by the Wagner Group, 40,000 were either dead or missing, while 10,000 were still fighting in Ukraine.
Romanova also addressed a report about Russia using female prisoners in its military forces in a story published Monday by the independent Russian news outlet Important Stories. She said she had heard of women convicts being sent to Ukraine late last year.
"They [the female prisoners] were taken from the colonies of southern Russia," Romanova said. "I don't know the exact zone, but they worked in Kushchevskaya [in Russia's Krasnodar region]. They were kept in agriculture, greenhouses and barns for about two months."
Romanova estimated that 100 female convicts have been sent to Ukraine so far. She and the Ukrainian Defense Ministry did not indicate if it was known whether the female prisoners were being sent to Ukraine to fight or to work in some capacity.
Last month, the General Staff of the Armed Forces of Ukraine wrote in an operational update posted on Facebook that Russia had recruited around 50 female prisoners in the Russia-occupied city of Snizhne in Ukraine's Donetsk region. The Ukrainian military officials said that the recruits had been sent to Russia for training before deployment in Ukraine.
Newsweek reached out to the Russian Ministry of Foreign Affairs via email for comment.