Russia 'Refusing' to Risk Equipment to Evacuate Wounded in Ukraine: Report
Russian military commanders are reportedly choosing to preserve equipment over saving the lives of wounded troops on the battlefield in Ukraine, allegedly "refusing" to risk supplies to evacuate their injured soldiers.
The Kremlin's internationally condemned invasion of Ukraine has entered a fourth month, with Russian President Vladimir Putin's forces having failed in their initial campaign to rapidly take control of the Eastern European nation. Even as Putin significantly reduced his military's goals to focusing on capturing Luhansk Oblast in the east, Russia continues to face substantial losses and setbacks.
In a Saturday assessment of the invasion, the Institute for the Study of War (ISW) cited reports that there is "eroding military professionalism" within the leadership of Moscow's forces.
"The Ukrainian Military Intelligence Directorate (GUR) reported that Russian commanders are attempting to preserve military equipment by forbidding drivers from evacuating wounded servicemen or providing supplies to units that have advanced too far. Refusing to risk equipment to evacuate wounded personnel on the battlefield—other than in extraordinary circumstances—is a remarkable violation of core principles of military professionalism. Such behavior can have serious impacts on morale and the willingness of soldiers to fight and risk getting injured beyond their own defensive lines," the ISW analysis explained.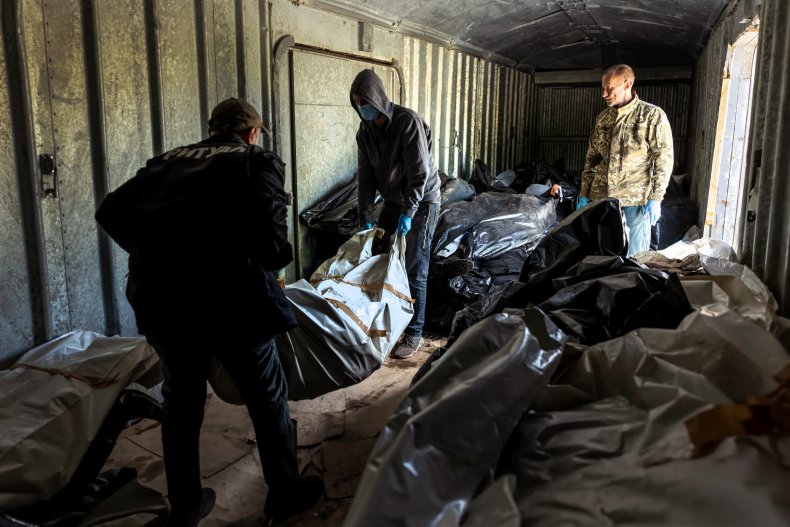 Although the ISW said it could not independently verify the reports, it noted that "commentary by Russian milbloggers offers some circumstantial support" for the information.
"Russian milblogger Alexander Zhychkovskiy criticized the Russian military command's disregard for reservists on the deprioritized Zaporizhia Oblast front. Zhychkovskiy reported that Russian commanders trapped lightly-equipped infantry units in areas of intense Ukrainian artillery fire without significant artillery support and did not rotate other units through those areas to relieve them," the ISW report continued.
"Zhychkovskiy noted that Russian commanders are responsible for high losses and cases of insanity among servicemen. Another milblogger, Alexander Khodarkovsky, said that Russian commanders are not sending reinforcements in a timely matter, preventing Russian forces from resting between ground assaults," it added.
Meanwhile, more than 100 members of Russia's National Guard—the Rosgvardia, which has previously been referred to as Putin's "private army"—have been sacked after "refusing" their assignments to participate in the military campaign against Ukraine. The troops from the Rosgvardia, a domestic force separate from the Russian military, reportedly chose to return to their base instead of going to fight.
Putin's attack against Ukraine brought swift international backlash as soon as it was launched. A large majority of the United Nations General Assembly members voted to condemn the full-scale invasion on March 2. Just four nations—Belarus, Eritrea, North Korea and Syria—voted along with Russia against the widely supported U.N. resolution.
The U.S. and its NATO allies quickly implemented significant financial sanctions targeting the Russian economy, Moscow elite and Putin himself. They have additionally provided billions of dollars of humanitarian and military aid to Kyiv's forces, which have thus far largely repelled Russia's westward advance.
Newsweek reached out to the Russian foreign ministry for comment.