Russia Responds to China's Peace Plan for Ukraine
Russia has responded to China's peace plan to end the war with Ukraine, saying that its details should be the subject of careful analysis and that the process to halt the conflict will be long and "stressful."
This was revealed on Monday when Kremlin spokesperson Dmitry Peskov answered a question about Russia's view on whether China's peace plan could work.
"Any attempts to develop plans that will help transfer the conflict to a peaceful course deserve attention. We treat the plan of our Chinese friends with such great attention," Peskov told reporters, the state-owned RIA Novosti news agency reported.
"As for the details, of course, the details should be the subject of careful analysis, taking into account [that] the interests of the parties [are] very different. This is a very lengthy and stressful process," he added.
Newsweek has contacted the Chinese Foreign Ministry for comment.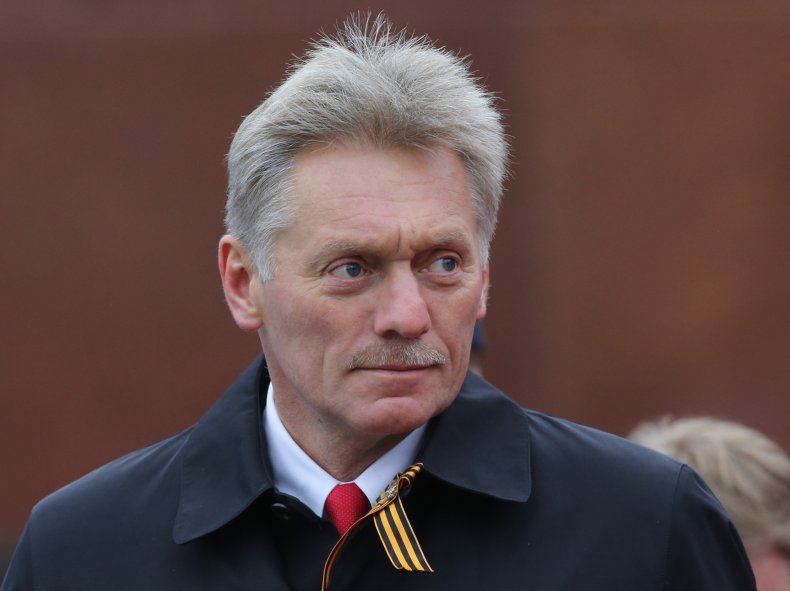 On Friday, China proposed a 12-point peace plan to end the year-long war, which has seen tens of thousands of people die on both sides. The U.S. has reacted to the plan with skepticism, and critics say that China is only proposing it to burnish its international image.
Among the conditions of the plan are: the need to respect sovereignty and territorial integrity of both countries, and the resumption of direct dialogue between Moscow and Kyiv to prevent further escalation.
The peace plan also says that all countries should abandon a "Cold War mentality" and ensure that nuclear power plants are kept safely operating. Beijing is also calling for the halting of all sanctions on Russia, after the U.S. and 37 other allies sanctioned Moscow for the invasion.
China is a long-time ally of Russia but has been criticized for maintaining a publicly neutral stance on the war. It abstained from a vote at the U.N. General Assembly on Thursday calling for Russia to withdraw its troops from Ukraine.
In an interview with ABC's This Week that aired Saturday, U.S. President Joe Biden said that the peace plan would only benefit Russia. "Putin is applauding it, so how could it be any good? I'm not being facetious," Biden said. "I'm being deadly earnest."
"The idea that China is going to be negotiating the outcome of a war that's a totally unjust war for Ukraine is just not rational," he added.
Ukrainian President Volodymyr Zelensky has also repeatedly presented a 10-point plan of demands to bring the war to an end. Among his demands are that Russia withdraws all forces from Ukraine, faces punishment for war crimes and that Moscow cedes control of all of the annexed territories, including the Crimea Peninsula that was taken by Russian forces in 2014.
Russia, on the other hand, demands Ukraine to give up territories that were annexed, including Crimea, Kherson, Zaporizhzhia, Donetsk and Luhansk. Russia lacks full control over the territories, apart from Crimea.
Zelensky has called for a meeting with Chinese President Xi Jinping to discuss his country's 12-point peace plan.