Ukraine's Talk of Taking Back Crimea Leaves U.S. Divided
Ukraine's insistence on reasserting control over the annexed Crimean Peninsula is controversial for United States citizens, exclusive polling for Newsweek has revealed.
Throughout the past year, Ukrainian President Volodymyr Zelensky has repeatedly committed to "liberating" Crimea from Russian control. The peninsula was illegally annexed by Moscow back in 2014.
"Crimea is our land, our territory," Zelensky said in January. "It is our sea and our mountains. Give us your weapons—we will return what is ours."
His words coincided with reports that the Biden administration was warming up to the idea of supporting Kyiv in its goal of retaking Crimea.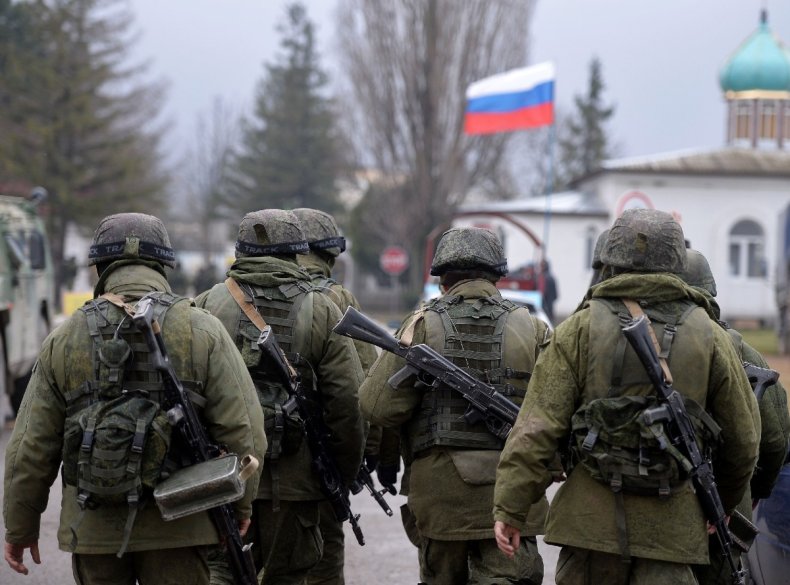 Officially, the U.S. has always condemned Russian control over the peninsula. On January 25, a senior administration official reiterated that "Crimea is Ukraine," adding the U.S. "never recognized" the annexation in 2014.
"But where the Ukrainians decide to go and how they decide to conduct operations in their country, those are their decisions to make," the official said.
On February 16, the U.S. Under Secretary of State for Political Affairs Victoria Nuland told the Carnegie Endowment for International Peace that "no matter what the Ukrainians decide about Crimea in terms of where they choose to fight etcetera, Ukraine is not going to be safe unless Crimea is at a minimum, at a minimum, demilitarized."
Russia, which bases its Black Sea fleet at Sevastopol in Crimea, responded by saying the comments "incite the Kyiv regime to further escalate the war."
But U.S. domestic opinion has proved split on Crimea. While some voices emphasize the importance of Crimea, others, such as Georgia Representative Marjorie Taylor Greene, have said that pushing for Crimea to be returned to Kyiv would be "full-blown insanity."
In a new exclusive poll for Newsweek by Redfield and Wilton Strategies, just 28 percent of respondents said that Kyiv should strive to recover all territory lost since February 2014 before a peace settlement. This includes Crimea, as well as the Donbas regions of eastern Ukraine, Donetsk and Luhansk, which have been partly controlled by Moscow-backed separatists.
Just ahead of the outbreak of full-scale war last year, Putin recognized the breakaway regions as independent. In late September, he signed several accession treaties to illegally annex the Donetsk, Luhansk, Kherson and Zaporizhzhia regions.
However, 46 percent of those polled for Newsweek said Ukraine should look to recover all territory lost only since February 2022 before seeking a peace agreement with Moscow. A further 27 percent responded that they did not know.
The polling was carried out on February 19, 2023, sampling 1,500 eligible voters in the United States.
Out of those asked, 39 percent believed the U.S. should encourage Ukraine to retake Crimea, but a higher percentage (42 percent) responded that they did not know. A further 18 percent said the U.S. should discourage Kyiv from attempting to reclaim the peninsula.
In a previous opinion poll conducted by Redfield and Wilton Strategies on October 25, 2022, a majority of respondents (52 percent) believed Ukraine should recover all territory lost since February 2022. Just one in five of those polled thought Kyiv should seek to restore the pre-2014 territories before approaching a peace accord; 27 percent were undecided.
Crimea is certainly more of a red line for Moscow than it is for Zelensky or for the U.S. public, according to Rob Singh, a politics professor at Birkbeck, University of London, U.K.
"Moscow will not accept it returning to Ukraine," he told Newsweek, adding that "Crimea is more important to Moscow than even the Donbas, and it would surely result in a Russian escalation if it was likely to fall to Kyiv."
But Lieutenant General Ben Hodges (Retd.) described Crimea as "the decisive terrain for this war."
"It must be liberated by Ukraine and we must do everything necessary to enable them to do that this year," he told Newsweek, noting that Kyiv will be unable to rebuild economically, nor count itself as secure if Moscow controls the peninsula.