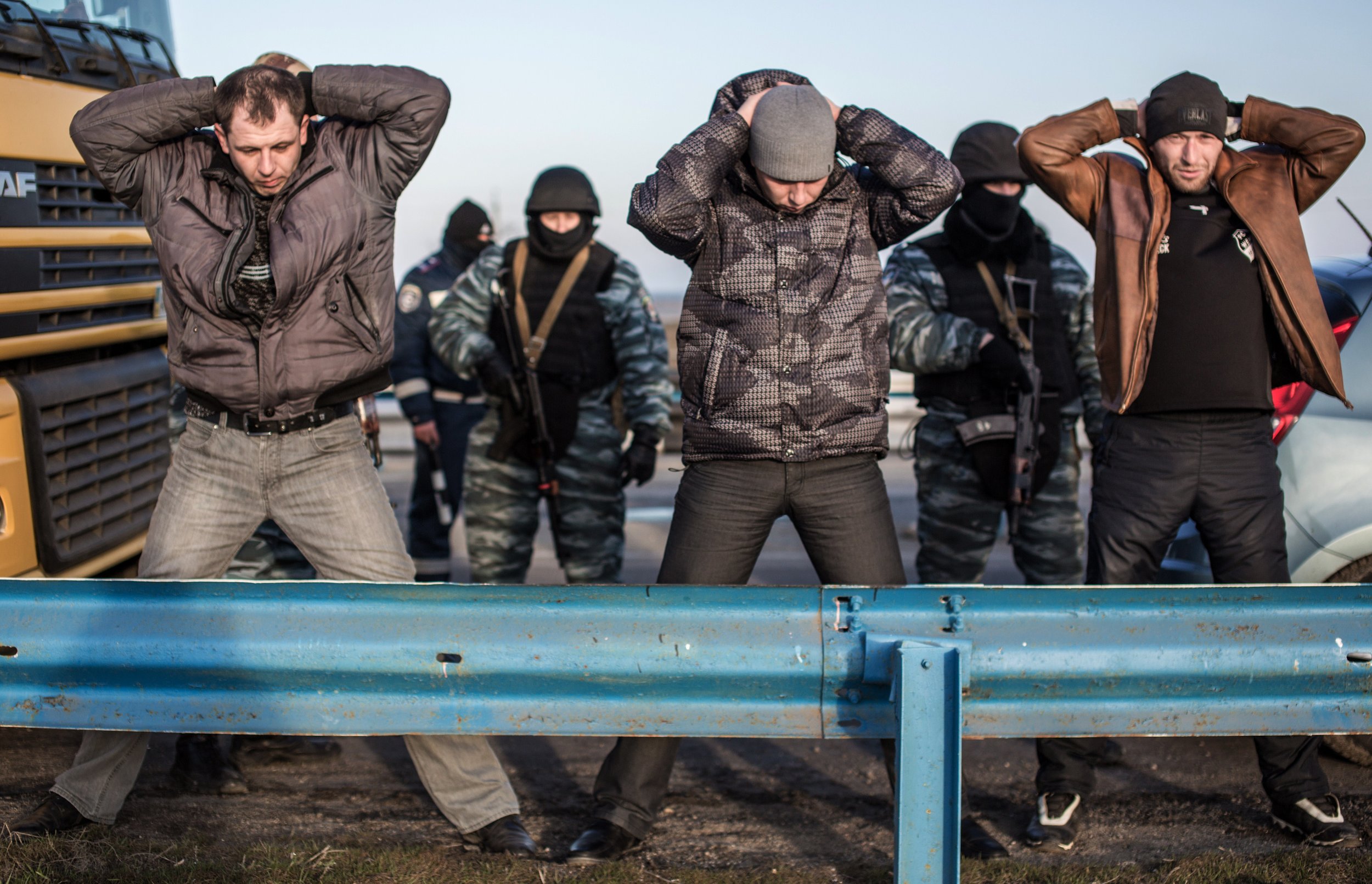 The United States has named Russia in a list of nearly three dozen countries where it warned its citizens risk being kidnapped across the globe.
As of Tuesday, the State Department's travel advisories for 35 nations featured a "K" that signifies "the risks of kidnapping and hostage taking by criminal and terrorist actors around the world," according to a statement. The department said that the use of a new indicator on its travel website was "part of our ongoing commitment to provide clear and comprehensive travel safety information to U.S. citizens so they can make informed travel decisions."
Nations branded with a "K" included "Afghanistan, Algeria, Angola, Bangladesh, Burkina Faso, Cameroon, Central African Republic, Colombia, Democratic Republic of the Congo, Ethiopia, Haiti, Iran, Iraq, Kenya, Lebanon, Libya, Malaysia, Mali, Mexico, Niger, Nigeria, Pakistan, Papua New Guinea, Philippines, Russian Federation, Somalia, South Sudan, Sudan, Syria, Trinidad and Tobago, Turkey, Uganda, Ukraine (in Russian-controlled eastern Ukraine), Venezuela, and Yemen."
While most of the featured countries were located in Africa and Asia, Russia and the neighboring Ukrainian districts held by eastern, pro-Moscow separatists stood out as the only parts of Europe included on the list.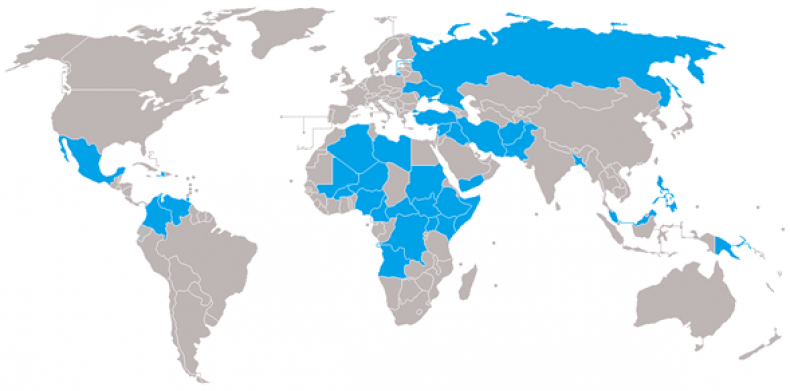 Though other outliers such as Mexico and Venezuela have become prolific for the heightened threat of kidnapping, Russia was far less known for such a risk. The Overseas Security Advisory Council noted kidnappings "occur infrequently and generally involve organized crime" in Moscow and "with low frequency" in Russia's Far East," according to reports issued earlier this year.
As the council noted, however, "the risk of kidnapping may be localized in some countries, rather than nationwide" and the State Department specifically warns U.S. citizens "do not travel" to the "North Caucasus, including Chechnya and Mount Elbrus, due to terrorism, kidnapping, and risk of civil unrest." It also warns against going to the Crimean Peninsula, "due to Russia's occupation of the Ukrainian territory and abuses by its occupying authorities."
Russia has previously accused the U.S. of politicizing its travel warnings and has warned its own citizens of the risks associated with traveling abroad amid a breakdown in ties with Washington. Out of the 1,089 kidnappings of foreign nationals around the world recorded by security group Constellis throughout 2018, only four occurred in Russia, while it noted five happening in the U.S. during this same time period.
Warnings from the U.S. have been amplified since Moscow's 2014 annexation of neighboring Crimea amid a political uprising in Kiev. However, in December, the U.S. actually downgraded Russia from a Level 3 "reconsider travel" warning to a Level 2 "exercise increased caution"—"just like while visiting Great Britain, Denmark, France or Germany" as Moscow's embassy in Washington pointed out in a statement at the time.
"We see acceptance of obvious realities in this statement," the embassy wrote. "During the FIFA World Cup Moscow was visited by 167 thousands of U.S. citizens alone. In our capital and other cities they saw a different Russia, different from the one 'portrayed' by local mainstream media fueled by Russophobic circles in power. Old boogeyman stories have expired.
"Another reason, so it seems, stems from the influence of U.S. colleges and experts. Their contacts with Russian colleagues were all too often impeded by artificial bureaucratic barriers," it added. "With that, the North Caucasus, including Mt. Elbrus and Chechnya, as well as the Crimea are still considered by Washington to be 'unsafe and undesirable' for tourism. On our part, we will continue to advertise these Russian regions to the Americans."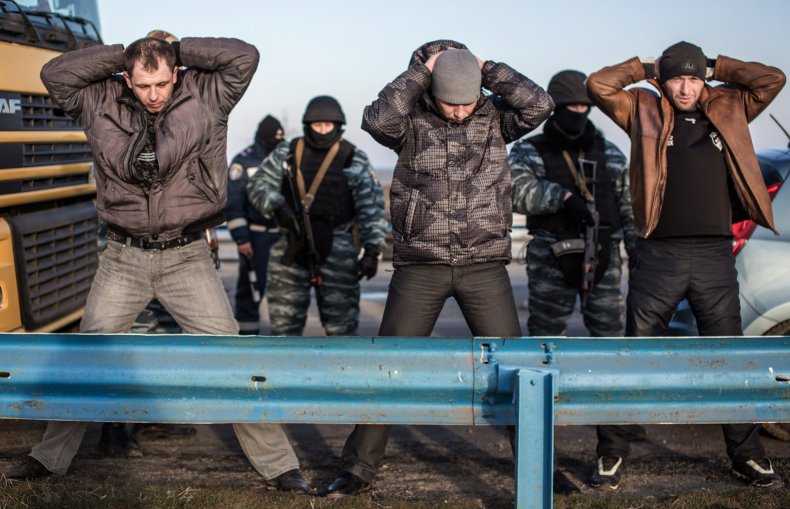 Throughout 2018, the world's top ten kidnapping locations for foreign nationals were Mexico (326), Greece (72), Nigeria (65), Benin (53), Libya (39), Colombia (39) Cameroon (38), Lebanon (31), Spain (28) and the Philippines (23), according to Constellis' 2018 report.
Constellis recorded two additional cases in Russia in its January through February report, while Venezuela jumped from 13 recorded throughout the previous year to 16 cases in these two months alone. The country, already suffering an economic crisis, has been gripped by political unrest since the U.S. recognized parliament speaker Juan Guaidó's claim to the position of President Nicolás Maduro, an ally of Russia.
Crisis management group Red 24 identified Afghanistan, Libya, Iraq, Mexico, Pakistan, West Africa's Sahel region, Sudan, Syria, Venezuela and Yemen, as well as the southern Philippines and southeastern Malaysia and Nigeria and northeastern Cameroon in no particular order as part of its 2018 list of Global Kidnapping Hotspots.
In its own 2018 report, the Control Risks consulting firm found the Americas accounted for 37 percent of global kidnappings, with the Asia-Pacific at 29 percent, Sub-Saharan Africa at 26 percent, the Middle East and North Africa at 7 percent and Europe and the post-Soviet Commonwealth of Independent States at 1 percent. It also found that 85 percent "of kidnaps lasted less than one week," 5 percent "of kidnaps lasted longer than four weeks," 1,218 "days was the longest recorded case to end in 2018" and some 93 percent of cases concerned locals as opposed to only 7 percent of foreigners.