Russia Says Syria Kurd Forces Have Officially Left Border with Turkey As U.S. Troops Guard Oil
Russia has announced the complete withdrawal of Kurdish militias from a stretch of territory along Syria's northern border with Turkey as the United States has deployed additional troops to the country's eastern oil fields to deny access to both militants and the government.
Following talks with his Armenian counterpart, Russian Defense Minister Sergei Shoigu said that fighters of the Kurdish People's Protection Units (YPG) have left a roughly 16-and-a-half-mile area referred to by Turkey as a "safe zone" according to last week's deal between Moscow and Ankara. The successful completion of this phase of the agreement was followed by the joint deployment of Russian and allied Syrian security forces.
"The Syrian border guards and our military police went there," Shoigu said, as footage emerged of Russian military vehicles escorting a convoy of the YPG the U.S.-backed Syrian Democratic Forces that it led.
The Syrian Democratic Forces seized this region as part of the U.S.-backed battle against the Islamic State militant group (ISIS) and had established a self-governing administration. Turkey, however, considers the YPG as part of the banned insurgent Kurdistan Workers' Party (PKK) and launched a military operation that compelled President Donald Trump to order a pullout of embedded U.S. troops—and a redeployment of military resources elsewhere.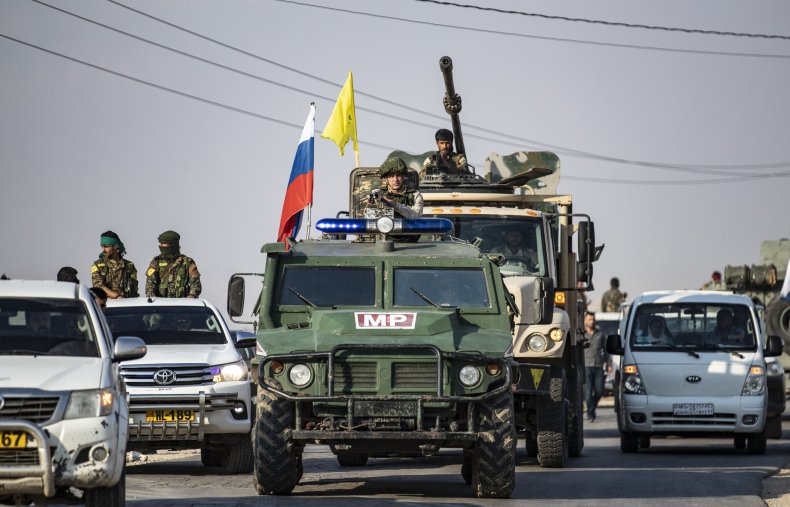 While U.S. soldiers stationed in northern Syria transited to Iraq, others also crossed the border in the opposite direction, heading toward the province of Deir Ezzor where they've been instructed to guard lucrative fields containing much of the country's oil and gas fields. Once under ISIS control, these sites too were seized by the Syrian Democratic Forces during some of the final stages of the U.S.-led coalition's battle against the jihadi group, whose leader and top spokesperson were killed over the weekend in back-to-back operations first reported by Newsweek.
The Syrian government, backed by both Russia and Iran, however, also battled the jihadis in Deir Ezzor and has sought to reclaim the country's natural resources. The U.S. exit from northern Syria led the Syrian Democratic Forces to strike a deal with Damascus, but the group has maintained its ties with the U.S. and was set to participate in the oil mission as well.
Previous reporting has indicated that the Syrian Democratic Forces has sold oil to the Syrian government. Trump himself alluded to a potential transfer of control in defending his recent military moves during Sunday's press conference in which he confirmed Baghdadi's death.
"We're out, but we are leaving soldiers to secure the oil, and we may have to fight for the oil," Trump said. "It's okay, maybe somebody else wants the oil, in which case they have a hell of a fight, but there's massive amounts of oil and we're securing it for a couple of reasons."
"And number one, it stops ISIS, because ISIS got tremendous wealth from that oil. We have taken it. It's secured," he added. "Number two — and again, somebody else may claim it, but either we'll negotiate a deal with whoever is claiming it, if we think it's fair, or we will militarily stop them very quickly."
The following day, the Kremlin's special envoy to Syria Alexander Lavrentiev told journalists that "without a doubt" Syria's oil fields "should be under the control of the Syrian government, we believe it's the only solution," according to Russia's state-run RT outlet.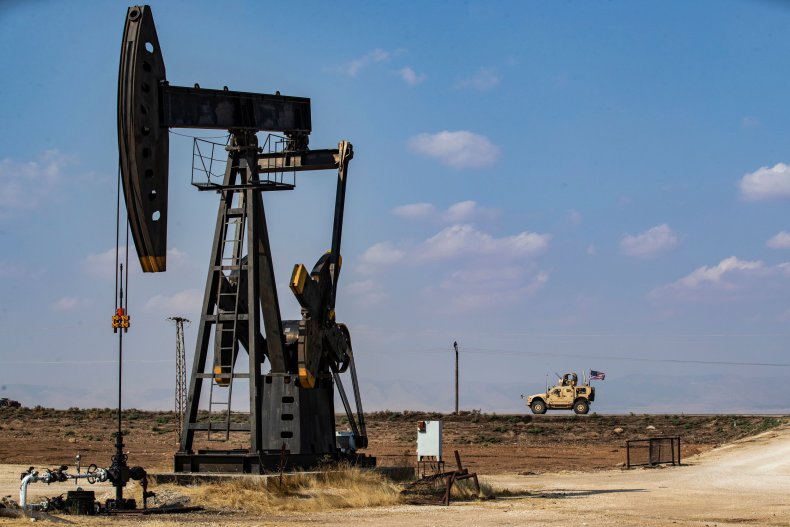 While Russian President Vladimir Putin and Turkish President Recep Tayyip Erdogan's ceasefire arrangement reached in Sochi has largely halted the incursion by Turkish troops and allied Syrian rebels, local activists noted continued violence between the warring parties. The U.K.-based, opposition-tied Syrian Observatory for Human Rights reported on Tuesday recurring clashes between joint Syrian military-Syrian Democratic Forces on one side and the Turkish-led forces between Tal Tamr and Ras al-Ayn.
The same monitor reported the movements of U.S. troops from Hasakah to Tal Tamr and Russian troops from Tal Tamr to Hasakah. Other violence occurred reportedly occurred in the northwestern province of Idlib, Syria's final jihadi stronghold where groups currently and formerly affiliated with Al-Qaeda operated and where ISIS' Baghdadi was killed during Saturday's U.S. Joint Special Operations Command Delta Team raid.
The Trump administration has criticized ongoing Syrian and Russian air raids in Idlib and its outskirts due to reports of civilian casualties in these opposition-held areas. The U.S. once backed the groups seeking to oust Syrian President Bashar al-Assad since the 2011 uprising against his rule, but mostly abandoned this partnership in favor of the Kurdish-led faction due to the insurgents' increasingly Islamist ties and the rising priority of the fight against ISIS.
Just days before the U.S. raid against Baghdadi and amid ongoing fighting in Idlib, Assad himself visited the frontlines there Friday, telling his soldiers that "that the Idlib battle is the core to decisively end chaos and terrorism in all of Syria" and offering support Kurdish-led forces battling the Turkish invasion.