Russia Says It Will Rebuild Syria Like It Did Europe After World War II
Russia has said it would channel the historical challenge it faced rebuilding war-ravaged Europe in the mid-20th century in order to assist in the reconstruction of Syria.
At a joint meeting of Russia's Foreign and Defense Ministries on Wednesday, National Center for Defense Management head Russian Colonel General Mikhail Mizintsev said that Moscow's efforts to help rebuild Syria should be based on a model similar to the massive effort employed to restore the Soviet Union and its allies that were largely destroyed in World World II, known in Russia as the Great Patriotic War.
"In the course of solving vital tasks for the Syrian people to restore the country, it is necessary to use historical experience. Here we can turn to history and the Russian state. I believe that the experience of our motherland in the restoration of the national economy after the Great Patriotic War is unparalleled," Mizintsev said. "The period of restoration of our country, initially estimated at 15 years, was reduced several times. In five years, the country became the world's second most powerful economic power."
Since 2015, Russia has been a leading sponsor of Syrian President Bashar al-Assad's war against insurgents and jihadis, who have lost hold of most of their territory after vicious clashes that have left much of the country's infrastructure in ruins.
"It is necessary to use our domestic post-war experience in the reconstruction of the country, as well as useful solutions used in other states affected by modern local wars and armed conflicts. On this basis, I ask you to prepare the relevant analytical material and bring it to the Syrian side," he added.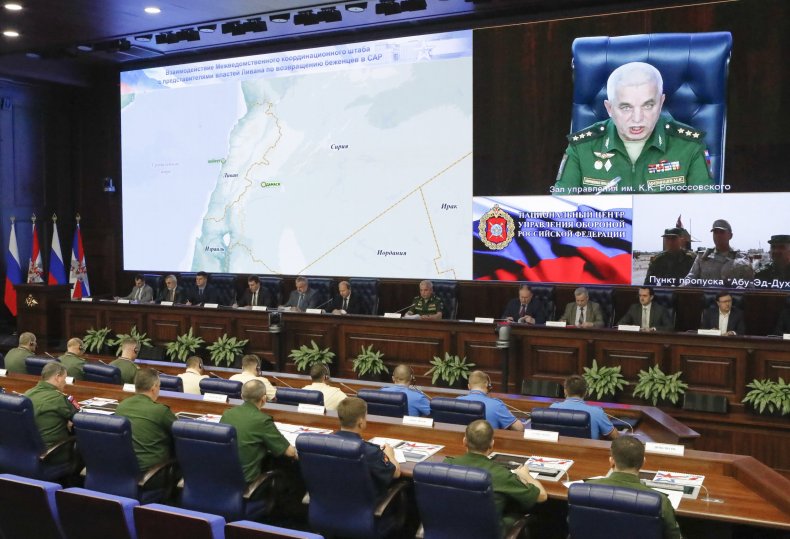 After being invaded by Germany in 1941, the Soviet Union played a leading role in defeating Nazi leader Adolf Hitler's forces and ultimately overtook Berlin in 1945, effectively ending the deadliest and most destructive conflict in modern history. Throughout the war, the Soviet Union suffered more military and civilian casualties than any other nation and, afterward, it scrambled to reconstruct its territory and that of its Eastern European allies, as the U.S. heavily invested in its own influence in Western Europe.
Competing agendas led both countries to wage the decades-long Cold War in which the U.S. and Soviet Union established political and military relations to form opposing axes across the globe. Long after the Soviet Union fell in the 1990s, one of these former Soviet-aligned states, Syria, has managed to cash in on this support in the wake of a 2011 uprising.
The U.S. formed a coalition and began bombing ISIS in 2014, eventually cutting back support to rebels in exchange for boosting ties with a majority-Kurd alliance known as the Syrian Democratic Forces. Russia intervened a year later and also began attacking ISIS, as well as other insurgents opposed to Assad. In a situation reminiscent of World War II, U.S. and Russia-backed forces swept through ISIS territory in separate campaigns against a mutual foe.
Unlike in World War II, however, U.S. and Russian soldiers have not exchanged pleasantries along the frontlines. Russia's role has been predominantly one of air support, covering Syrian troops and various paramilitary groups—including Iran-backed Shiite Muslim militias—on the ground. While pro-Syrian government fighters have sometimes allied with Kurdish factions of the Syrian Democratic Forces, they have also clashed with U.S. and Syrian Democratic Forces.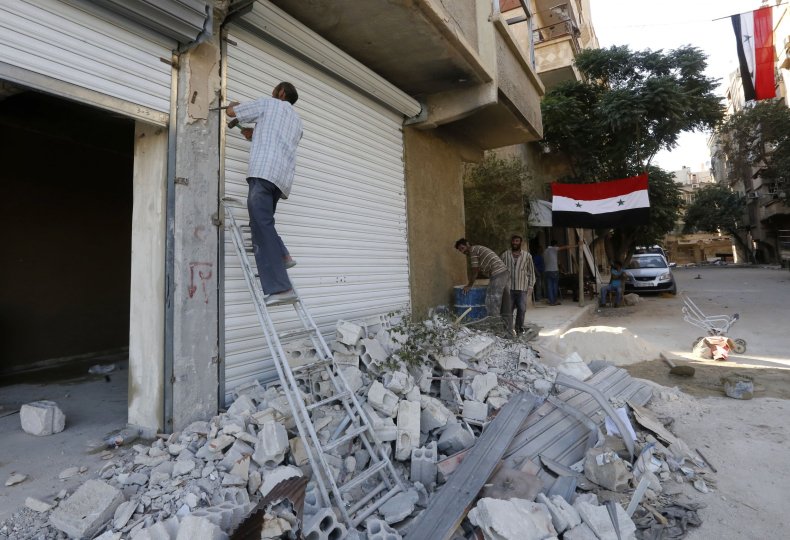 With the Syrian government poised to reclaim the entire country, the U.S. and its allies have been hesitant to invest in rebuilding areas under the control of Assad. This appeared to change, however, after President Donald Trump announced last week following his first bilateral summit with Russian President Vladimir Putin in Helsinki that he would be willing to work with Russia to facilitate humanitarian assistance across the Middle Eastern country.
The Pentagon, however, challenged this assertion on Monday. Both Defense Secretary James Mattis and U.S. Central Command chief Major General Joseph Votel said the U.S. military was not currently preparing to coordinate with its Russian counterpart, something that drew heavy criticism from the Russian Foreign Ministry. Ministry spokesman Major General Igor Konashenkov said that "the American forces have only one opportunity to stay in Syria—to engage in cooperation with Russia and the country's legal leadership in the process of providing assistance, returning refugees and temporarily displaced persons to their homes."
When asked about any potential U.S.-Russia deals in Syria by the Senate Foreign Relations Committee, Secretary of State Mike Pompeo said on Wednesday that "there's been no change to U.S. policy" and declined to go into further details.