Moscow has "highly likely" deployed personnel from a recently created reserve army to Ukraine because of Russian forces being "over-stretched" on the war's front lines, according to the United Kingdom's Ministry of Defense (MoD).
In a Wednesday intelligence update, the MoD wrote that units from Russia's new 25th Combined Arms Army (25 CAA) were "rushed into action" in Ukraine ahead of an original deployment timeline of December 2023.
The use of the reserve troops comes as reports indicate Ukraine has continued to make gains in the ongoing counteroffensive it launched in early June against Russian President Vladimir Putin's invading forces. Kyiv has said its military has liberated more than a dozen villages during the operation, and the nation's forces have reportedly made advances on the front's southern sector in recent days.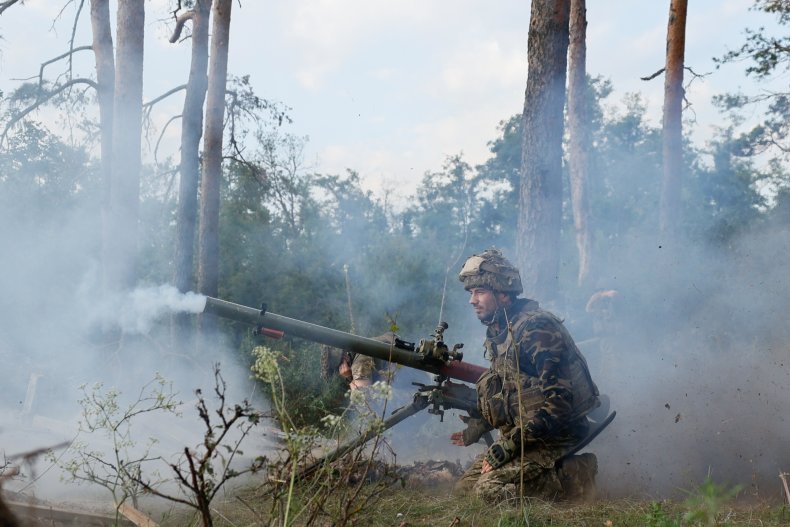 "Elements of Russia's new 25th Combined Arms Army (25 CAA) have highly likely deployed to Ukraine for the first time. The formation is likely focused on Luhansk Oblast in the north-east of the country," the U.K.'s MoD wrote.
The British department also said that as recently as last month, recruitment advertisements for 25 CAA said units from the formation would not start deploying until December.
"It is likely that units have been rushed into action early partly because Russia continues to grapple with an over-stretched force along the front and Ukraine continues its counteroffensive on three different axes," the MoD said.
The intelligence update added that there is "also a realistic possibility that Russia will attempt to use parts of 25 CAA to regenerate an uncommitted reserve force in the theatre to provide commanders with more operational flexibility."
Newsweek reached out for comment to the Russian Ministry of Defense via email.
Earlier this month, the Institute for the Study of War (ISW) think tank wrote in an assessment that units of the 25 CAA could have been partially deployed in the Luhansk region in order to send Russian soldiers from a "relatively more effective" formation to fight in more intense combat zones in the southern sector.
The ISW wrote that troops from the 25 CAA could face challenges in combat because of the rushed nature of their deployment and inadequate training.
"The 25th Combined Arms Army is unlikely to be combat effective at scale given its rushed deployment," the ISW wrote. "The formation is likely either severely understaffed and not near the paper strength of two divisions, or is poorly trained much like initial Russian mobilized units in fall 2022, or both."
The think tank went on: "The Russian command likely views the deployment of a combat ineffective formation to Luhansk Oblast as a tolerable risk given the relatively lower tempo of operations along much of the Luhansk Oblast frontline."