Russian Regions to 'Self-Mobilize' as Putin's War Efforts Stall
Russian and Kremlin-backed officials have responded to Chechen leader Ramzan Kadyrov's calls for every Russian region to "self-mobilize" and send at least 1,000 volunteers to fight in Ukraine.
Roman Starovoit, governor of Russia's Kursk region, said on his Telegram channel that he has so far sent more than 800 volunteers from the region to various military units participating in Putin's war against Ukraine, and that more are being recruited.
The official said he believes the head of each region nationwide must "act as responsibly as possible" and declare self-mobilization to assist Putin's war efforts.
Starovoit said all Kursk fighters are trained in special centers and are provided with equipment, uniforms and means of protection.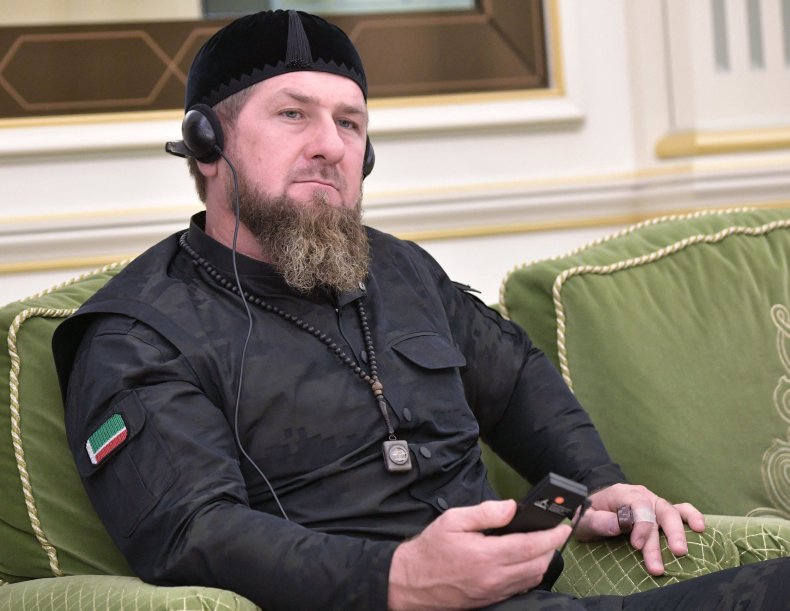 Sergei Aksyonov, the Russian-backed prime minister of Crimea, also backed Putin ally Kadyrov's initiative to self-mobilize.
"All regions are working in this direction. Crimea has already fielded more than 1,200 volunteers and is forming two more battalions. We fully provide them with equipment, means of protection, communications and intelligence," Aksyonov said on his Telegram channel.
On Thursday Kadyrov suggested that Russian regions begin "self-mobilization" to combat Ukraine's counteroffensive efforts.
Kadyrov said a "minimum" of 1,000 trained soldiers were required from each region. His call comes amid a snowballing Ukrainian counteroffensive that has seen Kyiv reclaim swathes of territory in the south, forcing Russian troops to retreat.
Kadyrov said on Telegram that the head of each region should prepare and train at least 1,000 volunteers each. He said the figure is "not such a large number" and a "minimum" to assist Putin's war efforts.
He also noted that self-mobilization would not require a declaration of martial law by the Kremlin.
"The head of each subject of Russia today must prove his readiness to help the state…The issue of solving the problems of a special operation could be closed in the shortest possible time," Kadyrov said.
Putin has been hesitant to announce war mobilization—a move which would allow the Russian leader under Russian law to draft conscripts and mobilize reserve forces.
Some have suggested, however, that mobilization would not solve fundamental issues that exist within the Russian army.
Alexander Khodakovsky, a Kremlin-backed commander and former political leader in the self-proclaimed Donetsk People's Republic in eastern Ukraine, raised the possibility of a potential mobilization of Russia's population, as Putin's troops were being pushed out of the southern Kharkiv region.
"I am against universal mobilization," he said on Telegram, adding that he believes that the reason why Russia is not doing as well as Putin had hoped is not because of a shortage of manpower, but because of their "sloppy use, that is, in the organization of the process."
"If this approach is maintained, the shortage will be constant, no matter how many people you mobilize, and Russia will be overwhelmed by a wave of funeral notices in the absence of the desired result, which will lead to a serious crisis," the commander warned.
Newsweek has contacted Russia's foreign ministry for comment.