Russia Deploys Soldiers, Armored Vehicle to Georgia Border Amid Exodus
Russia's Federal Security Service (FSB) has deployed soldiers and an armored personnel carrier to the country's border with Georgia as men attempt to flee Vladimir Putin's partial military mobilization.
Russian state-run news outlet RBC cited the FSB's border department in the Russian republic of North Ossetia-Alania as saying that it took action in case some Russian citizens attempt to breach Georgia's border.
The FSB has deployed the troops to ensure that reservists do not leave the country "without completing border formalities," it said in a statement.
"The armored vehicle is moving there, but it is not moving to set up a checkpoint; it is, roughly speaking, a reserve for any unforeseen cases," the border department said.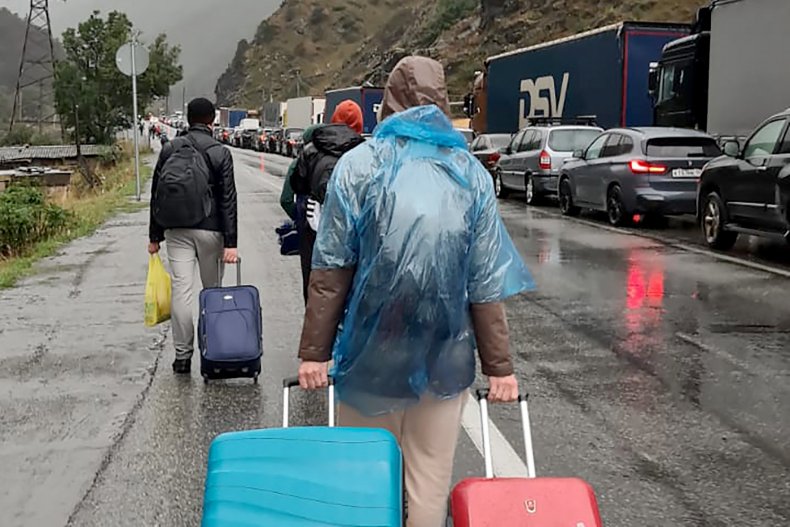 "No checkpoints will be set up… the checkpoint is operating normally, no restrictions on the departure of male citizens of conscription age have been introduced," the department added.
The independent Dozhd TV channel published photos and videos of people in military uniforms riding in the armored personnel carrier past a line of cars.
The news comes amid reports that Putin is preparing to block men of conscription age from leaving the country.
Independent Russian media outlet Meduza reported that a travel ban will be announced by the Kremlin after the end of the ongoing referendums in the four occupied Ukrainian regions of Luhansk, Donetsk, Kherson and Zaporizhzhia.
Meduza cited two sources within the Kremlin as indicating that the ban will officially come into force on September 28. Newsweek has contacted the Kremlin for comment.
In the days that have followed Putin's partial mobilization decree, which will affect up to 300,000 reservists, huge lines have been seen at the borders of neighboring countries like Georgia and Finland.
A Newsweek search on Yandex Maps on Thursday showed a build-up of vehicles near Russia's southern border, suggesting men are fleeing in response to the decree that reservists will be called up to fight in Ukraine.
The morning after Putin announced a partial mobilization, traffic was visible stretching miles to the border checkpoint in Verkhnii Lars on the Russian-Georgian border.
Russian state media cited local officials on Sunday as saying that at one point, the estimated wait to enter Georgia hit 48 hours, with more than 3,000 vehicles queuing at the border point.
According to data from the Georgian government, some 40,000 Russians have fled to the capital Tbilisi since Putin launched a full-scale invasion of Ukraine on February 24.
It isn't yet clear how many have crossed into Georgia since Putin's partial mobilization decree, however, a Verkhnii Lars group on Telegram, set up for travelers who want to cross the border at the checkpoint, has grown by tens of thousands of members in just days.
"When we found out about the mobilization, we dropped everything at home and jumped in the car," Dmitry Kuriliyunok told Reuters in Tbilisi. "We are completely against this war. For us, like for others, it's scary. To die and to kill others, and for what? We don't understand. Therefore, we decided to flee."