Putin's War in Ukraine Has a Trillion-Dollar Price Tag
The military price tag of Vladimir Putin's invasion of Ukraine is climbing higher than Russia likely ever anticipated, multiple experts tell Newsweek.
Russian President Vladimir Putin has vowed to continue fighting the war with Ukraine, a move that will come at a significant price. As the Russia-Ukraine conflict hits the one-year mark on Friday with no end in sight, estimates of Russia's military expenditures are in the trillions.
Boris Grozovski, a Russian economics expert from the Wilson Center think tank, estimates that Russia's military expenditures continue to rise rapidly and are estimated to already have surpassed $9 trillion in spending.
Grozovski told Newsweek that the entire Russian government spending plan in 2022 was approximately 23.7 trillion rubles ($346 billion USD), of which approximately 3.5 trillion rubles ($46.1 billion) would be spent militarily and 2.8 trillion rubles ($36.9 billion) would go towards police and security services (FSB).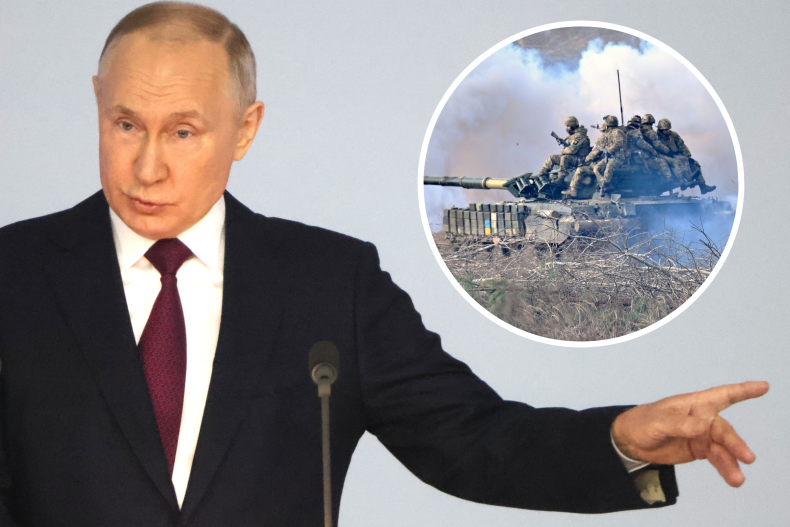 Part of police and FSB spending also goes toward the war, although that exact number is unknown. Russia surpassed its military budget on September 22, according to Grozovski, and he estimated about 50 percent of extra spending to be going toward the war and the siloviki, a term used for the powerful leaders and elites across Russian agencies.
Along with the indirect costs of the war, including treating wounded soldiers and paying teachers in occupied territories, the total cost of the war could already exceed 15 trillion rubles.
Sean Spoonts, editor-in-chief of Special Operations Forces Report (SOFREP), told Newsweek that Grozovski's numbers are likely too low.
During the third month of the invasion, Spoonts estimated that Russia sustaining its military efforts cost as much as $900 million per day. It depends on how numbers are computed, he added.
"In our mind, if Russia spends $1 million on a missile to build it and then fires it, they have expended $2 million: $1 million to build it and another million to replace it," Spoonts said. "I think most estimates only take into account the initial cost.
"If you had a $50,000 car that burned up in a fire, you are out the $50,000 plus whatever you spend to replace it because you need a car."
Russia is estimated to have lost over half of all its tanks in Ukraine—a total of 1,769 vehicles—according to Oryx, a website monitoring military losses in the war-torn country.
Ukraine's Defense Ministry reported in early February that Russia had lost nearly 130,000 personnel since February 24, 2022, in addition to over 6,300 armored combat vehicles and nearly 300 military jets.
The cost now compared to May could be lower due to Moscow appearing to run out of money. Spoonts attributes that to Russia being unable to replace equipment-based losses itself, pulling obsolete tanks and armored fighting vehicles (AFVs) out of storage.
"We see it in their inability to meet even the basic supply needs of their troops," he said. "These new conscripts they are calling up have World War II rifles and are using bits of cloth for socks. Obviously, a World War II Mossen Nagant rifle and a strip of cloth cost much less than a modern battle rifle and wool socks."
Russia also hasn't been able to expand its weapons manufacturing base to ramp up production, he added, which would be done if money was available for tooling and materials.
"I think Russia is all but tapped out," he said.
Sergey Aleksashenko, former Russian deputy of finance, wrote on Al-Jazeera in December that a federal budget line item defined as "General National Issues" increased extraordinarily in 2022, jumping by 50 percent to 2.629 trillion rubles ($42 billion). Such expenses are typically derived from administrative activities of all branches of the government, he said.
"If one supposes that the excess funds in this item are related to the war, then that's an additional 869 billion rubles ($13.8 billion) of defense spending," Aleksashenko said.
Despite the significant financial cost of keeping the war going, Russian President Vladimir Putin is showing no signs of giving up. In a recent address, he said "the Russian economy and management system turned out to be much stronger than the West believed."
Neither Ukraine nor Russia will truly surrender certain war aims in a negotiation "unless they literally have no choice," Cato Institute policy analyst Jordan Cohen told Newsweek. Surrender occurs usually when resources cannot meet the threshold experienced during a war.
"In that sense, for Ukraine, this could look like western countries deciding to no longer provide as much military aid, if any at all," Cohen said. "For Russia, I think that they have enough troops and weapons to continue fighting, but if at some point the Russian economy is weak enough that it cannot replenish war needs for its troops, that may lead it to try and attempt a negotiated settlement."
With a lack of a "clear winner" or negotiated settlement, it's possible the war will carry on as it has for the next year at least. Grozovski said the Russian government is planning to spend about 4 trillion rubles on the war effort in 2023. Extra spending could go towards war in the same budgeted capacities, for healthcare, education and the economy.
"We can estimate that the only federal budget spending could in 2023 total as much as in 2022 (11-12 trillion rubles)," Grozovski said. "Now the Russian government understands that these sums aren't enough and is looking for extra money. Also, the government is trying to redirect some funds from regional budgets to war and raise some funds from businesses and households."
The $3 trillion ruble budget deficit Russia is expected to have from 2022 to 2024 is about 2 percent of GDP, he noted. But it is not a major worry for Putin because state banks will continue to buy government-issued bonds. The scheme will increase inflation slightly but will keep the war funded.